British maritime art set for sale
One of the largest collections of British maritime art, including works from the last 100 years, is set to be auctioned on February 9 in Norfolk at Keys Fine Art Auctioneers.
The Diploma Collection of the Royal Society of Marine Artists has over 100 works and features examples by artists such as Harold Wyllie, Claude Muncaster, Charles Pears and Harold Workman.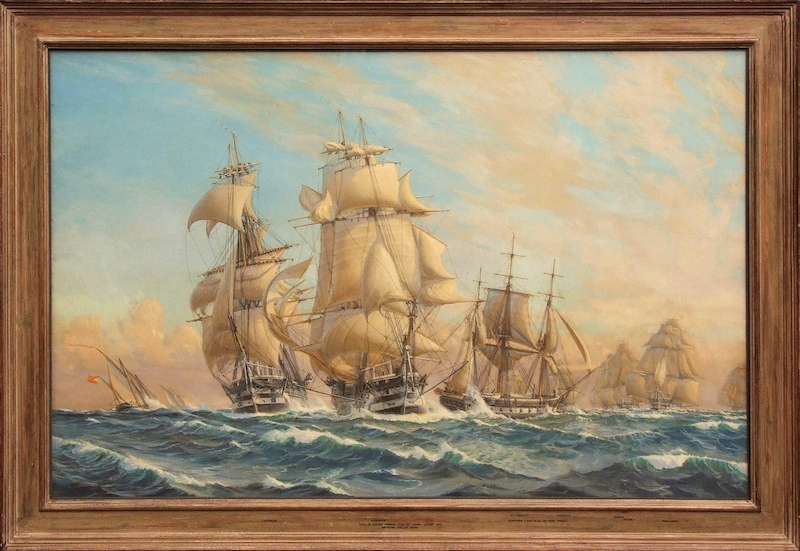 The sale includes The Channel Fleet in a Sailing Trial off Lisbon', August 1847 by Harold Wyllie, which was first exhibited at the City of Bradford Gallery in 1957, and has a pre-sale estimate of £15,000-£20,000.
Important British maritime art
"This is probably the biggest, and certainly the most important, body of British marine art ever to go under the hammer, and the sale provides a rare opportunity to purchase work by many highly accomplished artists of the past and present," said Keys head of fine art Kevin Lines.
"The Collection is a reflection of the many, and often rapid, changes in society and its relationship to the sea, and also a reminder that the sea, coast and tidal waterways continue to play a prominent role in our national life."
The Diploma Collection
Since being founded in 1939, every artist who has been admitted has donated a representative work to the RSMA's Diploma Collection, which has grown into an unrivalled body of work giving a fascinating insight into the vitality and variety, the styles and subject matters chosen by the country's leading marine artists over more than 75 years.
Because the Diploma Collection has grown so big, most of it has been in storage for some considerable time, largely unseen.  As a consequence, the RSMA has decided to put it up for auction.
The Royal Society of Marine Artists
Founded in 1939, the outbreak of war delayed the society's inaugural exhibition, which eventually took place in November 1946 at the Guildhall Art Gallery in the City of London. Opened by the new Minister of Defence and former first Lord of the Admiralty, A V Alexander, it featured over 100 oil paintings and 70 watercolours.
Many fine marine artists with national and international reputations numbered among the early membership of the RSMA, including:
Montague Dawson
Rowland Hilder
Claude Muncaster
Charles Pears
Norman Wilkinson
Harold Wyllie
The RSMA continues to lead an active existence, promoting the work of marine artists, and mounting annual exhibitions at its current home, the Mall Galleries in London, as well as staging other shows at galleries, museums and marine-associated venues around the country.
Inevitably it has strong connections with the Royal Navy, with members' works depicting naval battles hanging in the Imperial War Museum and the National Maritime Museum. Two RSMA members were granted permission to paint the first pictures of the brand new aircraft carrier HMS Queen Elizabeth, which came into service late last year.
More details about the RSMA can be found at www.rsma-web.co.uk