Jack the Ripper card makes thousands
A chilling card signed 'I am Jack the Ripper' has sold at a Kent auction house for £22,000.
The card, which was received by the police on October 29th 1888, had been in police files until the case into the infamous Victorian killer was eventually closed with the Ripper never traced.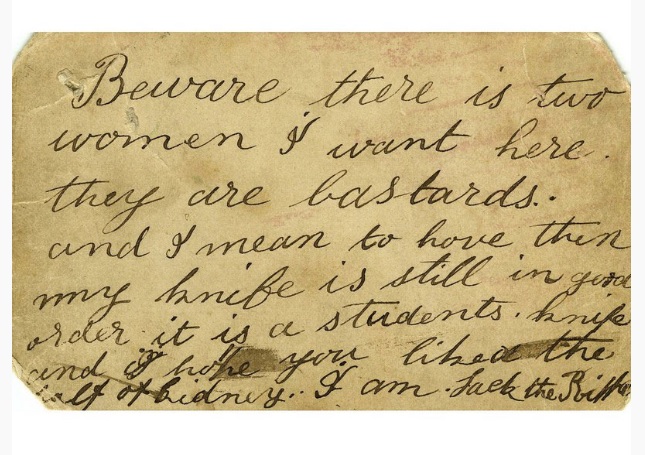 The hand-written card states: "Beware there is two women I want here they are bastards, and I mean to have them my knife is still in good order it is a students knife and I hope you liked the kidney. I am Jack the Ripper."
Measuring 2.75 x 4.75in (7cm x 12cm), the card written in ink was originally delivered to Ealing Police station prior to the murder of the Ripper's last known fifth victim Mary Jane Kelly.
Kelly's body was horribly disembowelled, and the letter's mention of a 'students knife' alongside the belief that the Ripper had some form of medical training all appears to add to its authenticity. Furthermore, Grand Auctions in Folkestone also consulted the Ripper Museum and the Whitechapel Society prior to the sale. Stewart Evans, an author of a book on the Ripper letters and an expert on the matter also gave his opinion that the card is right for the period and is one of the letters the police received.
The card was given to the vendor's husband, a Police Constable and member of the Metropolitan Police Force as a memento for his retirement from the force in 1966. Other unwanted items were simply thrown away.
Another officer found and kept 300 such documents, which he then gave to the National Records Office where they are defaced them with a stamp. The PC kept the auction's card in a drawer until his death, where it has remained with his widow.