Lunar letters out of this world
A signed letter from the first man on the moon, Neil Armstrong, unearthed in a house in Tamworth, Staffordshire, is set to sell at Richard Winterton Auctioneers in Lichfield next week.
The letter, on NASA headed Manned Spacecraft Centre paper, was sent to the vendor's father one month before the lunar landing, which took place in July 1969. It was sent in response to a book his father had sent to the three Apollo 11 astronauts prior to their mission. The letter, dated June 3, 1969, reads: "Colonel Aldrin, Colonel Collins and I want to thank you very much for sending us the book 'The First Men In The Moon' by HG Wells. It is delightful and we've thoroughly enjoyed it. Your thoughtfulness in sharing it with us is sincerely appreciated."
Alongside the historical document, the lot also includes another signed letter from James T Pettus, Office of Public Affairs at the United States Information Service, the American Embassy, London, to where the book was originally sent.
Rob French, customer relations manager at Richard Winterton Auctioneers, said, "This is a fantastic document of important historical literature. The family was absolutely gobsmacked to receive a letter back. It's the personal story and circumstances behind the letter as well as the signature itself which makes this lot really special!"
Also in the sale are two sought-after vintage James Bond posters from the classics From Russia With Love and Goldfinger, both starring Sean Connery.
The 1963 From Russia With Love poster features artwork by Renato Fratini and is valued at a relatively low estimate of £1,000 to £1,500. Rob French commented, "Sadly, this one has some creasing and a tear on the corner – mint condition examples have sold for £4,500."
The Goldfinger artwork from 1964 is a 'Style B' poster by Robert Brownjohn. It is valued at £1,500 to £2,000, although such posters have been known to fetch up to £3,000.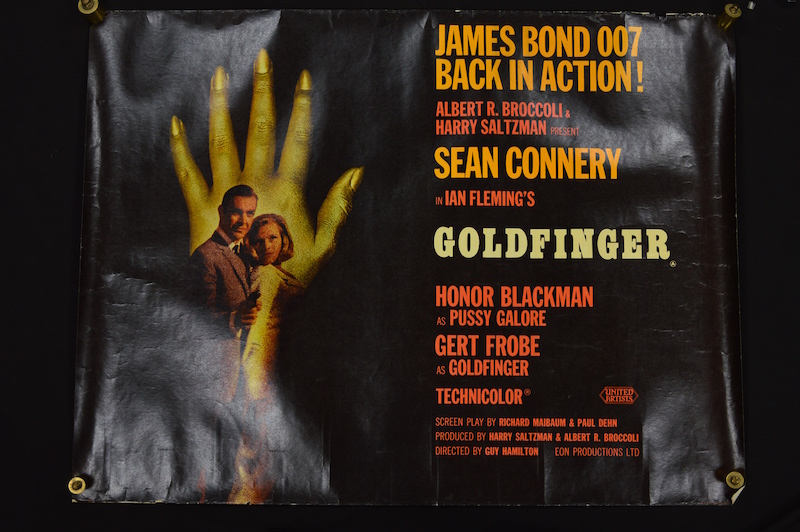 Both artworks were printed by Stafford & Co, the main printers for film posters at the time.
Mr French added, "Both these posters are highly collectable and we were really excited to find them. "I'm sure there will be a lot of interest from James Bond aficionados."
The sale takes place on June 11.