Welsh Suffragette archive sold to museum
A fascinating collection of Welsh suffragette memorabilia has been bought by the National Museum of Wales for £48,640, more than four times its estimate in a Surrey sale at Catherine Southon auctioneers.
The archive belonged to Welsh suffragette Kate Williams Evans, who was born in 1866 in Llansantffraid, Montgomeryshire. As a young girl, Evans was always interested in politics and spent a considerable time in Paris where she met with people interested in the Womens Social and Political Union. In her early thirties she joined the Union and was an active member. She became a suffragette to the dismay of her parents who thought the behaviour of the protesters was quite shocking. On March 4, 1912 she was arrested and imprisoned for 54 days in Holloway prison.
Included in the collection in the sale was a rare silver suffragette hunger strike medal and a fascinating archive of letters, books and ephemera relating to Evans. The medal is engraved Hunger Strike to the obverse and Kate Evans to the reverse, complete with the distinctive three-coloured ribbon representing purple (dignity), green (hope) and white (purity) and two silver bars, one engraved March 4th 1912.
Only 100 of these medals are known to exist and this one is contained within its original velvet lined presentation box with printed inscription to the silk lined lid, sold together with an accompanying letter from The Women's Social and Political Union stating that Miss Evans has been presented with a prison brooch.
Also included is a Metropolitan Police arrest warrant issued to Kate on 4th March 1912 for 'Malicious damage'; 'The Pocket R. L. S. from the works of Stevenson'; a pocket book given to Kate by Meg – her sister, with hand-written pencil autographs from a number of suffragettes including Emily Wilding Davison, E. Pankhurst and Sarah Benett, as well as a copy of John, Nancy. A. 'Holloway Jingles' a collection of poems written by the Suffragettes contained within a pictorial printed outer green covers with, images of the inside of the cells. This is possibly a first edition and includes with two poems by Kate entitled 'Who?' and 'The cleaners of Holloway'.
Another item signed by E. Pankurst is a framed and signed letter of Commendation to Kate Evans on behalf of the Women's Social Political Union.
Also of interest is a hand written letter from fellow inmate and suffragette Sarah Benett to her maid Jane regarding the health of Kate Evans as the hunger strike began (Kate explained that she had this letter stitched to the hem of her skirt). The letter reads 'Miss Evans will be my guest till she is a little stronger. She has been starving so treat her as an invalid…'
A further interesting letter is from Dorothy (Evans) fellow inmate in prison to Kate after she has left prison it reads 'Your flowers have been such a joy to me through a very strenuous time. Now I am getting some mental and spiritual peace, though my body is suffering – I find I am getting ill much sooner now I am not taking water either…The cells here are darker than any I have seen…We come up for trial on Tuesday if still alive and in captivity…'.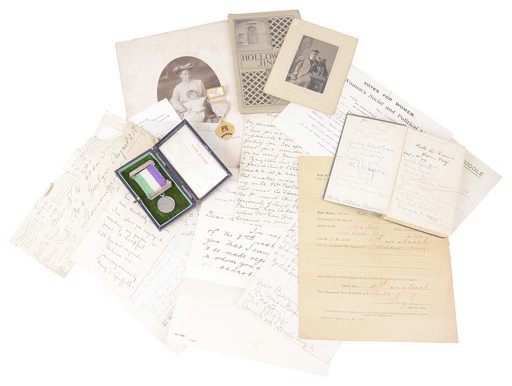 A letter from Mary Griffiths to Kate's grate aunt regarding Kate's courage it reads '
We can hardly realise at present what a debt of gratitude we owe the militant section of the suffragists, but I am quite sure that later on their heroism and devotion will be appreciated
'.
The suffragette collection was offered for auction by the family. Commenting on the purchase Sioned Hughes, Keeper of History and Archaeology, Amgueddfa Cymru – National Museum Wales, said, "This is an iconic collection for the history of the whole suffragette movement in (what was at the time) Britain and Ireland. While we had suffragist collections in Wales, and an example of anti-suffragette sentiment in Wales, until now we had very little in our collections relating to the Welsh suffragettes themselves. This collection will be a valuable asset to Wales' political and national history collections."
Auctioneer Catherine Southon commented: "We were honoured to be offering such an important private and comprehensive collection once belonging to Women's Right's activist Kate Williams Evans during the Centenary year of Women over 30 getting the Vote in Britain. The interest in this lot was phenomenal with bidders, on the phone, from all over the world – I was absolutely staggered how people were competing to buy this fascinating collection and even more gob-smacked by the price it achieved."