Antiques Trade Talks – The Urban Vintage Affair
Tash Francis of The Urban Vintage Affair has been passionate about antiques since childhood, and launched her antiques and lifestyle brand and website
www.TheUrbanVintage Affair.com
last year. Her website offers a collection of antique and vintage pieces, alongside traditionally crafted products, all chosen for twenty-first century living. Tash says she is a believer in quality craftsmanship and working towards a more sustainable way of living. Her current motto is: #LookAtAntiquesDifferently
What areas/items are currently selling well?
We are currently selling many interesting old 
glass bottles
, and
small antique silver plate vessels
 are doing well. Items that are functional and appealing to the eye will always be a winner.
What do you think are the current 'good investment' items – ones to watch?
I would suggest anything unusual, especially if it's something you have never seen before, and if it also has a makers mark then it can be researched. The history and the value is likely to be the story behind the item. I find that for something unusual and unique there will always be an interested person wanting to own it, regardless of price. This is looking at it as an instant investment or quick turn around. For long term, I say buy what you 'like' as it's you that will live with it.
What antiques do you have at home?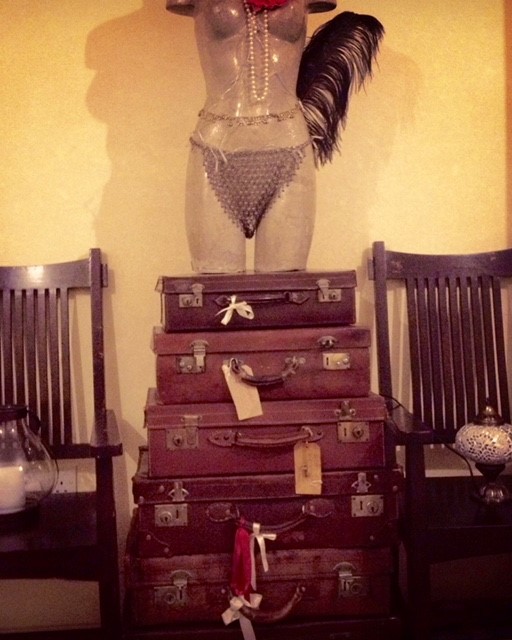 I have so many, but my main collection is leather suitcases, which I use for storage, they are my wardrobe and shelves. They are timeless and will always be a trendy item in the home, especially when stacked up. I also have a lot of antique cutlery. My antique cutlery is kept it the kitchen drawer, not in special pouches, they are used and sit alongside some of my modern, handmade ones.
What do you think will be the antiques of the future?
I'm supporting independent designers today that hand-make furniture and homewares using traditional methods for our website's 'The Sommeliers Urban Bits' category. I'm currently working with several independent designers in producing some quality handmade, slow made products. These I believe are the antiques of the future.
How is the industry changing and what will it look like in the future?
Unless more young people inherit a love for antiques I feel that the majority will stay in stately homes or end up in museums. I'm referring to the big pieces, as modern homes have no room for antique dressers and commodes. We no longer have servants to polish
the silver or clean the unnecessary ornaments. So any unusable antiques that take up our time and space will be less present in residential homes. I imagine less bricks-and-mortar retailers and more online presence for the future, so the useful and sellable antique items get smaller and easier to dispatch to the customer.
Tell us some trade secrets – what are your top tips for buying antiques?
I'll give you two:
Make sure your smart phone is charged so you can research on the go, especially if you're in a 'buy now' situation.
When shopping at fairs and markets, look towards the back, at the closed boxes and cases in the corner or underneath pieces as you never know what you might find in them.
What antiques/artworks would you buy if money were no object?
I would possibly replace all my current glass for stunning 18th-century glass for everyday use. I would also like some sterling samovars and egg coddlers; they are not very user-friendly but surely impressive items to have in real silver.
You're down to your last 50 quid – what antiques/art would you buy?
Maybe a piece of silver, such as a nice 19th-century spoon and fork to carry around with me – still dine in style, even if it's at a chippy!
Where are your favourite antique hunting destinations?
Mostly outdoor flea markets as you can have great chat and banter with the traders. I will go somewhere far away from the city and stay in a spa hotel to relax after a long day of hunting. The good ones in Peterbourgh tend to be more friendly than some of the London fairs. I also adore French markets as they have wonderful decorative salvage and bottles.
What are some of the biggest mistakes that buyers make?
Buying decanters with replaced stoppers. I'm not a fan of the modern stoppers used. Always check that you are paying for fully genuine antique pieces. Another common mistake is buying broken pieces which are unusable. What's the point? A broken clock might look nice but a working one would look even nicer.
What is the appeal of antiques in modern interiors?
I personally don't know anyone who lives in a stately home, so antiques used as inspiring images for interiors should be a norm. I'm currently connecting with some modern interior designers who are using antiques in their work. Not in a shabby chic or mid-century way, but much more up to date….. in an urban way.
Why should people buy antiques over new items?
I have nothing against new – it's great, exciting and now. It's the cheap reproductions that we should be wary of. So I say handmade over mass-produced! Quality, detail and craftsmanship are the main benefits. However, let's not be misguided to think that all handmade items are always 'good quality'. If you're looking for something for your home to last and with a story to tell, then an antique silver teapot will have more charm and presence than one from, say, a department store. The thing people have to remember about antiques is that they have lasted 100 years and will no doubt last a 100 more.
Do you think young people are interested in antiques and, if so, how do they appeal to them?
Younger people are interested but we have to show them the right products and use the correct language. We can't market antiques to someone who is 50+ in the same way as to
a 25-year-old. The younger market will relate to the word 'vintage' over 'antique'. And even though we know the difference, lots of people might not. So using the 'right words' for communicating to the younger crowd to draw them in, I feel is important. It's why my business is not called 'The Urban Antique Affair'. The message has to be relatable and use fashionable words like vintage, retro, sustainable, investment, unusual, tradition, unique original. These are the buzz words I use to market to a younger audience, then I can educate with some fun interesting facts about antiques and show that they are not just for rich people.Social media is my biggest asset for the brand and where our ideal customers hang out. We will hashtag the relatable words to attract both the professional collectors and the newbies.Young people don't care for ornaments and need an end use for products in 21st-century, so this is the reason we always give ideas on what to do with our products. I'm not telling a 25-year-old to put cream in a jug, put a cactus in instead!