Suffragette collection hidden in garage set to sell in Surrey
A Suffragette collection that had been hidden in a garage for over 30 years looks set to be one of the highlights of a Surrey sale later this month.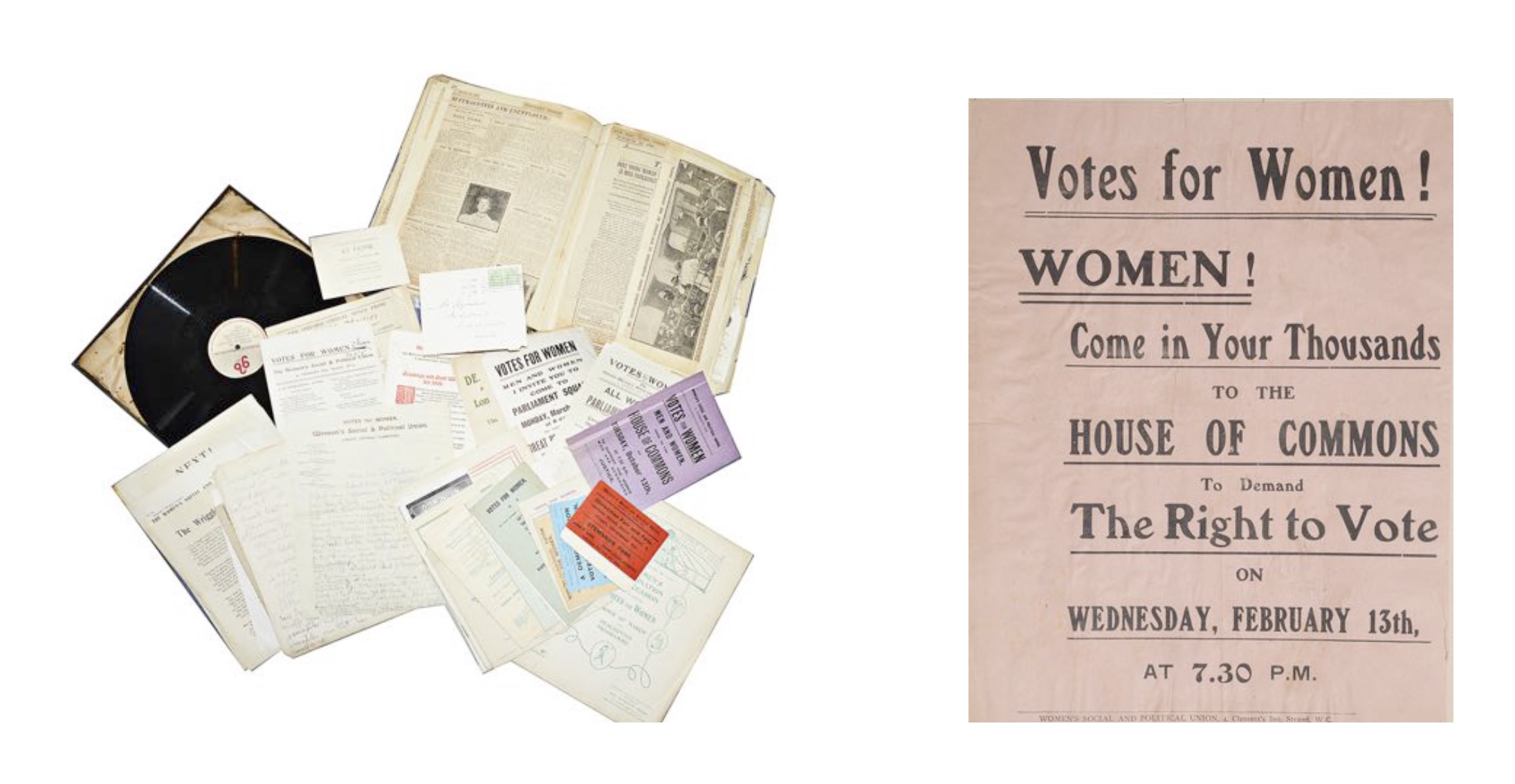 Comprising a scrapbook kept by Isabel Seymour, who was a secretary for the Women's Social Political Union (WSPU), it was found by the owner in a friend's garage about 30 years ago and is estimated at £3,000 – £5,000 in Catherine Southon Auctioneers and Valuer's sale.
Catherine Southon explained, "At the time the vendor asked his friend, 'What's this?' and his friend said, 'Oh, you can have it' and gave him the archive and the record. He always dismissed it and, as he moved from home to home, he has always just put it in the loft! He only really took interest when his daughter said that they should do something with it last year as it was the centenary of the Suffragette movement."
The auction house sold the archive of Suffragette Kate Evans in July 2018 for £48,640. Catherine said, "We are delighted to have been asked to sell another interesting collection."
Although somewhat fragmented this previously unseen personal archive gives an insightful look into the day-to-day administration of the WSPU as well as a valuable historical insight into both the suffragette movement, its members and its administrative workings.
"It is both official and deeply personal at the same time. It contains references to, and documents political marches and protests to the Prime Minister and Parliament, many of which ended in the incarceration of their members. It also highlights the more personal and light-hearted gatherings of the members of the WSPU, such as theatre performances, dinners and lunches and fund raising events."
Isabel Seymour was an invaluable administrator and confident speaker for the WSPU. As hospitality secretary to the movement, she arranged accommodation for visiting suffragettes so they could attend events in London. Later, as the movement gathered momentum, she organised bail for those who'd been arrested. She also travelled to Berlin, Austria and Russia on a speaking tour to promote women's rights.
After some years in Canada she returned to England and went on to become a county councillor in Hampshire.
Many of the documents are directly connected to the political activism of the WSPU during that time, including documents signed by Emmeline and Christabel Pankhurst.
Also included is a private recording of a speech delivered by Frederick-Pethick Lawrence in 1947 to the Suffragette Fellowship as well as a hand-written draft for a Votes for Women speech delivered at a rally in Inverness. There are also press and personal photographs of suffragette marches, including an image of Jessie Kenney (1887-1985), suffragette and Secretary to the WSPU. Elsewhere in the collection are steward tickets for speeches, propaganda pamphlets and an entry ticket for a breakfast given to suffragettes on their release from Holloway Prison, costing 2/-.
Also included in the sale is an attractive suffragette art nouveau amethyst, demantoid garnet and pearl set scroll pendant brooch, which is estimated at £200-400.
The sale takes place on February 27.