Intriguing array in anniversary sale
An 'intriguing array' of fine furniture and clocks will go under the hammer at a Surrey auction house to celebrate its 25th anniversary of sales at its auction rooms.
Some of the highlights of the sale at Ewbank's on March 22 include:
a striking 19th century Italian ivory inlaid and hardstone overlaid table cabinet, which has been valued at between £2,000 and £3,000. Lapis lazuli and agate are among the stones featured in this piece. It has a brass galleried balustrade top, over panelled doors with ivory marquetry and cabochon stone decoration enclosing six drawers
A Queen Anne walnut chest, with two short drawers over three long drawers, with three further drawers on shaped apron base, has a pre-sale guide price of between £1,000 and £2,000.
A late 19th century / early 20th century Sheraton revival marquetry inlaid serpentine chest, has a guide price of between £600 and £1,000.
In the clocks section of the sale, a late 19th-century French novelty timepiece by Guilmet of Paris, in the form of a beam engine, has been valued between £600 and £1,000.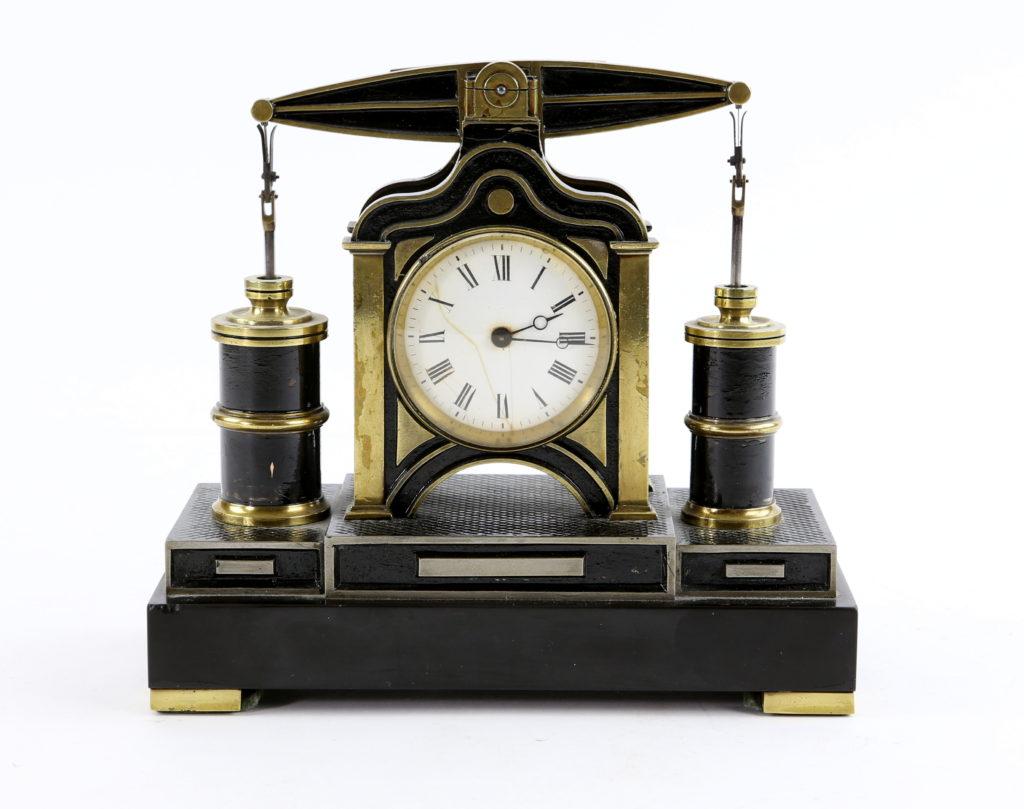 The eight-day timepiece movement has a compound pendulum causing the beam to rock up and down and operate the pistons. Realistically modelled on the machine, with a centrally pivoted beam and two brass-bound flanking chambers on a stepped industrial base, the circular movement is stamped with the GLT makers stamp and numbered 211.
Experts at Ewbank's believe that the clock must have been among the earliest of this series, as known serial numbers of the main series of industrial clocks listed in Derek Roberts' book, Mystery, Novelty and Fantasy Clocks, run from 52 to 4566.
Other lots of note in the sale include:
a large-scale replica of William Gardner's 1905 Kaiser's Cup winning steam schooner Atlantic yacht, measuring 79cm high and 108cm long, which is valued at between £500 and £1,000.
A large Persian blue ground silk rug, with multiple borders and centre with rose shaped medallion, measuring 200cm by 132cm, has a guide of £600 to £1,000.
An eye-catching pair of Italian Job-inspired sofas, by Greek designer George Ioannou,made from converted 1960s Mini's painted panels have been valued at between £2,500 and £3,500. Boasting faux gold bars, with blue and red seats, titled SPS1 and SPS2 on the registration plates, they're sold with matching glass-topped coffee table with metal cage supports filled with faux gold bars, each impressed with the artist's name.