Beatrix Potter First Editions could Fly
A near-complete first edition run of Beatrix Potter's The Tale of The Faithful Dove will go under the hammer in Surrey next month.
The author wrote the story in 1907 for the children of her publishers, Frederick Warne & Co. It was just two years after her fiancé, Norman Warne, the youngest of the three Warne siblings, had died of pernicious anaemia, and she had developed a close and lasting relationship with the family.
Potter had wanted to call the story the Tale of Jenny Crow, but Norman's brother Fruing persuaded her to adopt the title eventually selected.
However, she could not be persuaded to illustrate the story herself. "Beatrix jibbed at the rather 'namby pamby' pigeons, since they left little scope for pictorial variety – 'it is too much pigeon over and over' – and she had never been good at birds," Fruing reported.
The author instead recommended another illustrator, but Warne were not keen. The result was that the tale lay neglected until Fruing rediscovered it in 1918. Even then, nothing was done and it was not until 1955, 12 years after Potter's death, that this un-illustrated first edition made it into print.
Limited to 100 numbered copies, plus a few spares, the edition was never intended for public sale, but instead as gifts for valued clients and friends of the firm. In the end, it was handed to the Warne family, and it is thought that just a few copies were distributed before the rest were stored away, forgotten about for decades.
Now consigned to Ewbank's by the Warne family, the cache of 92 copies (three of them unnumbered) is being offered for sale as individual lots in the auctioneer's sale on March 22. The estimate on each is £200-400, with a total estimate of just under £37,000.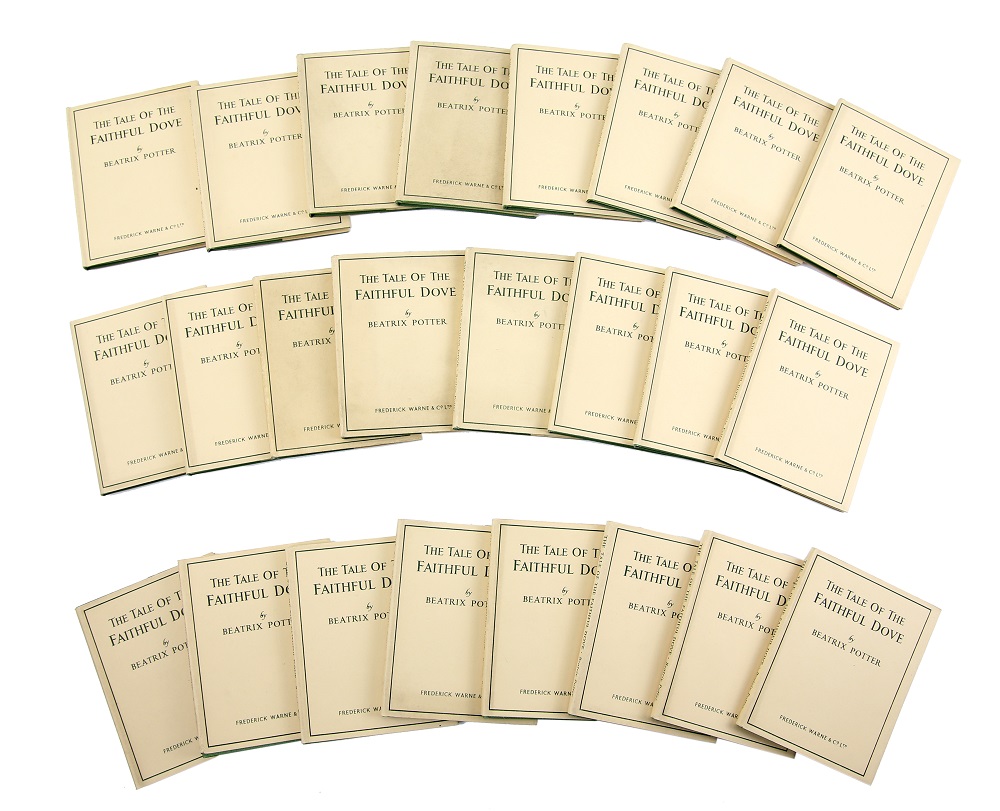 In the original green cloth, each copy comes in the original cream-coloured dust jacket printed in dark green and is in excellent condition. The lowest available issue number is 3.
"This is an exceptionally rare opportunity to acquire an all but pristine first edition copy of an extremely limited run by one of the world's most celebrated authors," said auctioneer Chris Ewbank.
"Beatrix Potter and her characters are among the most prominent icons of English children's literature, with a global following."