Rare photographs to be snapped up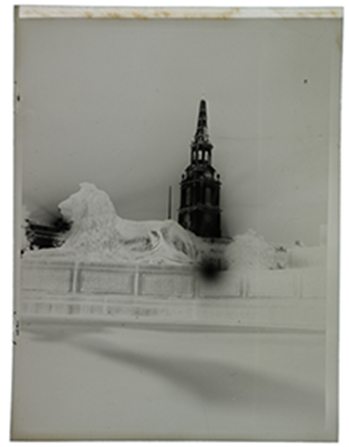 The private collection of one of the most important photographers in the development of the art form, Francis Bruguière (1879-1945), is to be sold in London this week.
Chiswick Auctions will sell the collection, which includes unseen and unpublished photographic prints and negatives spanning the ground-breaking photographer's career. They will be offered in a single-owner sale of Photographica on March 19.
Austin Farahar, Head of Chiswick Auctions Photographica department, said: "This sale poses an incredibly rare opportunity to acquire some of the most exciting, experimental and thoroughly progressive photographic works by any visual artist in the early part of the 20th century. Seeing a broad selection of work from across such an important photographer's career gives a fascinating insight into a man that was one of the most fearless and dedicated practitioners to ever pick up a camera."
Painter to Photographer
Having studied painting, American-born Francis Bruguière met and was inspired by Alfred Stieglitz, the photographer and art promoter in 1905, who accepted him as a Fellow of the Photo-Secession – an early 20th century movement that promoted photography as a fine art.
Following this he set up a studio in San Francisco, encapsulating images of the city post-earthquake and fire in 'pictorial' style that Stieglitz favoured, with soft-focus images imitating painting.
In 1910, he participated in the International Photo-Secession Exhibition, organized by Stieglitz at the Albright Art Gallery in Buffalo. It featured four of Bruguière's photographs taken on a trip to Europe and clearly showed him experimenting with 'straight' photography, featuring sharp focus. He began experimenting with multiple-exposure photographs, which would later lead to abstractions.
Move to New York
On moving to New York and opening a studio in 1918, he photographed for Vogue, Harper's Bazaar, and Vanity Fair and also became the official photographer for the Theatre Guild until 1927, photographing well-known actors on Broadway. In this role he photographed the British stage actress Rosalinde Fuller OBE (1892-1982), whom he went on to marry. The sale contains numerous images of the actress.
Theatrical Influence
His interest in theatrical photography stayed with him and he later planned to make a film titled 'The Way' representing the various stages of a man's life. The film was to feature the actor Sebastian Droste (1892-1927), alongside his wife Rosalinde. To raise funds for the film, Bruguière took photographs of the projected scenes, however Droste tragically died before production and the film didn't go ahead. Chiswick Auction has a selection of these still photographs in the sale.
Light Experiments
During all of this time Bruguière had been experimenting with abstracts, multiple exposure, photograms, original processes and solarization, (way ahead of photographers such as Man Ray). Following a move to London he worked on a series of new light experiments. In 1930, he and Oswell Blakeston (1907–1985), a British writer working in the film industry created England's first abstract film called Light Rhythms, which was an abstract film based on a series of Bruguière's light abstractions. It showed light and shape in a new way and included moving light sources and an arrangement of superimpositions.
Surrealist Style
The sale of this fascinating private collection is in three parts; the first section features Bruguière's early works that capture the Broadway stage and his Surrealist experiments for a film that he planned to make called 'The Way'. These images are now heralded as the first surrealist works by an American photographer and exhibit very early use of multiple exposure.
Examples include; Experiment from The Way, which dates from c.1923-1925 and depicts the actor and dancer, Sebastian Droste. The work is a multiple exposure, vintage silver gelatin print complete with the original large format negative image, gelatin on nitrocellulose sheet film. It is estimated to fetch £5,000-£8,000.
A theatrical portrait of Rosalinde Fuller from 1920 depicts Bruguière's life partner. A vintage silver gelatin print, it is signed and dated recto by the photographer in pencil, and with an inscription by Rosalinde Fuller in pencil to the verso.  It is estimated at £1,000-£1,500.
London Landmarks
The second section of the sale includes a range of previously unseen negatives of Bruguière's time in London. They feature key London landmarks and offer a slice of social history from the 1920s and 30s.
A work titled Multiple Exposure, London (above) depicts a typical London scene of children and prams with a highly individualistic approach taken in 1929. An uncropped negative image in gelatin on nitrocellulose sheet film, it is estimated to fetch £500-£800.  A London landmark is captured in a unique way in Trafalgar Square, London, Night Study. Dating from circa 1930, the long exposure, negative images is expected to fetch between £400-£600.

London, Zeppelin explores shape, form and light, juxtaposing a crane and construction works, with a zeppelin in the sky. The work is an unmarked negative image in gelatin on nitrocellulose sheet film and dates from circa 1930. It is estimated at £200-£300.
Pushing Boundaries
The third section is a rich selection of Bruguière's personal experimental work, where he again pushed the boundaries of photography, developing his photographic practice further with solarisation, still life and multiple exposure and photo montage. Rosalinde Fuller and Other Models (solarization), which dates from between 1936-1940 demonstrates Bruguière's exploration of the solarization technique, a method of manual image manipulation far ahead of the simple photoshop method used today. Through exposure to sunlight during the negative development process, images are completely or partially reversed in tone and dark areas appear light and light areas appear dark. The piece is an Eastman Nitrate Kodak negative image, gelatin on nitrocellulose sheet film. It is estimated to fetch £600-£800.
Hands with Rose (solarization) is another arresting still life image where certain forms appear as dark and light shadows, using the solarization technique. It is estimated to fetch £400-£600.