Highlights from summer Art & Antiques Fair
The Art & Antiques Fair returns to Olympia in London in June, with 160 leading British and international antique dealers and art galleries coming together for the 1-day event.
Renowned for the huge variety of antiques and art on offer, which attracts over 20,000 visitors, the event offers everything from art, furniture, silver and sculpture, to Art Deco, mid-century modern, textiles, glass, jewellery and photography. Every object at the fair is vetted by a team of independent experts, so discover some of the treasures that visitors can expect to find.
Hommage a Terpsichore by Salvador Dali. Bronze. 1984. 
In creating his version of the muse of dance, Terpsichore, Dalí uses a reflected image, setting the soft, carnal muse against the hardened, statuesque one. The lack of definition in both faces clearly underlines the purely symbolic significance of these figures. Signed 'Dali'.
Exhibitor: Hickmet Fine Art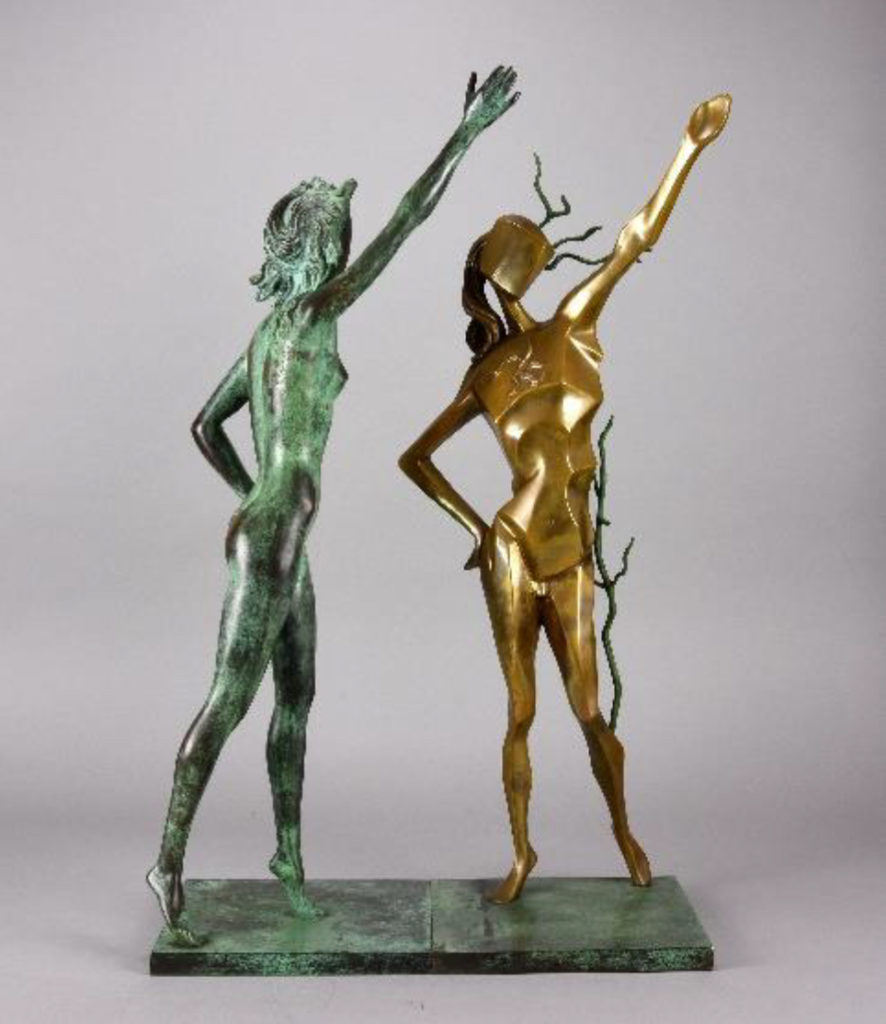 16th Century tiles from Seville 
Used to decorate ceilings from Renaissance palaces.
Exhibitor: Antigüedades Ruiz Linares (Granada) 
Le Petit Andely by Paul Signac (1863 – 1935) 
Watercolour, gouache and charcoal signed and dated 1924.  10 x 15½ in. Provenance: A Florida collection. A letter from Marina Ferretti, specialist in the work of Paul Signac, co-author of the Signac catalogue raisonné, confirming the authenticity of Le Petit Andely accompanies this work.
Exhibitor: Walker Galleries Ltd 
Louis XVI Sarrancolin Vases 
Exceptional pair of Neoclassical, Louis XVI Sarrancolin marble ovoid vases with ormolu Medusa head masks, swags, stiff leaf carving, acorn finials and square bases. France, circa 1785 H: 38cm.
Exhibitor: Craig Carrington 
Italian Louis XIV gilt wood, marble topped centre table 
This table follows the form of French Louis XIV designs from the end of the 17th century, with scrolled legs and a strong stretcher with lion paw feet, but the exuberance of the carving and the spring of the stretcher point to a Piedmontese origin. The original marble top is Spanish Brocatelle.
Exhibitor: Robin Martin Antiques 
An important Queen Anne Britannia Standard Teapot and lampstand. 
Made in London in 1712 by Richard Green. Height 9.25 inches. The Armorial is that of the Miller family of Chichester, granted 1684. The Millers were a wealthy Chichester merchant family, frequently serving as Mayors and M.P.s for the city.
Exhibitor: Mary Cooke Antiques 
Spanish, large, 18th century walnut table with one-piece top.
Exhibitor: Hansord 
The Art & Antiques Fair runs from June 19th to 28th.