Rare Rolex watches could strike gold
Two rare Rolex watches look set to the highlights of an upcoming London sale, with one example carrying an upper estimate of £350,000.
The highly desirable cloisonné enamelled 'dragon dial' wristwatch by Rolex, in 14 carat yellow gold, dates from 1949. Cloisonné dial watches were coveted by watch lovers when they first appeared in the 1940s, but were only produced in small numbers, due to the highly skilled, hand-crafted technique employed to create them.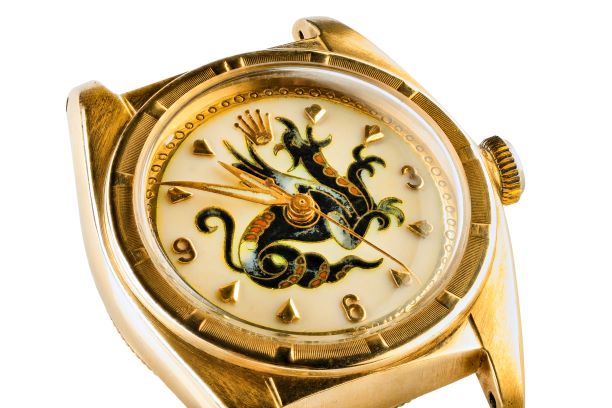 This translates to rarity in today's market and as such, they are now collectors' items with a price tag that sees them attracting only the top buyers in the world. The example in the sale is in excellent working order and features all of its original parts, which makes this particular example so exciting, as most watches from this period would have had replacement parts at one point or another.
In order to have the very best cloisonné dials for their premium watches, Rolex went to the very best dial-makers in the world, Stern Fréres, then owner of Patek Philippe. The brand began designing complex cloisonné dials in the 1940s for a range of brands. They were produced by the very best artisans of the period, such as Charles Poluzzi, Marguerite Kock and Nelly Richard.
The watch in the upcoming sale features white cloisonné enamel detailing on the dial and a flame-coloured scaly dragon with a black and red coiled tail, vivid red scales on its chest, spine and tail, a red horn and a vivid blue colour at the tip of the tail, legs and wings. The dragon is almost floating in the middle, guarding the gold Rolex crown.
The dial also features gold pointed arrow hour-markers and gold Arabic numerals at the 3, 6 and 9 o'clock positions, with a gold outer minute division. Whilst this design can be found on other cases with a bigger diameter, this rarer bubble case is 32 mm in diameter.
Tomas Anzar, Watch Specialist at Chiswick Auctions said: "It's incredibly complex design, stunning quality and level of craftsmanship, as well as its rarity makes this a watch collector's delight". It has a pre-sale estimate of £150,000-£350,000.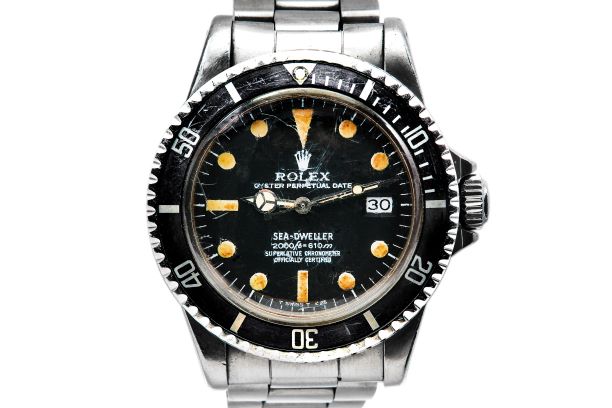 The other exceptional Rolex in the sale is a rare men's stainless steel automatic 'Rail Dial' Rolex Sea Dweller. Rolex had built up a strong reputation for making wristwatches that could withstand deep ocean conditions. However, due to new experiments with saturation diving during the 1960s, enabling commercial divers to work at greater depths for longer, a more advanced diving watch was necessary.
Created in 1967 and released in 1971, the 'Double Red – Sea Dweller' was made commercially available with the reference number 1665, its name referring to the two lines of red text on its dial.
Capable of operating at depths of up to 610 meters, it also enabled divers at the time to work deeper than ever before. Rolex also incorporated a gas release valve into the side of the case, allowing trapped helium to safely exit the watch during decompression.
Rolex made small aesthetic changes to the dial during the first ten years of 'Sea Dweller' production and although all are still desirable today, some variations have become extremely rare and coveted by watch collectors around the world. The unrestored 'Rail Dial' or 'Great White' (referring to the way the text is aligned on the dial and that red text is replaced with all white) derivative on offer in the June's sale is expected to fetch £14,000-£16,000.
Tomas Anzar, Watch Specialist at Chiswick Auctions, comments: "The Rolex Sea-Dweller's rich history, timeless design and stunning aesthetic has made this particular Rolex a true classic and a fantastic choice for collectors looking to own an iconic piece of dive watch history".
The sale takes place on June 13.