Margaret Thatcher sale makes a million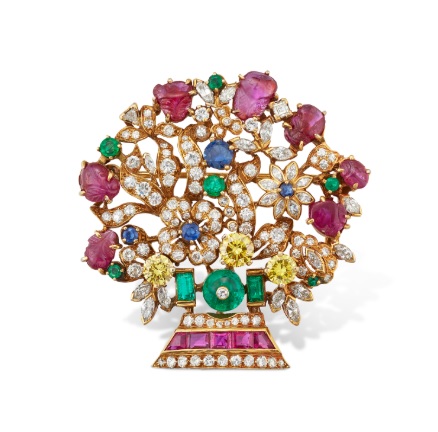 The third online sale of items belonging to the late former Prime Minister Margaret Thatcher has sold in Christie's online sale for in excess of £1 million.The auctioneer said that the sale "far exceeded pre-sale expectations" and raised a total of £1,087,750. It attracted bidders from 36 countries across six continents.The sale coincided with the 40th anniversary of Margaret Thatcher's historic election as the United Kingdom's first female Prime Minister (1979-1990), which saw her serve as the longest-serving PM in the 20th century.The top lot of the sale was a multi-gem and diamond brooch Van Cleef & Arpels, which sold for £50,000, against a pre-sale estimate of £10,000-15,000.
Other top-selling items were:
Mrs Thatcher's hardstone-mounted gold bracelet of vari-shaped cabochons which sold for £40,000 (estimate: £1,500-2,500)
An 18 carat gold and amethyst ring which realised £27,500 – both were gifts from her beloved husband Denis and part of Mrs Thatcher's 'uniform' jewellery
A portrait of Mrs Thatcher (1925-2013), wearing a black skirt suit with a George III diamond flower brooch, by Sergei Chepik (Kiev 1953-2011 Paris) which realised £40,000 (estimate: £700-1,000)
Margaret Thatcher's desk blotter and a group of desk items which sold for £30,000.
Adrian Hume-Sayer, Director, Specialist, Private Collections: "We are thrilled with this strong result which concludes the series of three successful sales held at Christie's following Mrs Thatcher's death in 2013. The result of Part III illustrates the enduring interest in the United Kingdom's longest serving 20th-century Prime Minister."