Decorative Antiques & Textiles Fair returns for Spring
The Spring edition of The Decorative Antiques & Textiles Fair, Battersea, the second of the event's three annual outings, is moving to May, taking place from Thursday 14 to Monday 18 May 2020.
The event will also unveil a new five-day format, including extended opening hours on the Friday, Saturday, Sunday and Monday.
With over 160 exhibitors taking part, the event  is the largest and one of the most important event of its kind, offering antiques and 20th-century design for interior decoration, with an emphasis on the unusual and the unexpected.
The fair is an international affair, attracting dealers, decorators and visitors from across the UK and overseas. Recent visitors have included a roll call of celebrities, including David and Victoria Beckham, Guy Ritchie and Sir Paul Smith. Decorators and designers who are seen regularly include Beata Heuman, Flora Soames, Veere Grenney and Nicky Haslam.
The Fair offers an enormous variety of art and objects, from primitive and early country furniture to fine Georgian antiques suitable for the most formal settings; Arts & Crafts; Art Nouveau; Art Deco and every aspect of good 20th-century design.
There is a wide selection of European stock hailing from Finland to Italy, alongside classic British pieces. A wide choice of accessories and decorative arts such as mirrors, lighting, textiles, glass- and table-ware, ceramics and treen, can be found at prices to suit all budgets.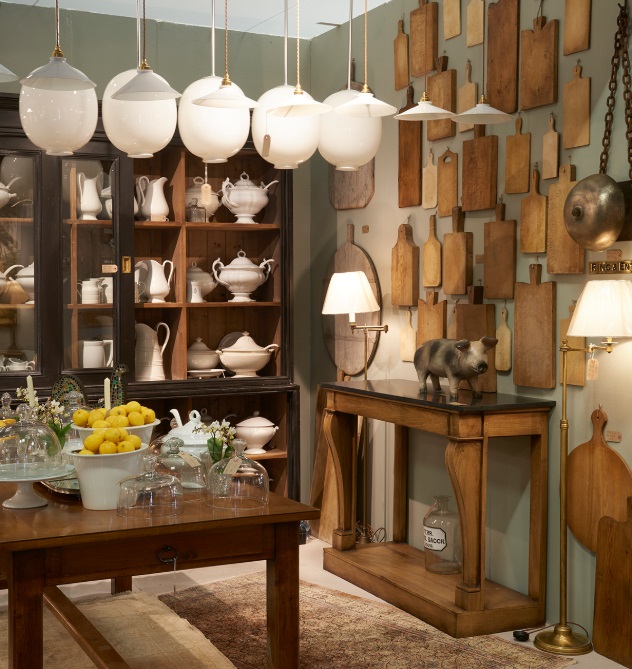 There is art for every taste including contemporary works, and jewellery, silver and objects to tempt collectors and the curious. Garden antiques, always to be found, become a particular feature at the Spring Fair.
This time around the regular themed showcase in the foyer of the fair will be The Secret Garden, to coincide with a new film adaptation of Frances Hodgson Burnett's much-loved book, in which a young girl, Mary Lennox, travels from India to a new life in England.
The display, presented as a veranda, draws inspiration from the child's early years, blending Raj-influenced exoticism with a nod to the Edwardian era in which the book is written. Anglo-Indian and colonial style pieces in dark woods, ornate with carving or decoration such as inlay, will mix with light-coloured rattan, bamboo, wicker, cane and rush pieces as befitting a veranda setting, and reflecting the current interiors trend for such materials.
In contrast, set within the display will be a "secret" English garden decorated with appropriate traditional outdoor seating, antique urns, planters and seasonal greenery. The Fair Showcase is a professionally styled space using stock drawn from exhibitors; all items are for sale.
Celebrated American designer Kelli Ellis was at the recent Winter Fair in January, and commented, "Battersea was a designers dream fair! I was most impressed with the perfect mix of dealers, goods and price points. With shippers standing by, I could furnish my clients' homes and hospitality projects with some of the most unique and spectacular pieces I've seen in a long time! It's a must- do fair in central London!"