Imperial Vase tops Asian Art Sale
A rare Chinese imperial vase found in a Scottish country house topped the Asian Art sale held 'behind closed doors' at a Scottish auction house.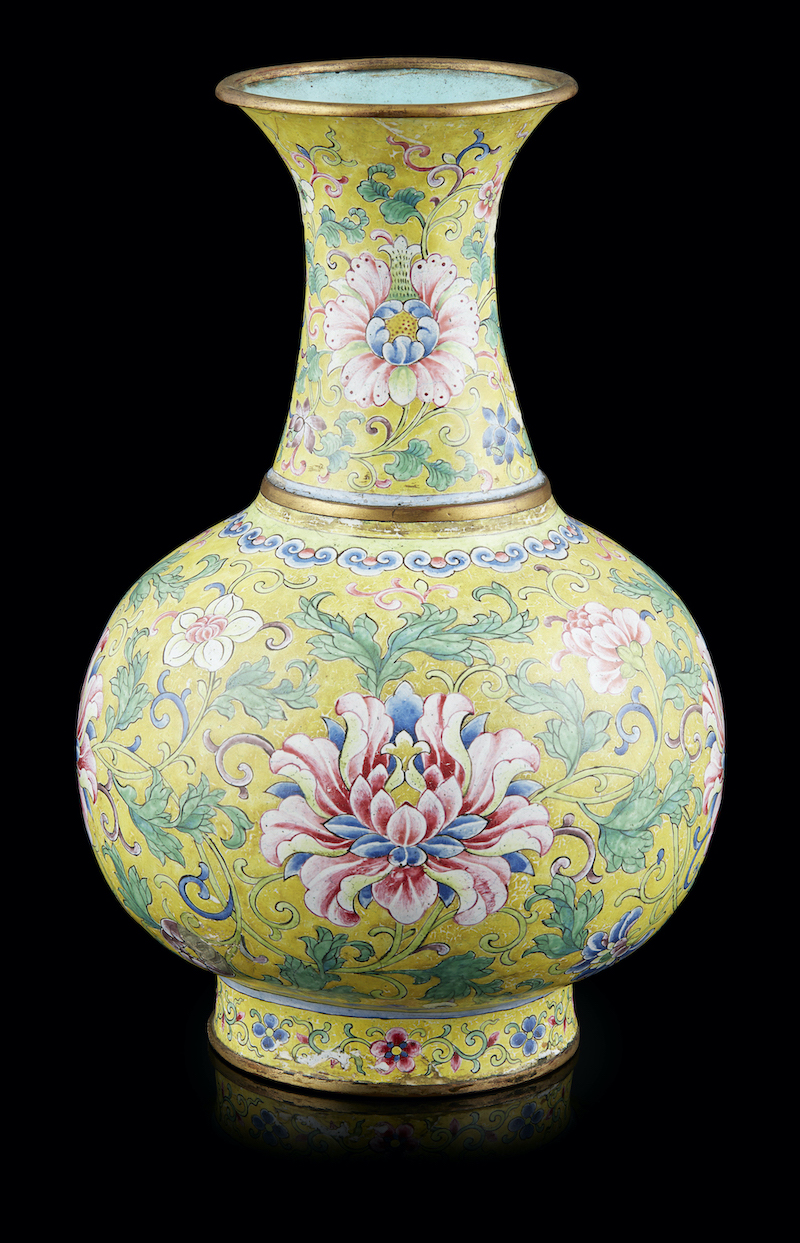 The Qianlong (1736-95) mark and period painted enamel lotus vase sold at £45,00, including buyer's premium, was one of 14 lots consigned by the Earls of Crawford and Balcarres of Balcarres House in Fife for the sale at Lyon & Turnbull. The estate, commanding a view across the Firth of Forth, has been home to the Lindsay family since 1595.Decorated with a delicate floral design against a vibrant yellow ground, the 27cm vase is of a type made in the 18th century at the Imperial Workshops in the Forbidden City in Beijing.At Balcarres for several generations, it was probably among the collection of Chinese literature and works of art amassed by the 25th Earl (1812-1880) and his son the 26th Earl (1847-1913) and now distributed amongst several British institutions. It was not in perfect condition. After careful research by specialists, it was revealed that holes to either side of the neck of the vase suggested it once had a pair of bronze dragon-shaped handles, similar perhaps to those that adorn two pairs of enamel vases of this type in the collection of the National Palace Museum, Taipei.The auction house's Asian art calendar has been much changed by the current restrictions, with the traditional May series of sales in London postponed until later in the year. However, in the wake of a successful series of 'live online' sales during the lockdown period, Lyon & Turnbull chose to keep the date in the diary. Despite the absence of Far Eastern buyers in the room, auctioneer and managing director Gavin Strang took bids across four different international platforms and bi-lingual telephones via video-conferencing software. More than 500 bidders registered their interest.Grace Tu, Head of Asian Art at Lyon & Turnbull commented, "The sale attracted a great level of interest from a wide range of international markets, especially Mainland China, Hong Kong, Taiwan, Vietnam, Japan, India, USA, Canada and UK."Scotland's country houses remain the repository of important Far Eastern works of art, often the product of the nation's key role in the 18th and 19th century China trade. Also from the Earls of Crawford and Balcarres was a textbook Kangxi (1661-1722) blue and white cylindrical form brush pot or bitong painted with a narrative scene. The composition of two kneeling figures paying tribute to a seated officer in a garden probably relates to one of the Ming epics – the literary inspiration for many 'scholars' objects of the period. Estimated at £500-700, it took £13,750.
More antiques and works of art from Balcarres House will be offered by Lyon & Turnbull later this year. It was during the long reign of Kangxi that the imperial porcelain factories at Jingdezhen, inactive during the upheavals of the late Ming period, were reopened and a new era of high-quality production and technical innovation begun.Hammered down for £25,000 was an exquisite Kangxi mark and period wine cup finely pencilled with an underglaze blue design of five dragons, symbols of imperial power with a six-character reign mark to the base. Bowls of this 'dragon medallion' type, produced in both underglaze blue and copper-red, appear in a number of well-known collections.
The technique of applying a brilliant coral-red enamel over white-glazed porcelain was one perfected at Jingdezhen during the later Qing period. A pair of 11cm diameter bowls decorated in reserve with freely executed bamboo shoots, had six-character Qianlong marks in underglaze blue to the base and were deemed of the period. In the possession of the same London family for more than a century, they sold for £23,750.
Qing and Republic period jades remain a market strength with the fashion very much towards the lighter coloured stones. Another top-performing lot in the sale was a late 19th or early 20th century white jade table screen carved on one side with a scholar and two young attendants walking in a mountainous landscape and to the reverse with two scholars and a crane gliding in the sky. Key to its appeal was its original elaborately carved hardwood stand inlaid with silver wire. It sold at £16,250.