Marie Antoinette lace collar in Cotswolds sale
An 18th-century lace collar that was reputedly once worn by Marie Antoinette is one of the highlights of an upcoming sale at Cotswolds auctioneers, Chorley's.
The auction house's July 22 and 23 sale will also include a rare collection of sailors' valentines, alongside items ranging from Napoleonic treasures through to Asian antiques.
The fine, late 18th-century Brussels lace collar said to have been worn by Marie Antoinette, the last queen of France before the French Revolution, is part of a small collection which carries an estimate of £150-200.
Elsewhere, the sale also includes the contents of Paxford house, the former estate of Thomas Odling, between Chipping Campden and Moreton-in-Marsh. The house was in the ownership of the Odling family for almost 100 years.
The most notable member of the Odling family, Sir Richard Stendale-Bennett, would have owned several of the music scores that adorned the shelves of the library, some bearing his autograph and annotated comments to the margins. Sir Richard, Thomas Odling's great grandfather, was an English composer, pianist, conductor and music educator. At the age of ten, Bennett was admitted to the London Royal Academy of Music where he remained for ten years. By the age of twenty, he had begun to make a reputation as a concert pianist, and his compositions received high praise.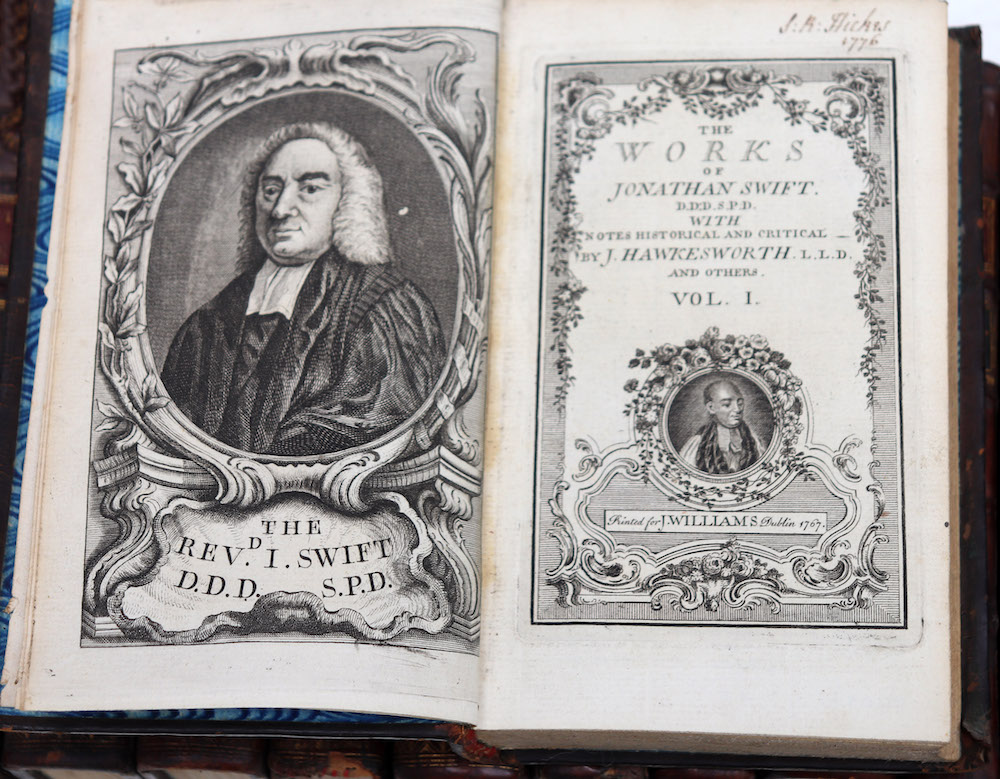 Among those impressed by Bennett was the German born British composer Felix Mendelssohn, who invited him to Leipzig. There Bennett became friendly with Robert Schumann, who shared Mendelssohn's admiration for his compositions. Bennett spent three winters composing and performing in Leipzig and while in England enhanced his musical career through composition, conducting and teaching at the Royal Academy, becoming one of the most respected musicians of the 19th century.
Key items from Paxford House library in the sale include:
Books which may well have been used by Sterndale- Bennett whilst editing works by the great composers of the 17th and 18th century, including the 1760 copy of The Life of Handel by John Mainwaring, £180-220.
Other important books in the library include Falconry in the Valley of the Indus (1852) by Sir Richard Burton
A third edition of The Decline and Fall of the Roman Empire in six volumes 1777, by Edward Gibbon
Many books on political history and a large section on French history including many on Napoleon
Travel books including 17 volumes of the Works of Jonathan Swift published in Dublin in 1767, expected to realise between £3,000 and 4,000.
A bureau bookcase – this 19th-century Anglo-Chinese piece is in the late 18th-century English style but made of rosewood, possibly Huanghuali, and even has the Chinese character marks under the bureau drawers which denote where each one fits. Probably made in Canton the estimate is £1000-1500.
Two Rowing Blades won by Thomas Odling's father, William, for the Worcester College Eights, 1898 and 1899. Although in a well worn state they are still expected to achieve £200-300.
A private collection of Napoleon ephemera on sale includes fine bronzes and ceramics to books and prints. Examples range from a bronze depicting the young Napoleon while at military school, estimated at £1200-1500; to an English pearlware jug with a scene of 'John Bull Shewing the Corsican Monkey' with Napoleon depicted as a fierce monkey astride a bear led by a corpulent John Bull, estimated at £300-500.
There is also an interesting coquilla nut cup carved with the letter N, a portrait and eagle. The cup bears a plaque in French which translates as 'Napoleon used this as a drinking cup during the Battle of the Pyramids'. It has an estimate of £600-800.
Items of of Wellington interest can also be found in the sale, such as a 17th-century curiosity cabinet with panelled lapis front that was last offered by Christies in their sale of items from the estate of Brigadier Arthur Valerian Wellesley, 8th Duke of Wellington, K.G, (1915-2014) and Diana Ruth, Nee McConnel, Duchess of Wellington, (1922-2010). The cabinet was probably acquired by the 7th Duke during his time in Rome. Estimated at £3,000-5,000 it is a rare item and with a provenance to match.
Asian Art is also well represented, with over 100 lots set to go under the hammer, including Meiji era bronzes from Japan and Chinese and Japanese porcelain and pottery including pieces from the Song and Tang dynasties. One of the earliest items is a Tang dynasty equestrian figure in a rare sancai and blue glaze. This was in the collection of Irene and Earl Morse sold at Sotheby's New York, in 1986 and was also in the exhibition A Thousand Years of Chinese Tomb Sculpture in Orlando, 1983. A rare and decorative item with good provenance it is estimated at £10,000-15,000.