Civil Servant's Modern Art collection to sell in Kent
A collection of 20th-century British paintings that hung in the charming Kent cottage of a top civil servant will go under the hammer at The Canterbury Auction Galleries next month.
The collection of the late Sir Ronald 'Ronnie' McIntosh (1919-2019), a long-standing member of the New English Art Club, was amassed with his late wife, Doreen, and includes examples from the club's members and other artists.
Tony Pratt, Chairman of The Canterbury Auction Galleries said: "Those paintings hung around the walls of Sir Ronald and Lady McIntosh's London home in Ponsonby Terrace SW1 and latterly at The Thatched Cottage, near Faversham, Kent, and we are honoured to have been asked to offer them on behalf of the executors."
The collection is rich in the works of Donald McIntyre (1923-2009) and Sir Ronald's long-standing friend John Stanton Ward (1917-2007). McIntyre's paintings enjoy strong demand in particular. He was born in Leeds to Scottish parents but made North Wales his home, also exhibiting regularly at the Royal Cambrian Academy. He was a member of the Royal Institute of Painters in Watercolour, the Royal Society of Marine Artists, and the Pastel Society.
He is represented in the McIntosh collection by four works, most valuable of which is expected to be an oil on canvas laid on board showing a bright Normandy street scene with various figures to the foreground, 28ins x 30.5ins. Purchased from the Thackeray Gallery in Kensington in 1983, it is now estimated at £3,000-5,000.
The same gallery supplied "Sunlit Sea, Aldeburgh" showing two figures on the beach, painted en grisaille in oil on paper, 11ins x 16ins, also in 1983 (estimate £1,000-1,500), a second oil titled "Figures on Beach No. 1" showing four figures in bathing costumes and two clothed figures to the right foreground, purchased in 1971 (£800-1,200) and a third, "On the Beach", with various standing figures, an oil on board 8ins x 7ins, date of purchase not known (£700-1,000).
A portrait of Sir Ronald pictured half-length, wearing a blue shirt and tie, holding a paper in his right hand is by his long-standing friend John Stanton Ward (1917-2007. Signed in full and dated '89, an oil on canvas 24ins x 20ins, it is estimated at £1,000-1,500) and is in sharp contrast to a second shoulder-length portrait by John Randall Bratby (1928-1992), the oil on canvas, 16ins x 14ins, apparently painted in 1978, which is estimated at £600-800.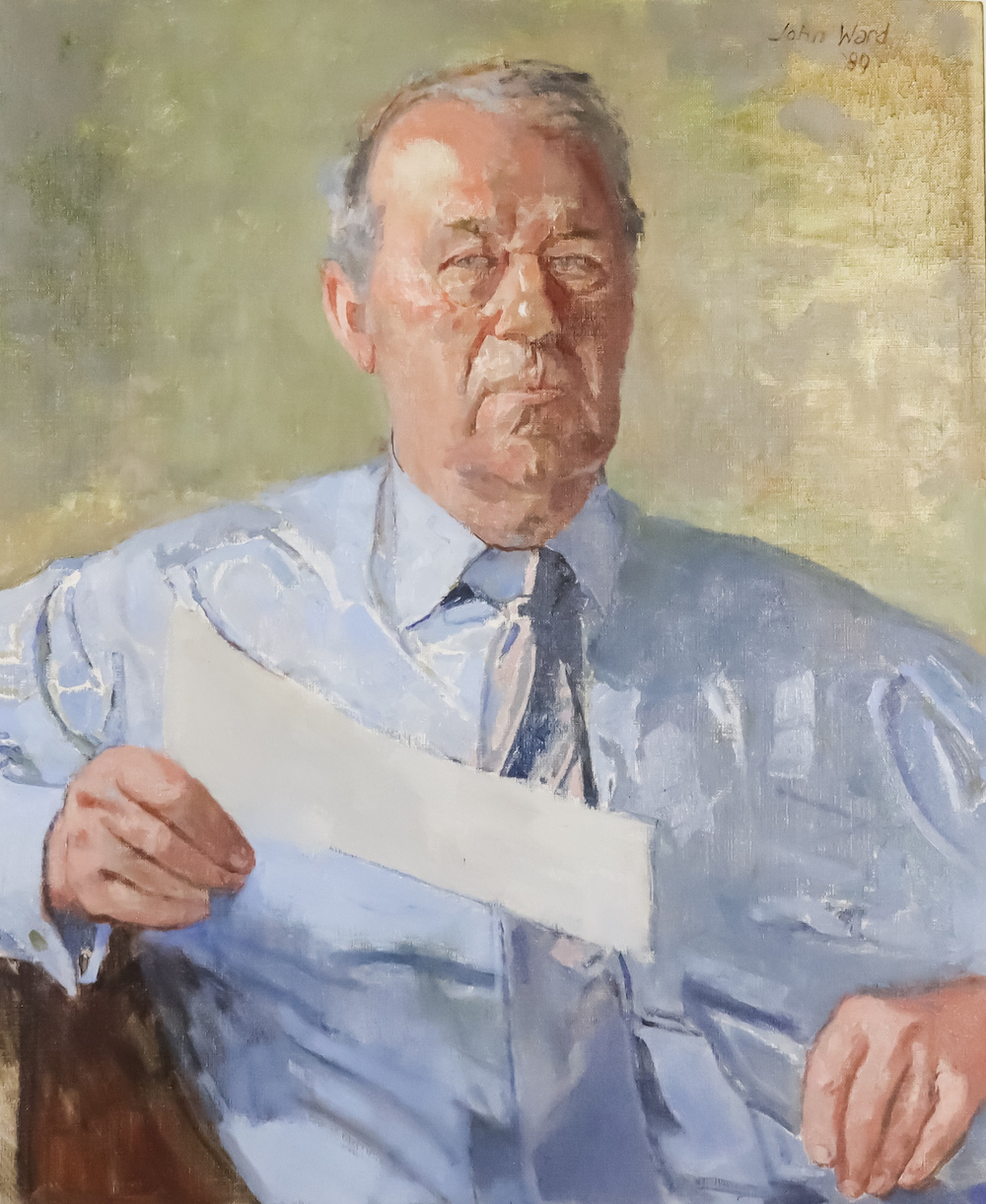 Born in Hereford the son an antiques dealer, John Ward taught at Wimbledon School of Art. He became an associate of the Royal Academy in 1956, and a full member in 1966 but resigned in 1997 in protest at the Sensation exhibition, which included images of Myra Hindley and the Virgin Mary. He is best known for his portraits, landscapes and as an illustrator.
A pen, ink and watercolour sketch titled "Caffe Greco, Via Condotti 86 Roma" showing the interior of the busy cafe, 11in x 15.25ins, signed in pencil and dated '89 was purchased from the Maas Gallery in New Bond Street and is estimated at £700-1,000, while pencil and watercolour sketches of the Taj Mahal, the stables at Chantilly, and the Café Florian in St Mark's Square, Venice, the former purchased directly from the artist by Lady McIntosh, the latter two from London dealer Hazlitt, Gooden Fox and the Maas Gallery respectively, each have estimates ranging from £250-600.
Two handwritten "Thank You" letters from Ward, each illustrated in pen, ink and watercolour and framed glazed are estimated together at £200-300. One dated 18th August 2002, shows a view of Oxford College and is worded "Rothermere American Institute", the other inscribed "What a Birthday Party you gave us!", decorated with a gondola to the lower right corner.
A portrait of Lady McIntosh is by Jane Bond (born 1939) and was exhibited at the Royal Society of Portrait Painters at the Mall Gallery in 1995. The three quarter length oil on canvas, 38inns x 22ins, shows the sitter wearing a pearl choker necklace, seated in a French easy chair and is monogrammed and dated '94 (estimate £900-1,200).
A view of a Fowey Harbour, the busy river landscape with three figures in the foreground by Fred Cuming (born 1930) is estimated at £2,000-3,000 and other works are by Ronald Coleman; Thomas J. Coates (born 1941); Gordon Bryce (born 1943); Andrew Macara (born 1944); Hubert Pragnell (born 1942); Edward Ardizzone (1900-1979); Ernest Jonathan Trowell (1938-2013); Nicholas Cochrane; Celia Ward (born 1957); Julian Bailey (born 1963 and Anthony Morris (born 1938). Estimates range from £100-1,000.
The collection also includes a small selection of silver; two Rolex watches and oak furniture from their Kent home.
The three-day sale takes place from October 3-5.