First Edition On The Origin of Species sells for thousands
A First Edition of Charles Darwin's famed On the Origin of Species by Means of Natural Selection has sold at auction for £38,400.
The 1859 ground-breaking work by Charles Darwin (1809-1882) the celebrated English biologist, geologist and naturalist, famed for his contributions to the science of evolution, sold to an American bidder at Mellors & Kirk auction house in Nottingham, in their recent Fine Art Sale, including Books and Manuscripts last Wednesday. It had been estimated to fetch £5,000-£7,000.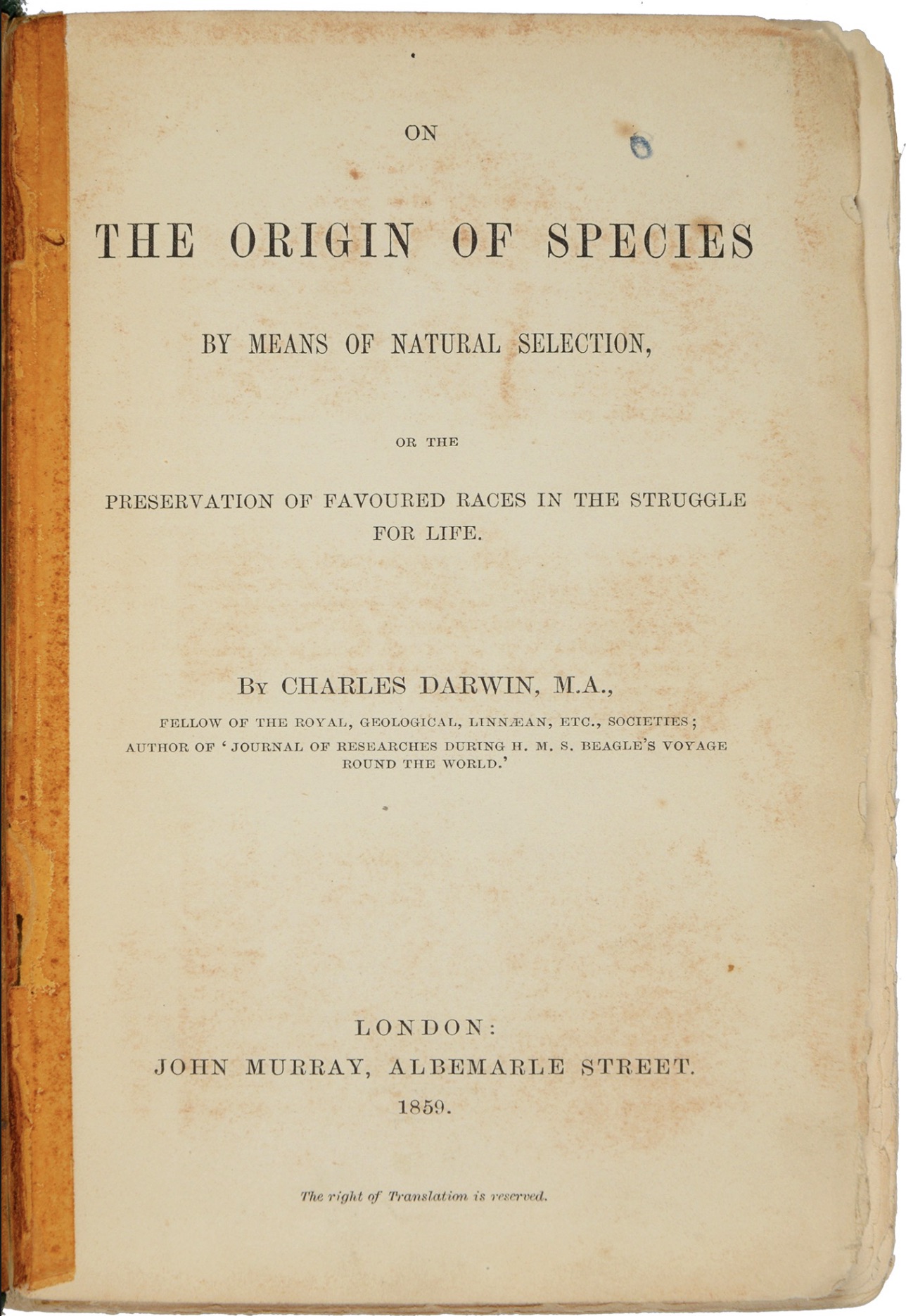 Commenting on the sale, Nigel Kirk, Director of Mellors & Kirk auction house in Nottingham, said: "The very ordinariness of the  modest green book-cloth of the publisher's binding, and the short initial print run (1250 copies), seems with hindsight to be so at odds with  Darwin's genius, factors which help explain why the book has long been such a fabled rarity.
He continued: "Auction prices have surged during the pandemic as people seek alternative means that not only represent a tangible and secure store of wealth but are a connection to some of the greatest creative minds of the past and present."
The book is a work of scientific literature and is widely  considered to be the foundation of evolutionary biology. In it Darwin presents the scientific theory that populations evolve over the course of generations through a process of 'natural selection'.
He included data on his findings from experiments and research and was considered a true 'disruptor' for challenging the theories of the time. The evidence he presented, generated not just  scientific debate, but also philosophical and religious discussion.
A 'First Edition' is a book term meaning the very first group of books printed for a specific title, before any major changes to the text or layout are made. First Editions of Darwin's On the Origin of Species by Means of Natural Selection are particularly sought-after as there were changes in his thinking between the first six editions of the work, the 'First Edition' being the seminal text.
Also with First Editions, writers often participate very closely in the book's production, so there would have been a very personal input into the first work, with corrections and additions up until the last minute and Darwin would have had a say in who illustrated the work, how the cover looked etc
Nigel Kirk concludes, "It is wonderful that such amazing works are still out there, unrecognised and waiting to be discovered, if not discarded when apparently in such poor condition, even in the case of one of the most influential  (and instantly  contentious)  landmarks  in the history of ideas".