Thunderbirds collection flies in Surrey
A huge hidden archive of models, props, scenery and scripts linked to Thunderbirds genius Gerry Anderson has more than doubled estimate to take over £200,000 at auction.
Cleared from Bray Studios after Anderson's production company wrapped up its final series of Terrahawks in the mid 1980s, the archive came to light after more than 30 years when consigned to Ewbank's Auctions in Surrey earlier this year.
The top price was £19,000 hammer for a mechanical puppet head used in the original 1960s series of Captain Scarlet. It had been expected to fetch £5000-8000.
"It was amazing," said specialist Alastair McCrea. "The bids shot up to £17,000 in under ten seconds – it was like watching Usain Bolt."
Production puppets, models of aircraft and other machinery, sets, Gerry Anderson's personally annotated scripts and even storyboards for a series of Thunderbirds that was never filmed were included in the consignment that had become the property of Julian Bell, a driver and handyman at the studios who cleared it out on the instructions of a senior director acting under Anderson's authority because they had no storage facilities for it.
As expected, what are known as the Hero Craft from Terrahawks achieved many of the highest prices.
The Hawkwing, estimated at £3,000-5,000, soared to £12,000. Battlehawk, estimated at £4,000-6,000, took £11,000. And a Terrahawk estimated at £2,000-4,000 sold for £8,500, while a Terrahawks Helijet expected to fetch £2,000-4,000, went for £6,200.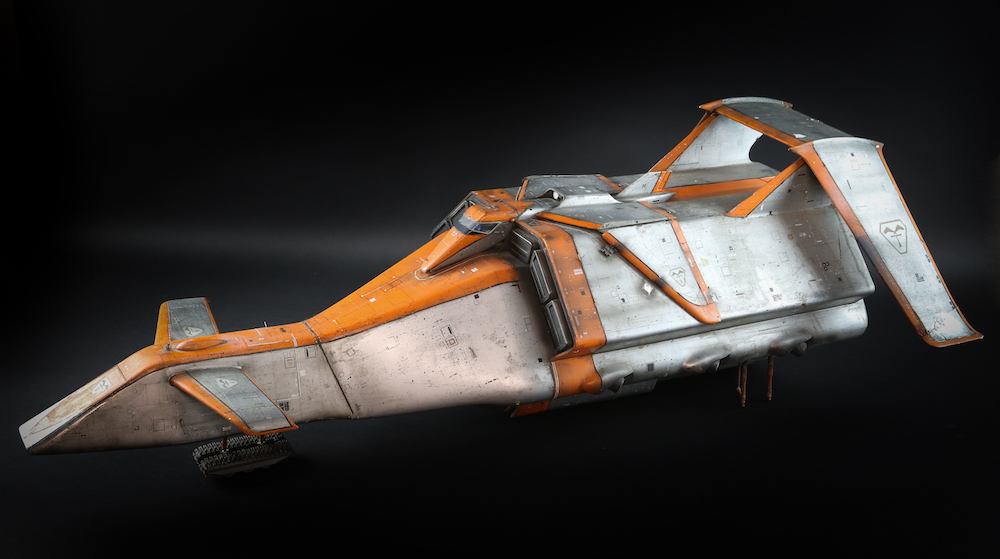 Droids also did well, with a Zeroid, carrying hopes of £1,500-2,500, reaching £6,500 hammer. Five mini Zeroids pitched together at just £200-400 attracted a winning bid of £2,100. Two single Zelda's Cubes estimated at £300-500 each took £1,600 and £1,500, while seven mini cubes – also droids and guided together at £200-400 – made £1,300.
Large collections of production paperwork and photo albums did well when lotted together, trouncing estimates of £400-600 and £200-400 to sell for £1400 apiece.
Much of the consignment is linked to the 1980s Terrahawks series, but Captain Scarlet,  Thunderbirds and other hit programmes from the Anderson stable are represented in the auction, which presented one of the greatest collections of material from the master of Supermarionation ever put up for sale at one time.
David Sisson has spent the last 35 years building replica models and restoring original studio props from the shows, as well as writing books and articles on the Anderson phenomenon and appearing on TV as an expert fan. He speaks for the huge fanbase, saying: "It's unique. Terrahawks has a growing appreciation from the younger generation of Anderson fans. When I do my public displays, a lot of these people recognise Terrahawks even when they don't recognise Thunderbirds."
The fact that Julian Bell preserved so much of the original production material for so long without trying to sell it means that there has been little chance so far to test the market for Terrahawks – until now.
"We had an astonishing number of people registering to bid online from all over the world," said Alastair McCrea. "This is a landmark sale because it has effectively established the auction market for this material. It is interesting that the prices for some of the puppets were slightly weaker than expected, while others, especially the head from the Captain Scarlet series, soared.
"As expected the Hero Craft did exceptionally well, but prices for the droids were even stronger than expected, as they were those for some of the comparatively minor lots."
In all, just two lots failed to sell.
"I think that says more about the potential for this market than anything," said Alastair McCrea. "And what made the event extra special was all the help and support from Gerry Anderson's son Jamie, as well as a number of those who had been involved in the original productions and leading experts in the field today."