Grinling Gibbons – carving a place in history
This year marks the tercentenary of the death of the master carver Grinling Gibbons (1648-1721) described as the Michaelangelo of Wood. With a year of planned events in prospect,
Antique Collecting
considers the man and his legacy.
Back when we were able to visit country houses and stately homes, nothing was more exciting than the sheer visceral joy of encountering, amid the portraits and roped off furniture, a Grinling Gibbons' carving.The realistic limewood carvings of foliage, fruits and flowers and the occasional lobster literally leapt out at you – casting you back to the lavish meals, swaggering decoration and opulent ornamentation of 300 years ago.2021 marks 300 years since the death of the Dutchborn carver whose work left such an indelible mark on British baroque. The year will celebrate his achievements in a succession of exhibitions and events dedicated to the UK's best-known woodcarver.During and after his death he spawned 'Gibbons' style' both in his trademark ornamental carving in limewood, as well as work in stone, bronze statues and stone monuments. Gibbons' signature cascades of fruit, leaves, flowers, foliage, fish and birds were applied to panelling, furniture, walls and chimney pieces.So ornate was his skill he even created lace-like cravats in limewood, one of which Horace Walpole wore in public in 1769 (currently on display at Chatsworth House in Derbyshire).V&A director and president of the Grinling Gibbons Society, Dr Tristram Hunt, said: "Grinling Gibbons is rightly revered as one of the greatest woodcarvers in the history of European sculpture. He helped to shape the aesthetic of the British baroque and set the benchmark for craftsmanship, naturalism and technical proficiency."
Grinling Gibbons – the early years
Gibbons was one of seven children born to James Gibbons and Elisabeth Gorling in Rotterdam. His birth date was recorded as April 4, 1648, his father, James Gibbons, was an English merchant adventurer and a Freeman of the Drapers' Company in London. Elisabeth was a daughter of an English tobacco merchant in Rotterdam, Francis Gorling.Grinling's unusual name is a corrupted version of his mother's maiden name, while his elder brother, Dingly, was named after their grandmother's maiden name.Little is known of Grinling Gibbons' earliest training. The most important sculptors in the Netherlands in the 1600s were the Flemish Quellinus family. It is thought that Gibbons was either apprenticed to Artus Quellin the Elder (1609-1668) who had a workshop in Amsterdam or to his cousin, Artus Quellin the Younger, (1625-1700) who worked in Antwerp from 1657 onwards.Grinling certainly had a close connection with the Antwerp cousin, for his son, also Artus but usually called Arnold, worked with Gibbons in England from 1680 until his death in 1686.
Gibbons in York
Before his 20th birthday, around 1667, Gibbons moved to England, first settling in York, perhaps through connections in the wool trade. York at the time was a vibrant commercial, artistic and intellectual milieu.Here he worked as a journeyman for three years between 1667 and 1671 under the pre-eminent York architect, builder and carver, John Etty (c.1634-1708).Gibbons' only surviving carving from that period is a boxwood panel of King David, now at Fairfax House, York. He is also known to have produced a wood sculpture, depicting Elijah with a juniper tree and an angel, and a boxwood portrait of Charles II, now lost.These early carvings suggest that he arrived in England with a knowledge of working with European woods, such as boxwood and limewood, as well as some experience of the carving techniques used in southern Germany. It showed he must have used a finer set of tools than those possessed by English carvers who carved mainly in oak.Etty remained close to the young carver who, in a letter dated July 10, 1684, long after he'd left the city addressed him as his '
Deare frind
', writing, '
I hartely beg Youer pardon for not writing to You in dead my business is so great … but You may be Asuer noe man haes A hier vallu for You then my sealf
'.
Capital Thinking
The Restoration of the monarchy in 1660 and the Great Fire of London in 1666 provided huge opportunities for craftsmen, many of whom flocked to the UK from Europe and the Low Countries. While opportunities there may have been in the north, looking to broaden his horizons Gibbons left York in early 1671 and moved to Deptford in southwest London where he saw the opportunities presented as a ships carver in the Royal Naval dockyard.Although there was plenty of work available Gibbons had set his sights even higher. His talent did not go unnoticed for long and he was soon "discovered" by the diarist John Evelyn (1620-1706) while carving a relief copy of Tintoretto's Crucifixion in '
a poore solitary thatched house
' near Evelyn's home at Sayes Court in Deptford.On March 23, 1682, Evelyn wrote: '
[I] saw him about such a work, as for the curiosity of handling, drawing and studious exactness, I never in my life had seene before in all my travells
.'Proud of his new protégé Evelyn took Gibbons to the Court to present him to Charles II, who was somewhat subdued in his enthusiasm. On presentation of a carving, he suggested Gibbons take it to the queen's bedchamber, assuming Queen Catherine was likely to buy it, 'it being a Crucifix'.
New Dawn
Gibbons soon realised his religious depictions misjudged the prevalent mood of restoration England and its 'Merry Monarch', Charles II. He started to concentrate on more flamboyant ornamental carving and was soon commissioned by Thomas Betterton (1635-1710), probably through Evelyn's influence, to produce the carved ornament for his new Dorset Garden Theatre. Betterton was the leading male actor and theatre manager in Restoration England and his new theatre was the most luxurious in the capital at the time. Here Gibbons was "discovered" again, this time by the court artist and Dutch-born Sir Peter Lely (1618- 1688) who, admiring the carved capitals, cornices and eagles, enquired about the maker.Lely was a close friend of Hugh May (1621-1684) who was to become the architect for the most important royal project of the time, Charles II's rebuilding of Windsor Castle.The influential pair arranged a second presentation of Gibbons to the King, this time at Windsor Castle, at the start of May's rebuilding of the medieval building (c.1675) in the prevalent Baroque style. Steering clear of religious icons, Gibbons presented a carved chimney piece in wood with a festoon of fishes, shells and other ornaments; the King hired Gibbons immediately.His subsequent decorative work at Windsor Castle (c.1676–1682) set the seal of royal approval on the ornate style and established his fame. Charles II also commissioned Gibbons to create the Cosimo Panel, completed in 1682 (on display at the Pitti Palace, Florence) – a diplomatic gift from the King to Cosimo III de Medici, which is another tour de force of Gibbons' naturalistic carving.
Country House Commissions
During the Restoration, the aristocracy set out to re-establish their authority over the country by embarking on an ambitious rebuilding programme. New country houses were commissioned and old ones either demolished or radically redesigned and extended.The nobility vied with each other to employ the best craftsmen to create lavish interiors and Gibbons' royal patronage meant that he was much in demand.Major non-royal commissions included Badminton House, Gloucestershire for Henry Somerset, 1st Duke of Beaufort (1682-1683) and Burghley House for John Cecil, 5th Earl of Exeter (1683-1685). Some of his finest work can be seen at Petworth House, Sussex, now owned by the National Trust, where Gibbons carried out work for Charles Seymour, 6th Duke of Somerset in the early 1690s.
WILLIAM III and Grinling Gibbons
After the death of Charles II, his brother, James II, a Roman Catholic, began work on a new chapel at the Palace of Whitehall, the main residence of English monarchs from 1530 until its destruction by fire in 1698. James II reigned only from 1685 until 1688 but Gibbons continued to enjoy royal patronage. For William III, he carried out work on a new range of state rooms at Hampton Court Palace from 1689 until 1694 and further work at Kensington Palace in the 1690s and, in 1693, William appointed Gibbons Master Sculptor and Carver in Wood to the Crown.But his time in the ascendancy did not last. 1702 was a difficult year for Gibbons. The death of William III and the accession of Queen Anne to the throne marked a gradual change in fashion – the demand for elaborate woodcarvings dropped and from that time onwards Gibbons worked mainly in stone.
Gibbons Decline
While the sculptor's baroque carvings would ultimately go out of fashion during the Hanoverian period as tastes started to favour the more restrained and austere classical style, his incomparable talent and the immense contribution he made to the artistic scene in England in the period cannot be overstated.
In the style of…
Gibbons spawned a style of woodwork that inspired many disciples whose work is more affordable than that of the legendary carver.One such was Edward Pearce (1635-1695) an architect and sculptor who, like Gibbons, flourished in the building boom that followed the Restoration and the Great Fire of London.Pearce also carried out work at the now demolished Cassiobury House in Watford, the contents of which were bought by a benefactor of the Metropolitan Museum of Art in New York. The exuberant carving of the staircase is attributed to Pearce, but it is very similar to the work of Grinling Gibbons. A set of four carved panels in oak by Pearce sold for £7,800 at Sotheby's in 2005.
Did you know?It is a myth Gibbons used a peapod motif as his signature, which was disproved by a historian in 1963. The sheer output of Gibbons and his studio makes attribution difficult as many followed his carving style, including the peapod motif.
Discover more
To celebrate the tercentenary of the death of Britain's finest carver of wood, 2021 sees a year-long programme of UK-wide events, under the patronage of HRH The Prince of Wales. The festival will launch on August 3 – the anniversary of Gibbons' death – with a national exhibition, Centuries in the Making, at Bonhams New Bond Street. The exhibition will run until August 27.
Bonhams' Robin Hereford, said: "Centuries in the Making promises to be the definitive exhibition, not only highlighting Gibbons' great achievements as an artist, sculptor and craftsman, but also his immense and enduring influence as Britain's greatest carver."The exhibition will include loans from national museums, regional collections, historic houses and some international lenders. It will then go on show at Compton Verney Art Gallery, Warwickshire, until February 2022.Compton Verney Director-CEO, Julie Finch, said: "This is an exhibition for everyone, spotlighting craft, its influence on the everyday and the extraordinary, and inspiring others to originate their own craft."
Petworth Q&A
Commissioned by Charles Seymour, 6th Duke of Somerset, the Carved Room at Petworth House, West Sussex, is Grinling Gibbons' crowning achievement. We caught up with its cultural heritage curator Rebecca Wallis 
Q
Why did the 6th Duke of Somerset chose Grinling for the job? Had he any connection to previous works?
A
In choosing Gibbons for the job, the Duke and Duchess of Somerset were showing their loyalty to the crown. They were an integral part of William and Mary's close court circle and would have been aware of the carver's royal patronage. In the same year as the 6th Duke (1662-1748) and Duchess (1667-1722) of Somerset commissioned the Carved Room at Petworth (c.1692), William and Mary engaged him to work at Kensington Palace. In his role as Chancellor of Trinity College Cambridge, the Duke had also commissioned Gibbons to work on the Wren Library the year before. The Carved Room at Petworth represents Grinling Gibbons at the height of his skill and imagination in carving sculptural ornament.
Q
Can you pick out any particular symbols used with a political (or other) resonance to the period or commission?
A
Dutch craft and style, of this type, was emblematic of William and Mary's reign. The Somersets' allegiance is further shown in details such as the sheet music, in the musical trophy, showing part of the semi-opera Fairy Queen which was composed by Henry Purcell in 1692, to celebrate the 15th wedding anniversary of the royal couple. The power-couple duke and duchess were also demonstrating their own position in society by incorporating four full-length portraits of themselves and the duke's grandparents, framed by the carved family crest, and other armorials – all by Gibbons.
Q
Is there any evidence of letters/ receipts to do with the project?
A
The Petworth House archives contain references to the commission including 'A bill paid to Mr Gibbons for Carving…£150' on December 10, 1692 (about £18,000 today), indicating that work in the room was well under way by this point. Inventories of 1749/50 and 1764 also give wonderful descriptions of the original room 'flounced all about with carving' with 'Pictures of Full length in carv'd frames'.
Q
Are there any other examples of Dutch craftsmanship at Petworth?
A
Petworth was transformed by the Duke and Duchess into a Franco- Dutch style palace with the advice of King William II's French-born, Dutch architect and designer, Daniel Marot (1661-1752). The panelling in the Marble Hall (completed in 1692) was almost certainly designed by Marot and compares to his work for the Binnenhof Palace in The Hague. Marot also designed stands for East Asian porcelain collected by the Duchess of Somerset which was imported into Europe by the Dutch East India Company. The Dutch connection continues in the fine art collection, which is home to 17 paintings by van Dyck.
Q
Do any of the carvings represent the room they were used for?
A
Gibbons' carvings were originally installed in a smaller drawing room for entertaining close friends and guests. Entertainment, an essential part of 17th-century hospitality, is represented in the trophy of musical instruments including a violin, recorder, mandolin and trumpet. Additional carvings, showing birds, fish and lobsters, reflect the types of food served to guests in the 19th century when the extended space was used as a dining room.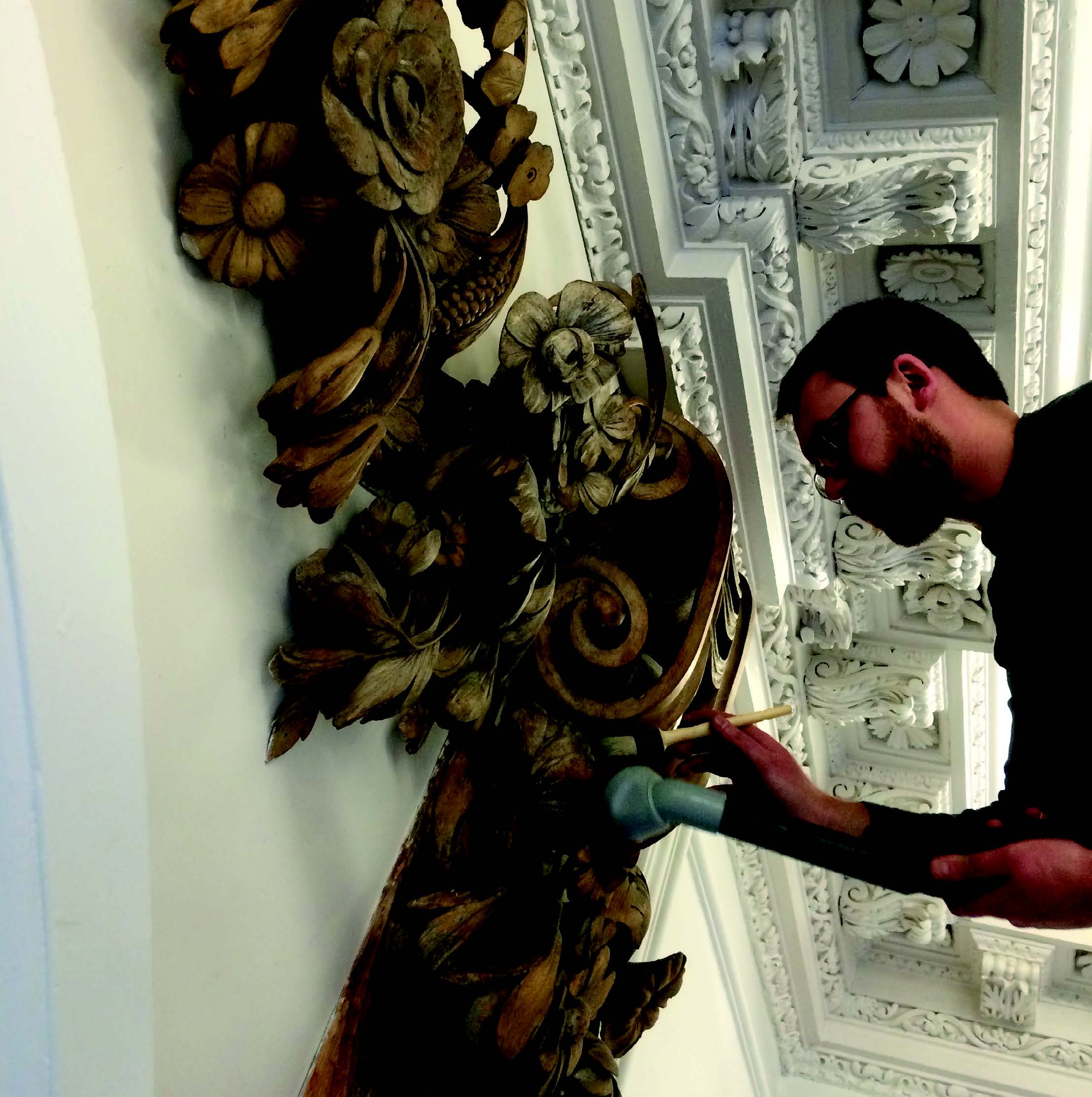 Q
How involved would Grinling have been in the carvings?
A
Gibbons was almost certainly involved in carving the showpieces such as the key elements of trophies. He would also have held a supervisory role for his highly-skilled workshop team; this may have included some preliminary carving for his assistants to finish. By the 1680s, Gibbons ran the largest wood carving workshop in England and he would have been factory-like in dividing the areas of work and production, especially for large commissions. The various elements of a scheme were made in the workshop and assembled onsite.
Q
How have the presentation of the limewood carvings changed over time?
A
Originally the lighter lime carvings were placed against the darker oak
Q
Some people talk about a visceral reaction to Grinling's work seen in the flesh.
A
The Carved Room has delighted visitors since its creation. Horace Walpole wrote in 1749 that Petworth housed '
the finest carving of Gibbons that ever my eyes beheld
'. The carvings still evoke an emotional reaction in many who visit Petworth, it is incredible how they have survived over 300 years and the skill involved is equal to anything that can be created today. A favourite piece of mine is the trophy group of vases which Walpole described as 'as perfect and beautiful as some Grecian master'.
Q
Is it possible to get a sense of the man through his work at Petworth?
A
The original, more intimate, space allowed for close study of the trophies and picture surrounds, so the quality and detail on these carvings is executed at a far higher level than for other commissions where his work is often placed high, away from the viewer.
The Carved Room at Petworth House will open to visitors from May 17. Find more details here.