Contents of Selham House in Sussex sale
Millais, Burne-Jones and William Powell Frith are just three artists whose work will feature in auctioneers John Nicholson's sale of the contents of Selham House, Sussex on June 25.
Furniture, porcelain, clocks, tapestries and fine art come together in this rare country house sale – the dream of any auctioneer these days – with the paintings and drawings leading the way thanks to a connoisseurial eye that favoured Pre-Raphaelites and choice examples of Victorian genre paintings.
The highlight is expected to be a signed and dated oil on canvas work by William Powell Frith (1819-1909) from 1872, when it was exhibited at the Royal Academy. An Incident in the Life of Lady Mary Wortley Montague, measuring 44 x 56in (112 x 156cm), has a provenance to a 1995 Sotheby's sale and carries an estimate of £15,000-20,000.
Two pencil studies by the Pre-Raphaelite artist Sir Edward Coley Burne-Jones (1833-1898) are expected to be the subject of keen bidding. One, of a reclining knight, measures 7 x 12in (18 x 31 cm) and was once owned by the influential dealer Christopher Wood. It is estimated at £3,000-5,000. The other, a 13 x 8in (33 x 20cm) view of two figures, is expected to fetch £1,000-2,000.
Burne-Jones' fellow Pre-Raphaelite Sir John Everett Millais (1829-1896) is the creator of a pencil study of two figures, 8¼ x 6¼in (21 x 16cm) with a £500-800 price tag.
An ethereal 18 x 10in (46 x 26cm) conté study for the Birth of Love by Solomon Joseph Solomon (1860-1927) should make £1,000-2,000.
More substantial works by Charles Napier Hemy (1841-1917) and James Clark Hook (1819-1907) should also do well. The former's 36 x 48in (91 x 122cm) signed and dated oil on canvas, A Slight Catch is from 1890 and has a guide of £10,000-15,000, while the latter's Milk for the Schooner is also an oil on canvas and signed with monogram and dated 1864. At 28 x 42in (71 x 107cm), it carries hopes £7,000-10,000.
Marine scenes also feature strongly.
Arthur Joseph Meadows' (1843-1907) British, Breezy Day, a signed oil on canvas measuring 24 x 42in (61 x 107cm), is packed with detail centred on a fishing boat ploughing choppy waves by the foreshore and is estimated at £2,000-3,000, while a more sedate views of shipping at dusk, paired with another scene of rough seas, comes from the brush of Henry Redmore (1820-1887). Signed and dated 1857, the 8 x 11in (20 x 28cm) pair are lotted together with a price of £3,000-5,000.
Views of the Chinese coast come in the form of three Chinese School works, one dating from c.18560, the other two, a pair, from c.1876. The first is 12 x 18in (30 x 46cm) oil on canvas of The Hongs of Canton, with an estimate £4,000-6,000, while the later pair, A French Clipper off Hong Kong and The Danish Clipper J. H. Loeve off Hong Kong, oil on canvas, each measure 18 x 24 (46 x 61cm) and come in hand-carved Chinese Chippendale frames. They both featured in Chinnery and Paintings of the China Coast, an exhibition staged by the dealer Martyn Gregory of Bury Street. They are priced together at £3,000-5,000.
A 19th Century Korean School triptych of traditional scenes of birds amongst blossoming foliage, is presented in ink and watercolour on silk. The set of three, each 40 x 12½in (101 x 32cm), are lotted together at £1,000-2,000.
Pick of the furnishings include an 8ft 2in x 13ft 8in Antwerp Tapestry (c.1720) by Jacob Van Der Goten, with a provenance to Powderham Castle, Devon, the seat of the Courtenay family, Earls of Devon. It is estimated at £6,000-8,000.
A c.1740-50 Louis XV commode, attributed to Jean Baptiste Fromageau, is expected to sell for £5,000-8,000.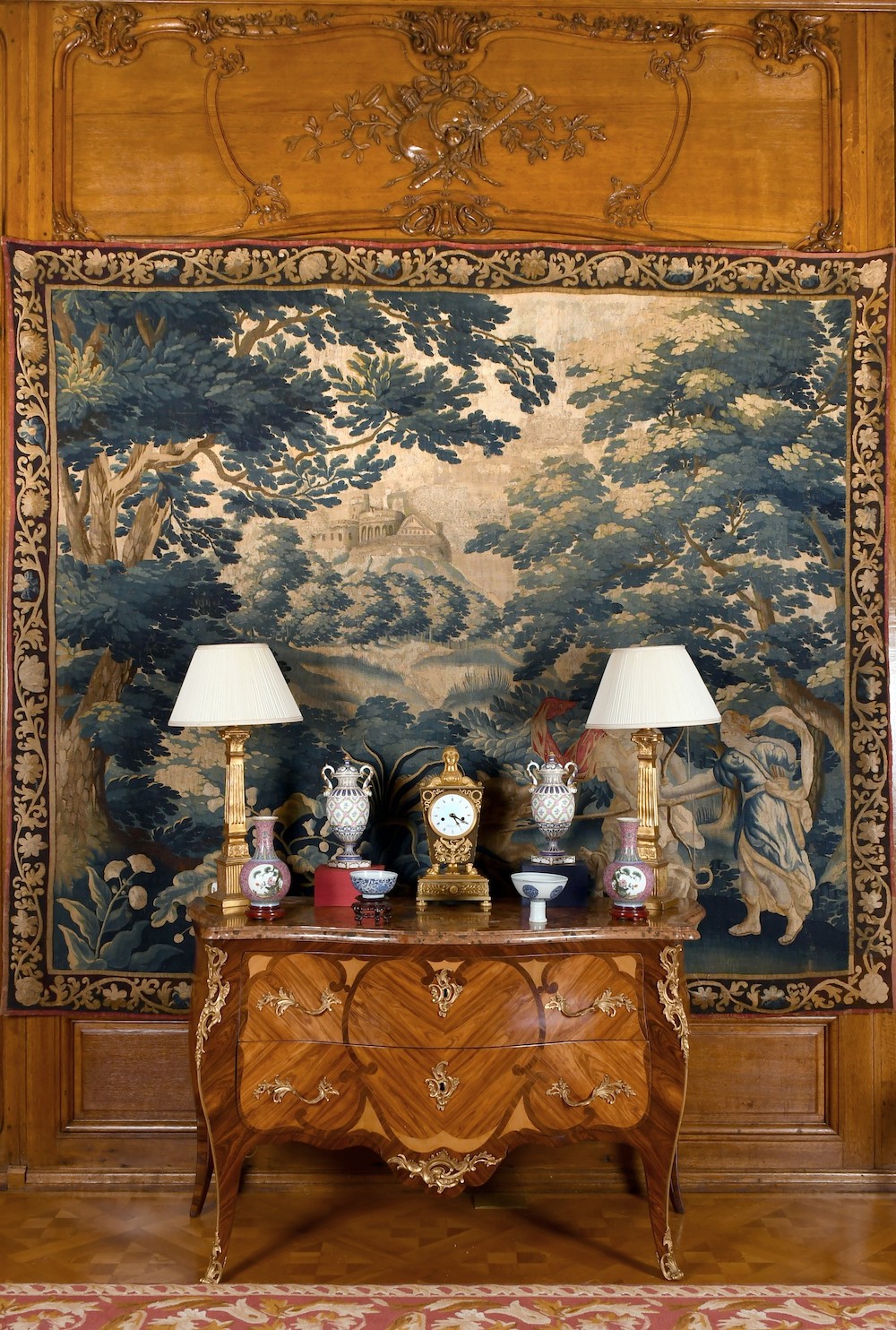 The sale will take place at John Nicholson's Fernhurst rooms on June 25, with prior viewings at Selham House itself. Entry to the viewing is by paid catalogue only, with two people granted entry by purchasing a £20 catalogue.
Described by Country Life as having a grand entrance hall worthy of Downton Abbey, Selham House stands in 15 acres of landscaped gardens between Petworth and Midhurst.
Dating to about 1900, Selham House, its owners have included the Cowdray family and the Maharajah of Bahawalpur, who bought it in 1948.