Soldier's wartime love letters to sell
Letters home to a sweetheart and photographs revealing aspects of life in a German Prisoner of War camp form part of a fascinating collection of WWI memorabilia that is being sold at Yorkshire auction house.
The items relate to Second Lieutenant Clarence Banyon Pickyard – a soldier from the 22nd Durham Light Infantry who was detained at Schweidnitz Prisoner of War Camp in Eastern Germany between June and October 1918.
During his time at the camp, Clarence wrote home to his sweetheart Gwen Johnson of Hartlepool giving moving accounts of day-to-day life for the captured soldiers and also detailing how he had been shot through the hip on the battlefield and hospitalised. (His mother was mistakenly informed that he had been killed in action.)
Three of these letters and three postcards survive in the collection. Interestingly, part of the contents of one of the letters has been removed by the censors.
The lot also includes a photograph and postcard album, containing many black and white photographs of fellow servicemen and the camp. A large number depict the amateur dramatics group and show the soldiers dressed as women and wearing other theatrical costumes. It was common for British servicemen to put on plays and dress up in drag as a way of keeping up morale while imprisoned by the Germans.
Historical accounts and other archive photographs from Schweidnitz show that the troops took these productions very seriously and would sometimes spend up to six hours a day trying to perfect their roles in the plays. The shows would be advertised in camp newspapers and magazines.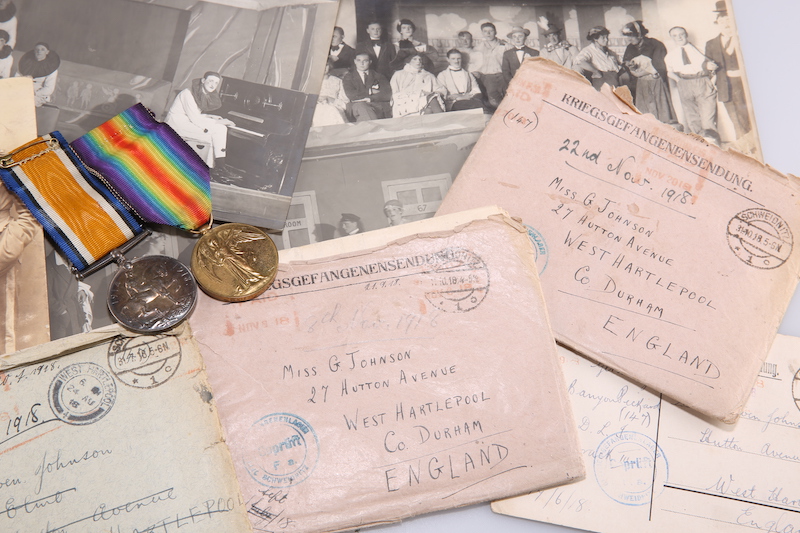 David Elstob, Director of Elstob & Elstob, said: "Amateur dramatics was a popular morale-boosting feature at POW camps during World War One, alongside sporting societies and musical groups.
'We can see from the photographs that the men put a lot of effort into producing their own costumes and sets, and it probably provided an important mental diversion to help lift the boredom of their incarceration.
"These camps were a very different to those we commonly associate with World War Two which had far worse conditions."
The collection, which carries a guide price of £100-£150, also contains a WWI British War medal and the Victory medal engraved 2 Lieut. C.B Pickard, with ribbons and contained in the original box.
Second Lieutenant Pickard returned home after the war and he and Gwen were married, making Clarence's wish in one of the letters come true: "Never mind dearest, the day will soon come when we shall be joined together again." The collection has been consigned by a distant relative and has been within the family until this time.
"It is very exciting when lots have such a fascinating history and can give us such specific details of past lives," said David Elstob. "Thankfully, this soldier's story had a happy ending and his memory lives on in these intriguing artefacts."
Elstob & Elstob introduced the Department for Militaria, Nauticalia and Sporting Antiques at the end of last year to build on the growing following in this area both at a regional and national level.
The Fine Art and Antiques Sale takes place on June 19.