Demand surges for antiques
Berkshire auction house Dreweatts said that there has been a surge in demand for antique furniture as more people work from home or have been inspired to improve there house during lockdown.
Ben Brown, Head of Dreweatts Furniture department, says: "While it's always been of ecological benefit to pass antique furniture down through the generations, many clients are now choosing antique pieces for their aesthetic quality, as well as the fact it will last many years. The old adage 'it was built to last', comes to the fore with antique furniture and the fact that you can obtain one of a very limited number made, rather than something mass-produced that you see everywhere, makes it feel unique. Even younger generations are seeing the benefit. The fact that a hand-crafted piece, that is several hundred years old, can fit brilliantly into a very contemporary interior and look chic, is also a positive."
The auction house said its upcoming Fine Furniture, Sculpture, Carpets and Works of Art on June 30 offers lots of affordable options.
In the sale is a Regency rosewood and gilt brass mounted drum library table, dating from circa 1820. The elegant craftsmanship and stylistic qualities of this table typifies the high-quality work of John McLean and Sons of Little Newport Street and Upper Marylebone Street, London. The firm were well known for their fusion of Grecian motifs and Parisian tastes of the period, as well as their use of black figured 'Grecian' rosewood and lavish cast and shaped brass mounts, all of which is exemplified in this table. It carries an estimate of £15,000-£25,000.
An attractive pair of Regency mahogany Bergère library armchairs were created in 1815 for Thomas Langford-Brooke, for the Library at Mere Hall, Cheshire. They are stamped Gillows by their maker and one features a rare, fitted reading stand, which was a feature used by Gillows.
Gillows of Lancaster and London (also known as Gillow & Co.), was an English furniture-making company with workshops in Lancashire and London. It was founded in Lancaster in 1730 by Robert Gillow (1704–1772) and was highly-revered for it exceptional quality and pioneering designs. The pair is estimated to fetch £12,000-£18,000.
A magnificent George III mahogany breakfront library bookcase in the manner of Thomas Chippendale is a fantastic statement piece. It dates from circa 1780 and is estimated to fetch £6,000- £10,000.
An early George III mahogany serpentine commode in the manner of Thomas Chippendale would be a more elaborate addition to a home. Many parallels can be drawn between this piece and Thomas Chippendale's French Rococo designs for serpentine commodes raised on carved cabriole legs. This decorative commode dates from circa 1760 and carries an estimate of £8,000 to £12,000.
The sale also includes the private collection of Sir David Scholey CBE FRSA and his wife Lady Alexandra Scholey. Their joint passion for the arts was demonstrated in their refurbishment of Heath End House in Hampstead, once the residence of American painter John Abbott McNeill Whistler (1834-1903). They regularly added to the house with purchases from London antique dealers, which included their penchant for Chinese Porcelain, English furniture and silver cream jugs. Over time these filled the house, however having decided to relocate to smaller quarters in Florence, they are scaling down and therefore dispersing their wonderful collection of antiques, paintings and works of art.
Among works in the collection and continuing with the home office theme, is a Victorian satinwood inlaid and gilt metal mounted writing table, dating from circa 1880. The table features a tooled leather inset surface to the top and is stamped by its' makers: 'Edwards & Roberts'. The firm was considered one of the best English antique furniture cabinet makers of the second half of the eighteenth century. The company was founded in 1845 and operated from 21 Wardour Street, in London. They produced high quality furniture in a range of top-quality woods, such as fine burr walnuts, figured mahogany and lighter toned satinwood. This charming writing table is estimated to fetch £800-£1,200.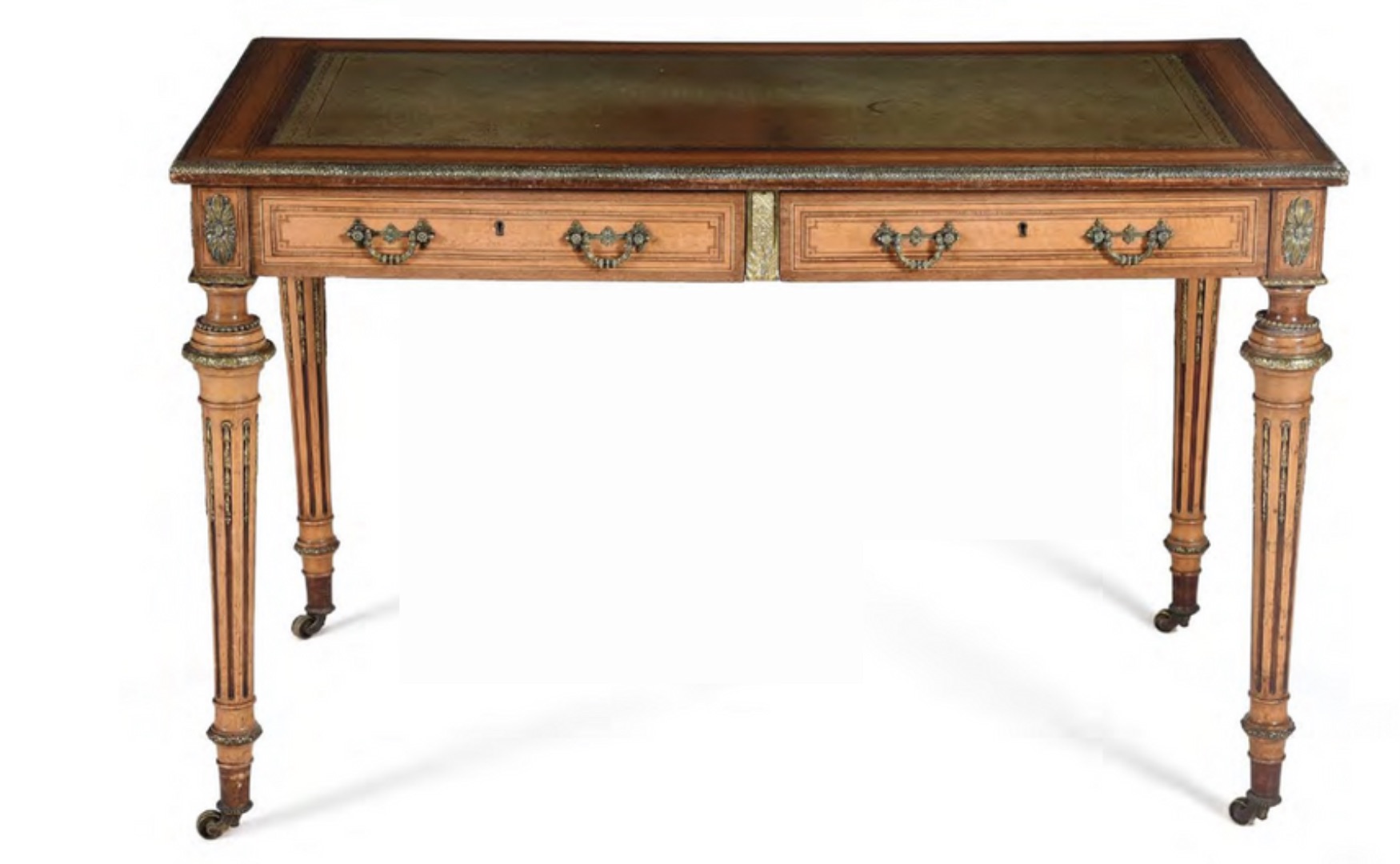 While the collection features a range of beautifully crafted antique furniture it also comprises some more unusual pieces, such as a wonderful 18th century Chinese export reverse-painted wall mirror in George III style. Its' mirror plate depicts figures in traditional dress with various animals, with a hilly river landscape beyond. Commenting on the mirror Dreweatts' Ben Brown said: "This mirror represents a real visual statement and has an interesting background, in regard to the Chinese Export market in the 18th century, to the United Kingdom. These are always highly sought-after historically by all types of buyer".
Another unusual work from the Scholey collection is a bronze full-length portrait of the American artist James Abbott Mcneill whistler (1834–1903), whose house the Scholeys lived in. Created by the sculptor Angela Conner (b.1935) the artist is captured in bronze standing wearing a top hat, a cloak on his shoulder and with a walking cane. Angela Connor was a sculpture assistant to Barbara Hepworth. After leaving Hepworth, Conner became known for large mobile sculptures, as well as portrait work, including commissions for Lucien Freud, H R H Prince of Wales and Elisabeth Frink. This bronze of the well-known artist whistler is estimated to fetch £1,500-£2,000.