Rene Lalique in Gloucestershire saleroom
A Gloucestershire auction house will showcase an auction devoted to the glass master Rene Lalique and his contemporaries.
Kinghams Auctioneers of Moreton in Marsh's will hold its first auction focused on the internationally renowned French designer and leading exponent of Art Deco glass wares on July 2.
Rene Lalique (1860-1945) began his career as a freelance designer creating jewellery for notable French jewellery houses Cartier and Boucheron. By the 1920s he was noted for his glass creations embracing the Art Deco style. Prominent commissions included the creation of vast glass columns for the luxury liner SS Normandie and panels used on the Orient Express. The firm is still going strong today and his creations are widely collected by enthusiasts and investors alike across the globe.
The auction will showcase decorative vases and smaller works such as menu holders, paperweights, clocks, figures, perfume bottles and jewellery.
At the core of the auction and of particular interest to classic car enthusiasts is a remarkable collection of all but two of the car mascots he created including some of the rarest and most sought after designs ever created. During the 1920s and 1930s these proved status symbols for wealthy vehicle owners who would attach them to the front of their cars, sometimes being illuminated.
These mascots came in the form of stylized female nudes such as Chrysis from 1931 and the iconic Victoire from 1928. Many came in the form of animals such dogs, fish, birds, insects, horses and even a wild boar (Sanglier).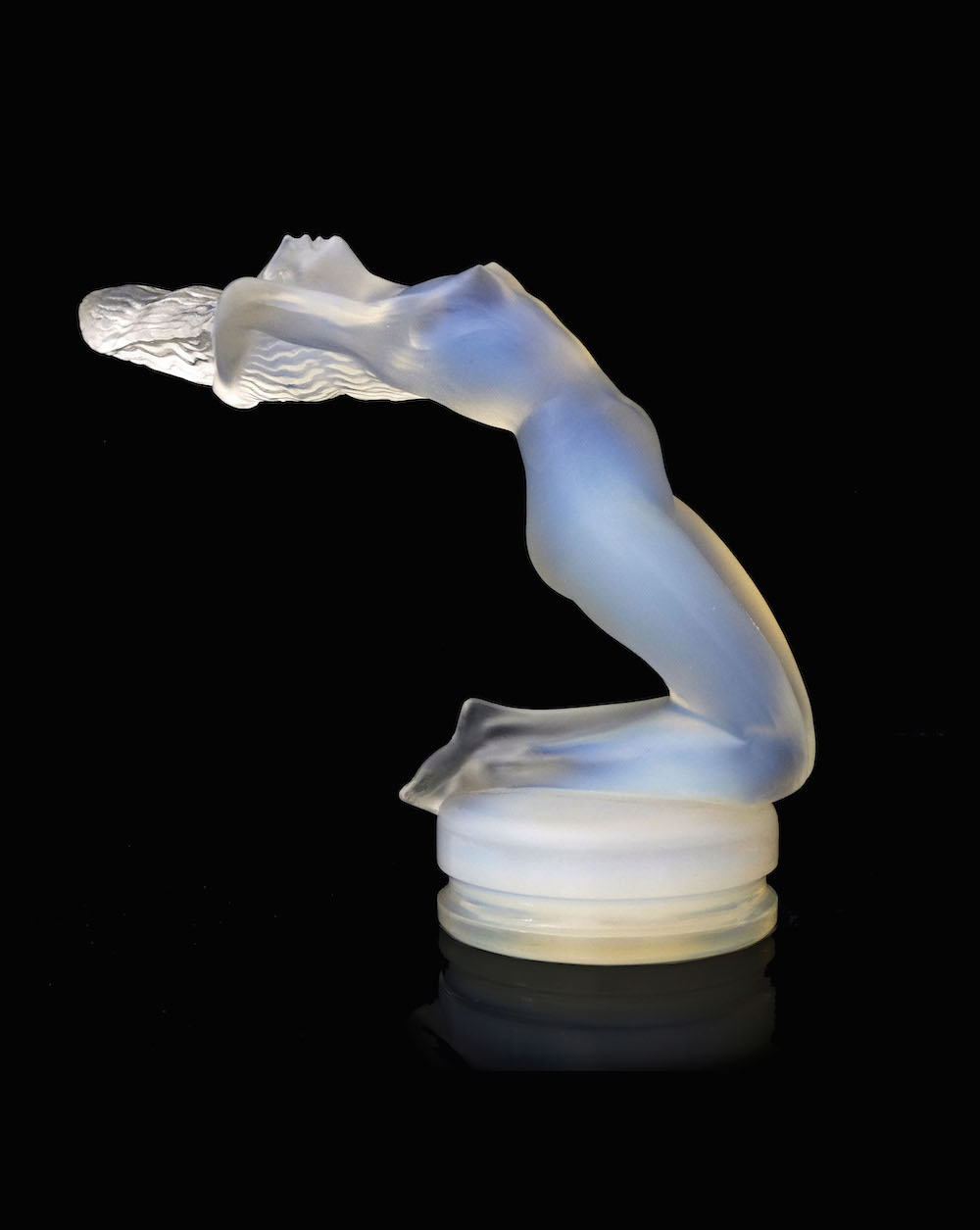 The holy grail of Lalique car mascots is the Renard (fox) mascot from 1930 which holds the world auction record price of £243,000 just a few years ago.  An example, model No.1182, appears in this auction and is estimated at £80,000-120,000.
Although Lalique is noted for his clear and frosted glass creations, he also used colour to great effect such as the wonderful blue tinge used in an Archers cased opalescent vase and the red amber glass used in the same model of vase. A Bacchantes opalescent vase measuring 24cm high was designed in 1927 and is estimated at £15,000-20,000.
A particular rarity is a very rare Perroquets glass perfume bottle designed in 1919 an incorporating black staining. No other physical example of this design is known or recorded to date.
Elsewhere in the auction, works by other notable glass makers of the period are also represented.  Art Nouveau cameo glass by Emile Galle and pate de verre glass by Gabriel Argy-Rousseau, Amalric Walter and Daum are on offer.
Estimates range from £100 to £100,000 and the catalogue can be viewed online.