Charles I mourning ring in Derbyshire sale
A ring made to commemorate the death of King Charles I nearly 400 years ago – featuring his haunting portrait – is expected sell for thousands of pounds at auction.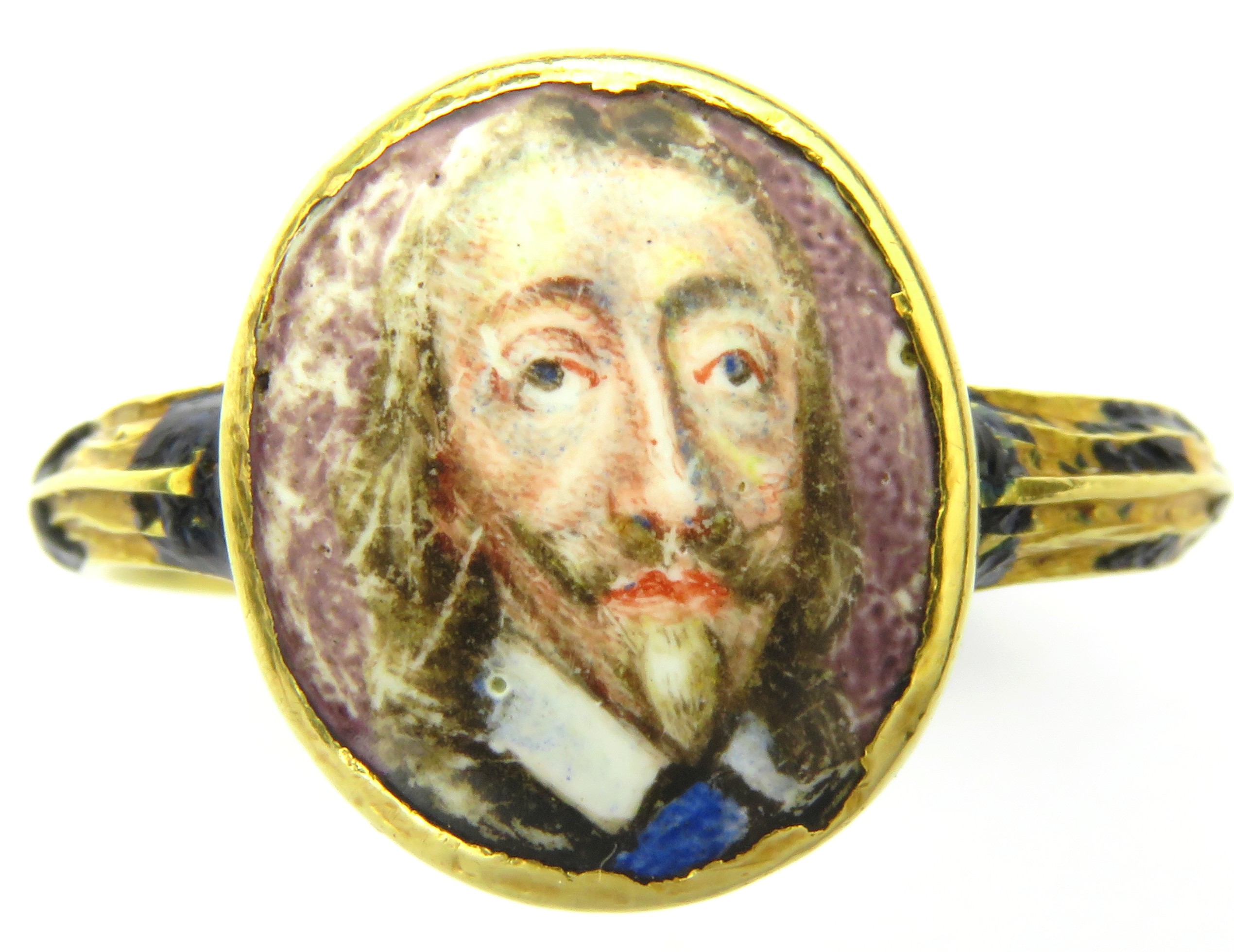 The mourning ring, which was made to mark the king's death after he was beheaded on January 30, 1649, will go under the hammer at Hansons Auctioneers in Derbyshire on August 26 with a guide price of £10,000-£12,000.The price reflects the fact that, as well as being an impressive piece of jewellery in its own right, the fascinating historical piece may have been commissioned by Charles himself shortly before his death.
Adam Staples, consultant valuer at Hansons, said: "The gold ring features an exquisite miniature portrait of executed King Charles I. It's part of a series of mourning jewellery which was made to commemorate his death after he was beheaded 372 years ago.
"Some of these pieces were commissioned by Charles himself, whilst awaiting his death, to be given to loved ones and loyal supporters. It's known that he divided his personal jewels among his children when they paid him their final visit. The inside of the ring bears an engraving which states, 'martyr populi' – the people's martyr.
"The tiny portrait on the bezel, which has been skilfully hand painted in enamel, was almost certainly copied from a 1633 oil painting entitled 'Charles I with M. de St. Antoine' by Flemish artist Anthony van Dyck.
"This masterpiece of oil on canvas depicts Charles I as a knight on horseback, wearing gleaming armour. Over 12 feet tall, it remains in the Royal Collection and currently hangs in Buckingham Palace.
"Underneath the bezel sits a skull within a field of black enamel surrounded by the execution date 'Jan 30 1648'. During the 17th century the new year began in March. December 1648 was followed by January 1648, and many contemporary memorials, including the king's coffin, record the date of Charles' death as 1648.
"The popularity of mourning jewellery continued into the 18th century and the auction also features a more subtle mourning ring from the reign of Queen Anne. The eye sockets of a small carved skull stare out from an otherwise plain band and the interior gives the date of death as October 2, 1710. The name of the deceased is now sadly lost to us, only their initials 'J.T.' are engraved within. That ring has a guide price of £600-£800."
The rings will feature in Hansons Auctioneers' Historica, Coins and Antiquities Auction on August 26.