Guide to Winter Landscapes in Art
From Pieter Bruegel the Elder to the 21st century, artists have been drawn to the magical properties of snow. Gallerist Martin Heaps considers some of the best
Winter landscapes date back to the late 1500s and the long cold periods from the mid-16th century, a period known as the "Little Ice Age", with 1564–1565 cited as the coldest winter of the century.
Artists such as Pieter Bruegel the Elder (c. 1525–1569) celebrated frozen rivers, snowy scenes and icy villages of the Netherlands within a number of works including Winter Landscape with Skaters and Bird Trap (1565) The Census at Bethlehem (1566) and Hunters in the Snow (1565) presenting a bird's eye view of a world locked in winter that is nevertheless teeming with life.
Technically more difficult to paint than summer scenes, painting snow presents many challenges including the intense light reflected by the icy cystals.
Romanticism was responsible for the surge in landscape painting, with many artists choosing winter as the season that best reflected the melancholy and romantic rupture of the time. The 19th-century German landscape painter Caspar David Friedrich (1774-1840) often depicted winter, using the freezing landscapes to echo the drama of human emotions, rather than a realistic depiction of weather.
Making an Impression
Of the Impressionists, three painters in particular were drawn to paint "effets de neige": Claude Monet (1840- 1926), Alfred Sisley (1839-1899) and Camille Pissarro (1830-1903). All shared a fascination with snow leading them to seek out freezing landscapes.
Monet created more than 140 winter paintings, with haystacks covered with snow being one of the most repeated images. He was drawn not only to the light of the scene but the transitory nature of snow and its effect of the landscape.
In more modern times, winter landscapes have continued to capture artists' imaginations, none more so than Modern British Artists whose work continues to delight collectors today.
Peter Brook
One such artist is Peter Brook (1927-2009). Born and brought up in West Yorkshire, Brook's intimate knowledge of the Yorkshire Pennines, with its ever-changing landscape, moors and mills, led him to be called the 'Pennine landscape painter'. He became a full-time artist in his 40s and, in 1962, was elected a member of the Royal Society of British Artists.
Agnews, the major London art dealers, began to represent Peter in the late 1960s with its first two shows resulting in the sale of more than 100 paintings being sold.
Brook's most collectable paintings have a caption on them in red and include his famously loyal dog, that would accompany the artist as he searched the countryside for new scenes to depict.
From a collecting point of view, my recommendation is to search out Peter Brook's snow scenes that feature the painter and his dog, with his signature in red displayed. An example is the picture here which sees the duo trudging up a snowy hillock towards a detached house under a reddy-orange sky.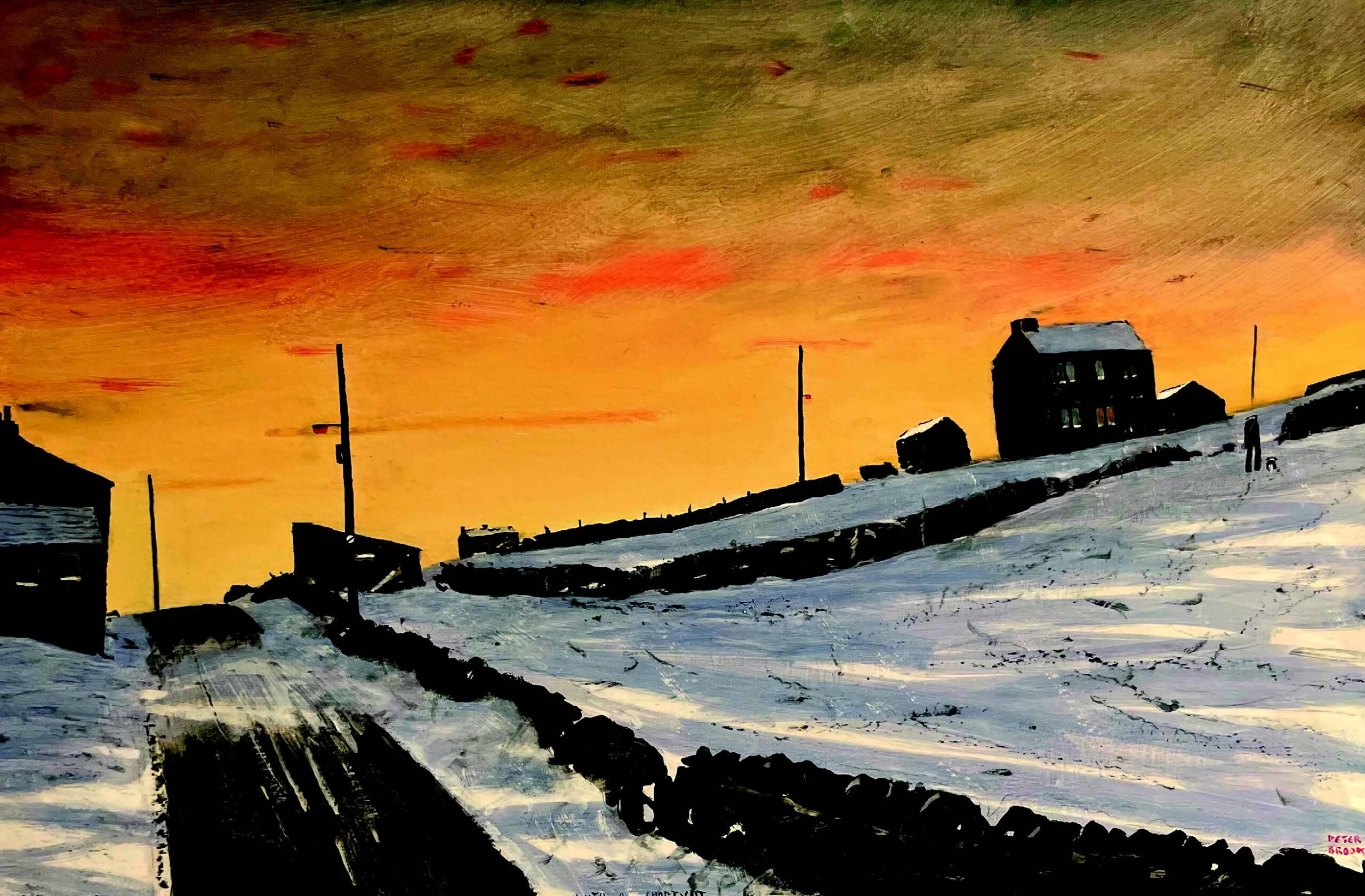 William Turner
Another highly popular landscape painter is William Ralph Turner (1920-2013), the last of the great Northern industrial painters who belonged to the school of artists influenced by LS Lowry. The scope of his work was immense: as well as winter scenes he captured northern life from grimy streets with children playing in them, to pub interiors and cinemas.
His early, more abstract, work up to the 1990s is especially collectable. Turner was credited with being able to paint scenes from memories dating back up to 50 years. He is the only person to have painted LS Lowry in the flesh, and supposedly Turner had to agree to two conditions – not to make Lowry look too old and not sell the painting during Lowry's lifetime. However, sadly, Lowry never got to see the painting before he died.
Brian Shields (Braaq)
Shields (1951-1997) was a Liverpool-born artist best known for painting industrial scenes of northern Britain. Never encouraged to become an artist, Brian became a trainee chef working at a drab hotel in which, hoping to brighten up the surroundings, Shields painted a mural, signing it 'Braaq' to hide his identity.
He was unveiled as the artist by a journalist, going on to become a professional artist and holding his first solo exhibition in 1974. He continued to paint until his untimely death from a brain haemorrhage in 1997.
Among his body of work are a number of wonderful wintry landscapes, which, snow adorned and bursting with detail, are increasingly sought after.
After his much-loved sister died, Sheilds always added her name Ann after his signature. One of the curiosities of his work is that he often appears as a cameo role, painting himself as a boy in a black-andwhite striped top. Spotting him is a bit like an artistic version of "Where's Wally?"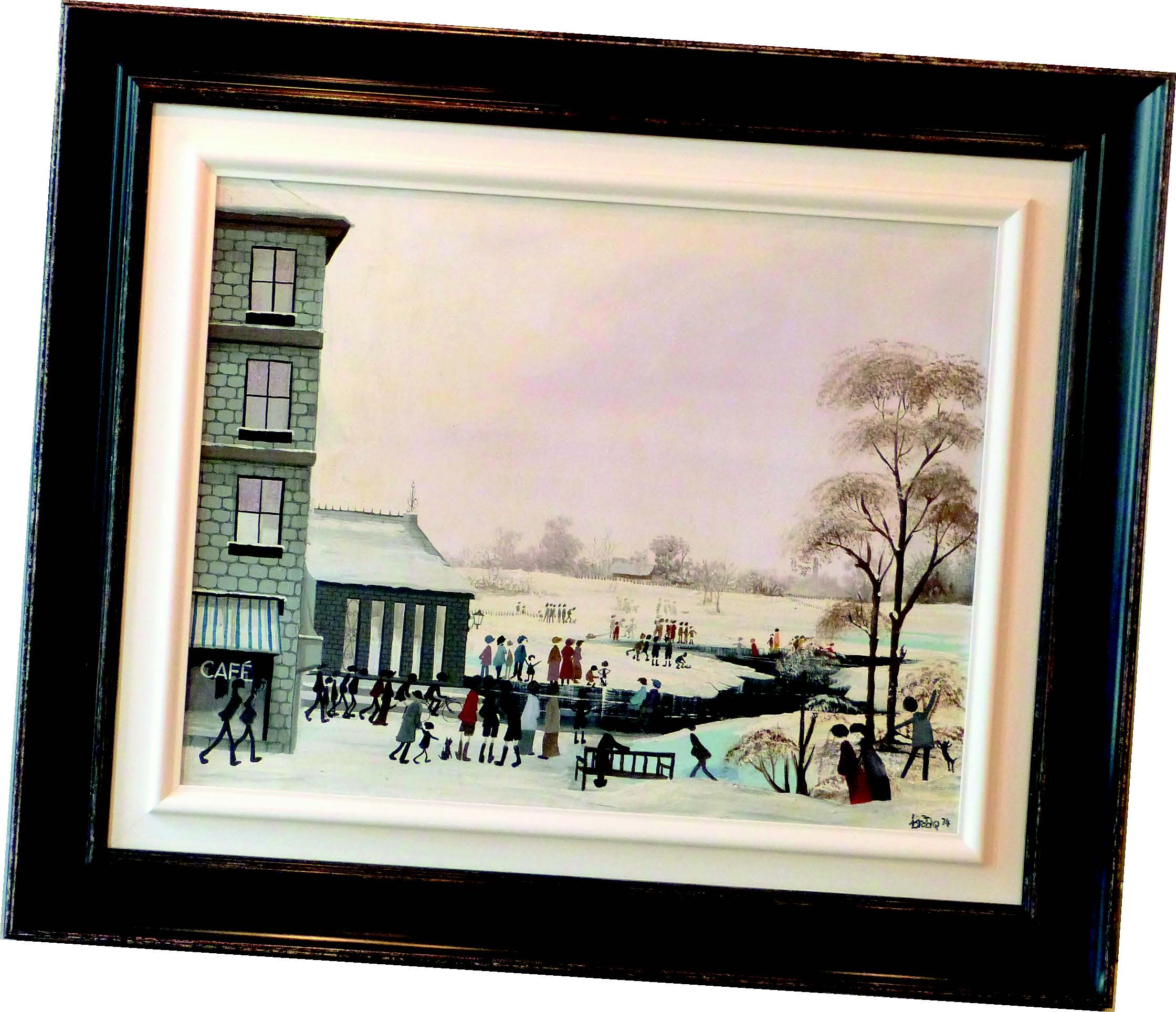 Ian Grant
Another artist known for his snowscapes is the Scottish-born Ian Grant (1904-1993). Grant studied at Glasgow School of Art and the Royal College of Art before going on to help shape the Northern School.
He is a well-respected artist who demonstrates super usage of painting and colour, with wintry scenes one of his great strengths. In 1989, he was included in The Last Romantics at Barbican Art Gallery.
Manchester City Art Gallery holds his work, which was exhibited at solo shows at Salford Art Gallery.
Geoffrey Key
Geoffrey Key was born in Rusholme, Manchester, in 1941. His mother, Marion, worked as an illustrator and encouraged him to draw from an early age.
Key is currently creating waves in the art retail and auction world. His interest in seasonality and changing landscape was seen early in his career when he chose to paint and draw a specific area of the Derbyshire landscape for a year. The place was the Whiteley Nab hill, south of Glossop which Key depicted in hundreds of images throughout the seasons.
While Key is well known to collectors and the auction world, on a wider level, less is known about him and his work. But this is changing. With increasing favour from art critics and reviewers the selling price of his works is escalating.
While Key moved from landscapes to painting monumental horses and then clowns, we recently acquired, a beautifully bold winter landscape titled Snow Patterns.
Key's landscapes showcase vibrant colour, restrained by his confident handling of line and form.
Theodore Major
Known by the accolade the "Undiscovered Impressionist" Theodore Major (1908-1999) was born into comparative poverty in Wigan, Lancashire, of parents who both worked in a cotton mill.
Throughout his career Major fought against materialism and the commercial gallery system which saw his pictures sold only to rich collectors.
Consequently he retained 3,000 of his pictures which he said were painted for ordinary people, not money. Art critic John Berger called Major's pictures "among the best English paintings of our time." He wrote how Major painted in a range of styles "to disturb and extend consciousness in the mind of the viewer".
Among other subjects, Major is known for his gritty portrayal of working-class scenes, across the seasons. We are currently showing Houses in the Snow, Wigan (above), which is attracting interest as an industrial alternative to a traditional winter landscape.
Martin Heaps is the owner of the Cheshire-based gallery Collect Art which stocks work by many of the artists mentioned. For more details go to www.collectart.co.uk