Antique Noah's ark highlight of toy sale

A recent sale of vintage toys and models, which featured more than 200 vintage Dinky Toys vehicles, plus collections of dolls from renowned makers, achieved strong results at Surrey auctioneers, Ewbank's.
The team at Ewbank's was delighted with the interest shown from buyers and collectors. Dolls from makers including Zwergnase, Regina Sandreuter, Lynne & Michael Roche and Himstedt Kinder, plus a number of valuable toy locomotives, were among top-selling lots, and 208 of the 212 Dinky Toys lots sold.
One of the highlights of the sale was a 19th century Bavarian Erzgebirge painted wood Noah's Ark, which had been in the same family for at least four generations, which saw a final price of £5,200.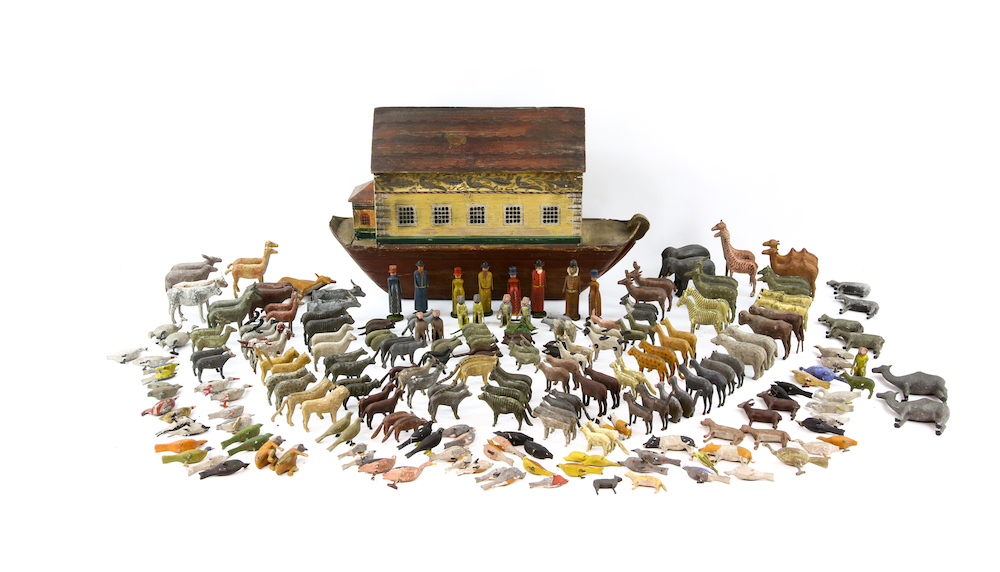 This fabulous piece came with eight family member figures and 230 carved and painted wooden animals and birds, consisting of 106 pairs and 18 singles, to include elephants, two types of camel, four types of monkey, giraffes, zebra, grasshoppers, polar bears, and lions among others.
Another valuable lot was a 1:75 scale model ship of the Polarcus Amani Seismic Exploration & Geophysical Services survey vessel for the Petroluem Industry, which sold for £780. The ship was in a glass case and was initially exhibited at European Association of Geoscientists & Engineers, in June 12-15 2017 in Paris, France.
Among the locomotives on sale was a Bachmann 00 gauge 35-990 London Underground S Stock motorised four-car train pack which sold for £780, and a pristine 1950s Schuco 6080 Elektro tin plate fire engine, which realised £715. The fire engine was sold with three firemen, all original tools and accessories, and was in a red card box with string ties.
Two of the stand-out dolls which went under the hammer were from renowned maker Regina Sandreuter.
One, a carved wood artists doll called Maxim, sold for £650. It had jointed neck, shoulders, elbows, wrists, waist and knees, and stood 45cm high. Another, called Noemi, also with moveable joints, had a final price of £624.
Another highlight from the dolls section was a lot comprising two Lenci dolls. One was a felt Lenci Pierrot doll with purple and black costume and mandolin, and the other a Lenci-type felt soldier doll. The pair sold for £390.
Highlights from the 200-plus Dinky Toys on sale included a boxed Foden Diesel 8-wheel Wagon, which had a final price of £190; a Dinky Toys 104 Spectrum Pursuit Vehicle, sold for £182; and a boxed Dinky Supertoys 979 Racehorse Transporter went for £143.