Walter Sickert – guide to buying prints
The first major retrospective in 30 years on Walter Sickert (1860–1942), one of the most influential painters of the 20th century, is now on at Tate Britain. Sure to set the price of much of his artwork soaring, prints by the artist remain eminently affordable
In 1934, Virginia Woolf described Walter Sickert as "probably the best painter now living in England".
At the time, the artist was 74 and nearing the end of a career that had set British art on its head. Known as a master of self-invention and theatricality, Sickert took a radically modern approach to painting, transforming how everyday life was captured on canvas.
An exhibition at Tate Britain that started this month brings together more than 150 of his works from 70 public and private collections, from scenes of rowdy music halls to groundbreaking nudes and the Camden Town series.
Spanning Sickert's six-decade career, it will also explore his legacy as one of Britain's most distinctive, provocative, and influential artists.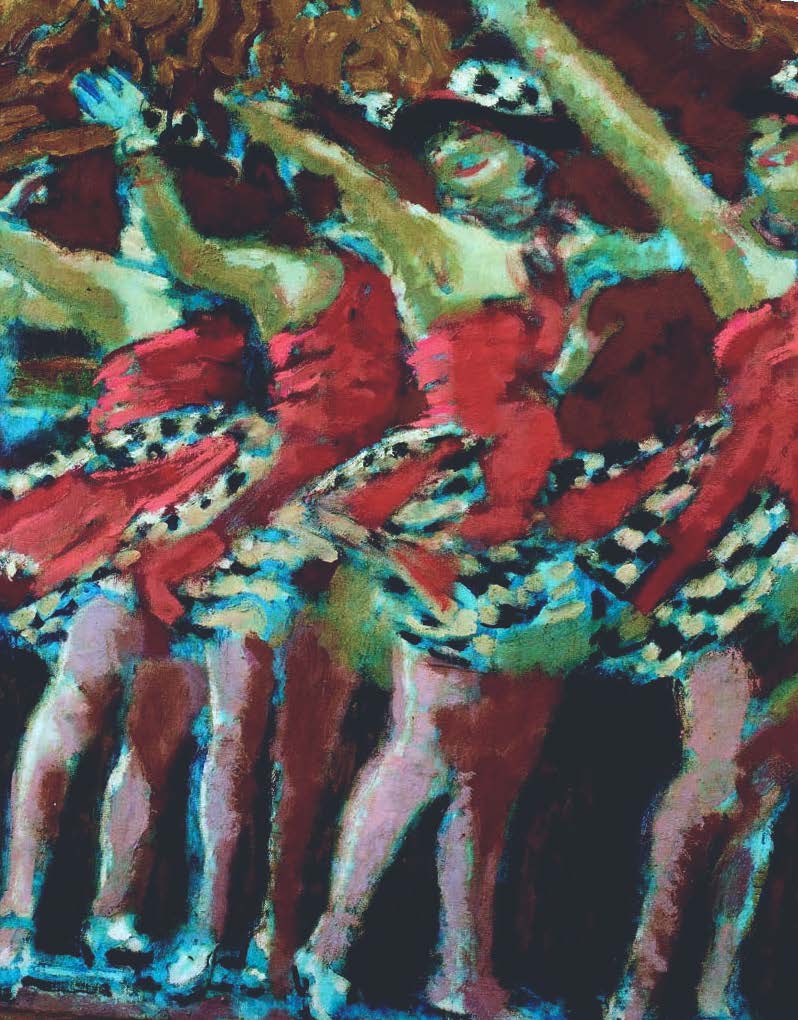 A disciple of both the French Impressionist Edgar Degas (1834-1917), who once referred to his mentor as "the lighthouse of my experience" and a student of the American-born artist James McNeill Whistler (1834- 1903), Sickert is well worthy of attention in his own right.
Despite several large exhibitions over the last 20 years, Sickert's reputation has not brought out the same prices at auction as the better-known artists with whom he kept company for much of his life – a position which may well change with this month's retrospective. At the lower end of the market collectors should take note of the value for money Sickert's prints provide. An enthusiastic etcher, who learnt his skills at Whistler's studio, his prints are as skilled as they are expressive.
Theatrical beginnings
Born in Munich to a Danish father and English mother, Sickert was eight when the family moved to London. In his teens his first job was as an actor, a short career which would none-the-less spark a life-long fascination with theatre, seen in his paintings, drawings and etchings.
With artistic leanings Sickert enrolled at the Slade School of Fine Art when he was 18, but irregular attendance saw him quit academia to take up a position as Whistler's student when he was introduced to the continental artists of the Les Vingts group, which counted in its number over the years Monet, Seurat and Gauguin among others. At Whistler's request Sickert travelled to Paris in 1883, where he met Degas, and soon befriended him.
Degas influenced the young artist's choice of subjects – the city, the racecourse, the bathroom and the stage were beloved by the Impressionists but all seen as shocking in the UK. The theatre was of especial interest to the one-time actor, for whom London music halls would be an obsession.
The city itself, in all its grubbiness also appealed to Sickert, who later wrote: "London is spiffing, Such evil racy little faces and such a comfortable feeling of the solid basis of beef and beer. O' the whiff of leather and stout from the swing-doors of the pubs!"
Sickert's Dip in Dieppe
In 1985, after his first marriage to Ellen Cobden (the daughter of the radical politician Richard Cobden) collapsed, Sickert spent a decade living in France making frequent visits to Venice.
Sickert frequently described himself as a "French Painter," partly because of his two mentors (Whistler had spent time in France) and because of the length of time he had spent there. Like many artists of the day, he summered in the coastal resort of Dieppe, which, in the 1890s, was a magnet for visitors with a growing circle of British artists and writers, including Oscar Wilde, Aubrey Beardsley and Max Beerbohm visiting every summer.
Sickert successfully infiltrated the varied social groups that had grown up in the town, switching effortlessly between the roles of middle class respectability and bohemian artist.
The works created by Sickert during this continental period, including a number of prints, reflect a hybrid of styles, combining the detail learnt from Degas with the muted palette of Whistler's compositions.
Mornington Crescent and Fitzrovia
When he returned to London, remaining there from October 1905 to July 1906, Sickert was 44 but at the start of creating the works for which he is most well known. These were his pictures of north London lodging house rooms, dingy interiors with nudes captured on iron beds. From Degas, Sickert considered that the human figure, especially the female nude, should be treated with unflinching objectivity.
While Sickert's nudes were admired in France they were dubbed immoral in Britain because of their unidealised bodies, contemporary settings and voyeuristic framings.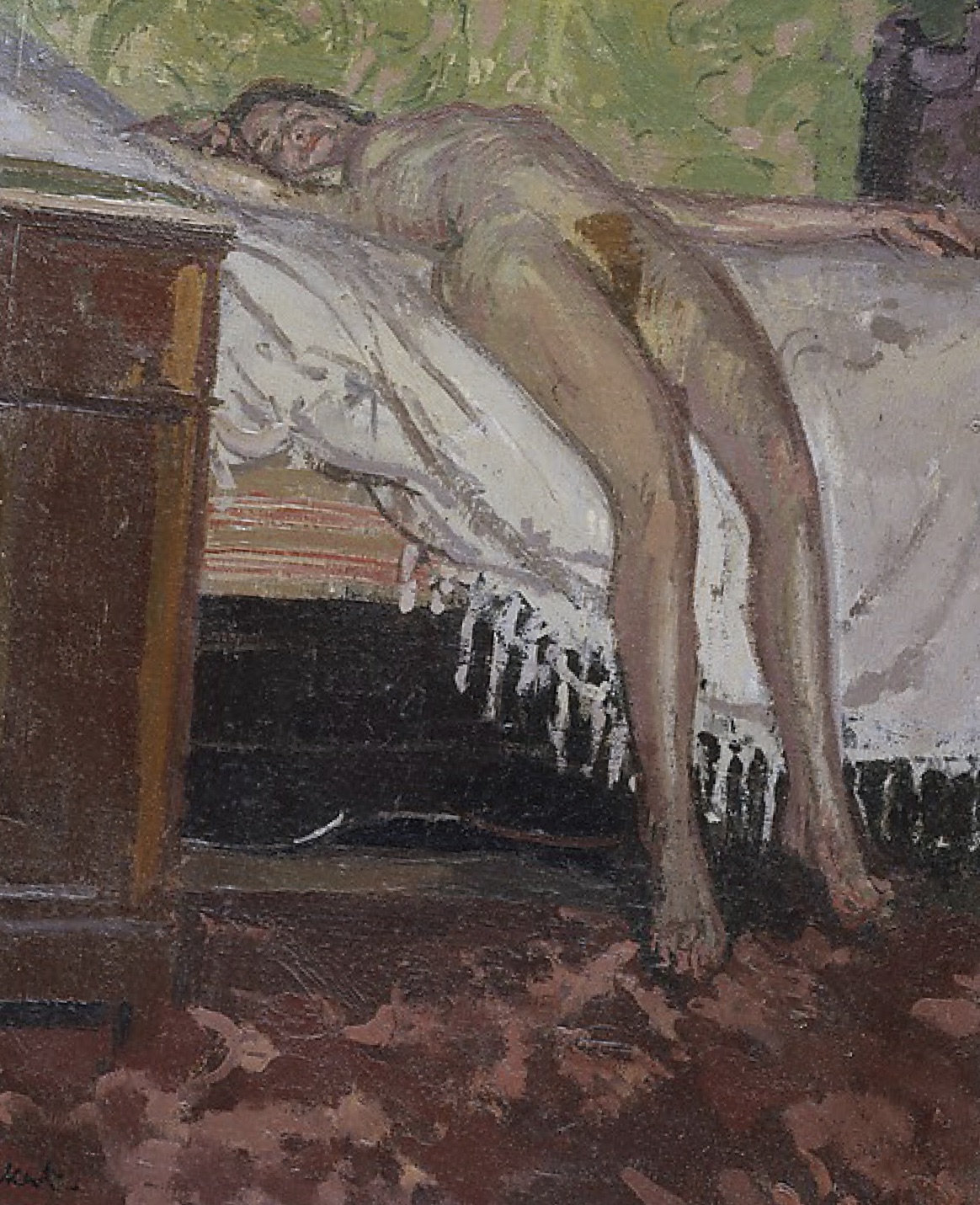 In London, Sickert took lodgings in a pair of rooms on the first floor at 6 Mornington Crescent, on the edge of Camden Town, while renting a studio in 8 Fitzroy St, just south of Camden Town. The latter provided the backdrop for many of his paintings of that year: the green, striped sofa; the heavy black frame with a gilt moulding; and, most importantly, the olive green wall against which Sickert arranged all of his sitters.
But Mornington Crescent became his preferred workspace. Woman Seated at a Window was most likely one of 12 works executed at 6 Mornington Crescent.
Sickert's Finest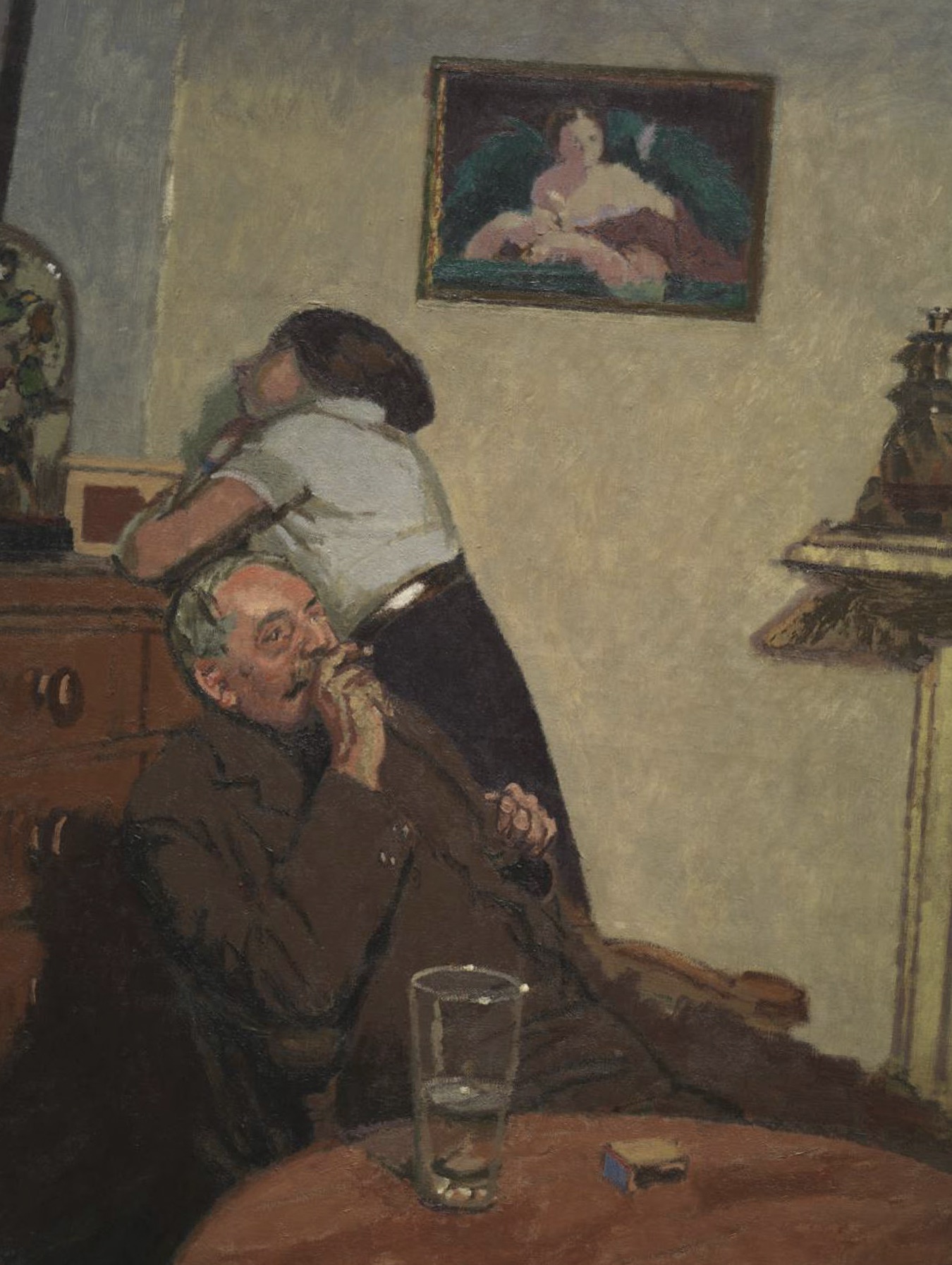 One of Sickert's best-known works, Ennui, c.1914, depicts a couple who appear in many of his Camden Town interiors. While apparently married, the pair was not – the old man, who Sickert called Hubby Hayes, was a petty criminal; while the woman, Marie Hayes, was the artist's charlady.
In the painting, the man leans back in his chair drawing on a cigar while his 'wife' leans against a chest of drawers. For Hubby Hayes, the cigar and large gin provide some consolation, but his 'wife' has no such comforts.
Ennui Print
In 1914, the year of Ennui, Sickert's straitened financial circumstances led him to broker a deal with the Carfax Gallery. In exchange for a fixed maintenance of £200 a year the gallery became Sickert's sole dealer, with the proviso he produced a series of 16 etchings exclusively for the gallery.
Given the success of his Ennui when it was first exhibited at the New English Art Club in the summer of 1914, Sickert decided to include an etched version in the Carfax series. He continued to revise the design and the print was later published by the Leicester Galleries. Sickert produced three separate sized etched versions of Ennui: a large plate, a medium plate and a small plate.
Jack the Ripper
The murder of a part-time prostitute Emily Dimmock in a bedroom in Camden Town in 1907 caused a media sensation, with Sickert creating four paintings alluding to the killing. The artist's apparent obsession with Jack the Ripper, who murdered five prostitutes in London 20 years earlier, caused the American crime writer Patricia Cornwell to propose Sickert was the Ripper.
Sickert, she said, knew and painted the Old Bedford Music Hall at which Emily was a frequent visitor. Her theory is not taken seriously by most experts, in part because Sickert was in France when the murders took place.
Walter Sickert, is at Tate Britain now until September 18, for more details or to book tickets go to www.tate.org.uk.
Piano Nobile in London specialises in works by Sickert with a number of paintings, drawings and etchings on offer. For more details go to www.piano-nobile.com