The Connoisseurs Eye sale at Roseberys
Sponsored Post 
Roseberys are delighted to present The Connoisseurs Eye; an auction of two collections, Sir Nicholas Goodison and Michael Sim, on Wednesday 20th July.
The auction includes 385 lots in total, spanning from furniture to fine art.
Sir Nicholas Goodison (1934 – 2021) was a well-respected businessman, scholar, patron of the arts, polymath (he held a Ph.D. in Architecture and Art History), and philanthropist. He had a remarkable presence in the two worlds of banking and the arts. Regarding the latter, he was a highly respected chairman of the London Stock Exchange (1976-1986), chairman of the TSB Group (1988-1995), and deputy chair of Lloyds TSB (1995-2000). Outside of his finance, Goodison chaired leading cultural institutions such as the Courtauld (1982-2002), the Art Fund (1986-2002), and the Crafts Council (1997-2005). His exceptional connoisseurship was manifest in a spectacular collection spanning many periods of art yet underpinned by a common theme: aesthetic beauty and flawless technique in objects, materials, and artists that were meticulously researched and personally selected by Goodison himself. He devoted a significant portion of his life to the collection of fine and decorative arts; a journey that began in the early 1960s with a particular appreciation of clocks, barometers, and watches, evident in one of his most remarkable books, English Barometers 1680-1860: A History of Domestic Barometers and Their Makers, published in 1968.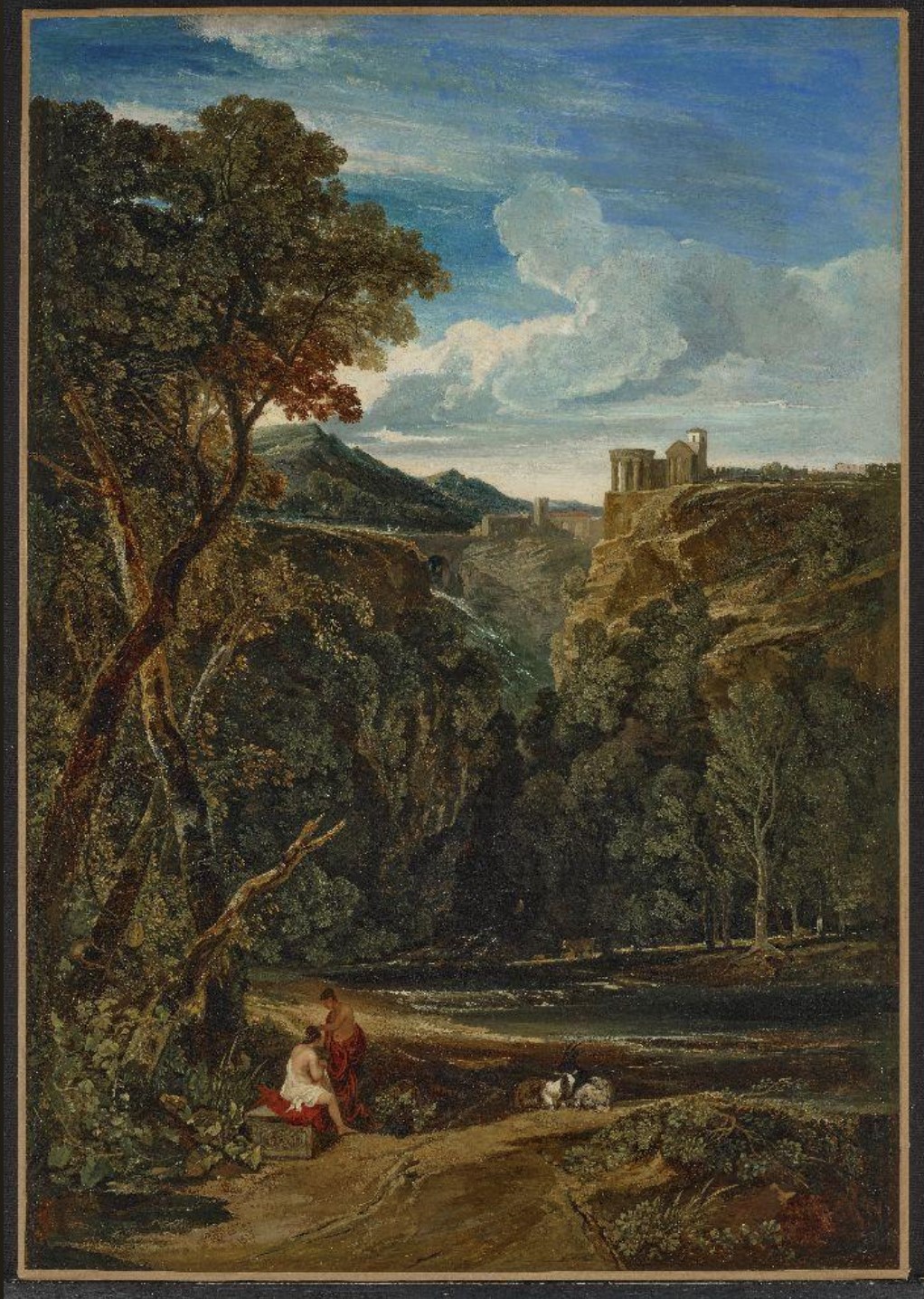 Within the upcoming auction at Roseberys, 112 lots are offered from the collection of Sir Nicholas Goodison. Highlights include a strong section of fine art, including an oil on canvas by British artist William James Müller, 1812-1845, titled 'Tivoli' (lot 5). This artwork was inspired by Müller's eight-month tour through Europe to Italy that he did from 1834 to 1835 with his fellow Bristolian and contemporary artist George Fripp (1813-96). This scene of Tivoli, which is estimated to make £5,000- £7,000, was one of several canvases that he produced on the subject on his return. Other important artworks on offer come from eminent artists including, Edward William Cooke RA, John Frederick Lewis RA, and Barbara Rae RA RSA RSW.
Several silver lots are offered to the market in this sale for those who delight in collecting silver to decorate their home to emulate the 18th and 19th centuries styles. Lot 59 is a fine example, a George V Arts & Crafts style silver and enamel 'Queen's Fish Tray' dish, with the mark of Omar Ramsden, London, 1934, which has the pre-sale estimated price of £1,000- £1,500.
Barometers represent another collectable antique that Goodison treasured, valued for their skilful ornamental forms, complicated mechanisms, and historical significance. In this auction, Rosebery's will be selling an impressive collection of 53 barometers. Lot 89 on offer is a George III burr-yew wheel barometer, by James Gatty, London, c.1800, coming with an estimate of £1,000- £1,500. Another highlight is lot 82 is a George II brass-mounted walnut angle barometer, by Charles Orme, Ashby-de-la-Zouch, dated 1736, estimated to make £2,500 – £3,500. Indeed, this auction presents a unique opportunity for collectors to acquire some exceptional barometers of the highest calibre.
Lot 77, is another intriguing object, a brass octagonal Butterfield dial made by the engineer to King Louis XIV and inventor of the dial himself Michael Butterfield, Paris, c.1700, estimated to make £500- £800.
Sharing Goodison's passion for art collection, Michael Sim has been dealing in Georgian furniture, instruments, clocks and artefacts since 1983 from his shop in Chislehurst, London. His keen interest in the most scientific aspects of the restorative process of furniture and objects, led Sim to rediscover one of the greatest masterpieces of Italian furniture crafted by Pietro Piffetti; the piece was later acquired by the V&A museum. The collection on offer demonstrates his distinctive eye and expertise, complemented by his vast experience working with galleries and museums. 273 lots within the sale are from Michael Sim. Themes of objects on offer include Georgian furniture, globes, clocks and 19 portrait reliefs by James Tassie.
Like Goodison, Sim also had a passion for barometers. A late Victorian brass aneroid barometer, by Luis Pascal Casella, late 19th century (lot 116) is being offered to the market with an estimate of £800- £1,200.
Of great interest is Lot 153, a sophisticated Victorian polyhedral slate sundial, by Richard Melvin, dated 1856, with an estimate of £600- £900. This unique slate sundial has four subsidiary dials for different parts in the world, from New York to Egypt to the Island of Borneo.
His passion for fine timekeepers is represented by Lot 174, a William IV gilt-bronze mounted tortoiseshell eight day bracket clock, by James McCabe, Royal Exchange, London, c.1830.  This clock is estimated to make £2,000- £4,000.
An impressive collection of furniture is exemplified by Lot 330, a George II mahogany architect's table (c.1740) with an estimated value of £1,500- £2,500.
An exquisite piece; (lot 183)is a George IV 9 inch celestial table globe, by Dudley Adams, dated 1809 with an estimated value of £1,200- £1,800.
Please find out more information on Roseberys website: www.roseberys.co.uk
The Connoisseurs Eye: The Collections of Sir Nicholas Goodison & Michael Sim
Wednesday 20 July, 11.00am
Viewing Times Thursday 14 July 9.30am-5.00pm Friday 15 July 9.30am-5.00pm Sunday 17 July 10am-2.00pm Monday 18 July 9.30am-5.00pm Tuesday 19 July 9.30am-5.00pm
Please contact worksofart@roseberys.co.uk for condition reports and further information.