LS Lowry drawings could make thousands
Two drawings by LS
Lowry
will go under the hammer in North Yorkshire in March, with expectations they could sell for thousands.The works, which span Lowry's artistic career, represent two of his overriding interests: the streets of Greater Manchester and the sea, and will go under the hammer in Tennants Auctioneers'
Modern and Contemporary Art Sale
on March 4.
The Stepped Street
, carrying an estimate of £50,000-80,000, encapsulates Lowry's skill as a draughtsman at an early stage of his career when he had not long left art school. Executed in 1929 during a golden period of creativity for the artist, the drawing depicts Crowther Street in Stockport, which was later partially demolished. Following a suggestion from his father, Lowry had begun sketching threatened landmarks, such as Crowther Street in Stockport and St Simon's Church in Salford, the latter of which was raised to the ground just a few days after he captured it on paper.
No mere sketch,
The Stepped Street
is a fully realised, detailed work filled with his much-loved signature motifs of men strolling with hands in pockets, children with bared knees, prams, groups of women exchanging news, a solitary seated dog, and the smoke of domestic fires drifting into the air echoing the nearby giant factory chimneys. Daily life is captured with charm and affection, set out as if on a theatre stage on the pleasingly curved, stepped cobbled street winding it's way upwards into the distance. It was clearly a scene that stayed with him, as he returned to the subject in 1930 executing an oil painting from the same off-set viewpoint, now held in the collection of Stockport Heritage Services, and in 1961 when he painted a simpler version in keeping with his later style. Indeed, he later recounted his pleasure in painting steps when he said, "Steps and things… I liked doing steps… steps anywhere you like, simply because I like steps."The second drawing on offer is
The Sea
, a simple pencil sketch of the unbroken sea and sky of the North East coast, dating to 1965 and the later stages of Lowry's career. It carries an estimate of £12,000-£18,000. Lowry was fascinated by the sea. At once both beautiful and dangerously powerful, it was a constant source of inspiration to the solitary artist and he painted it throughout his life. Whilst the majority of his seaside pictures depict bustling seafronts and boats on the North West coast, from the early 1940s he began to depict pure seascapes. These rare, seemingly simple yet highly sophisticated works are far removed from the bustling industrial streets scenes for which he is better known.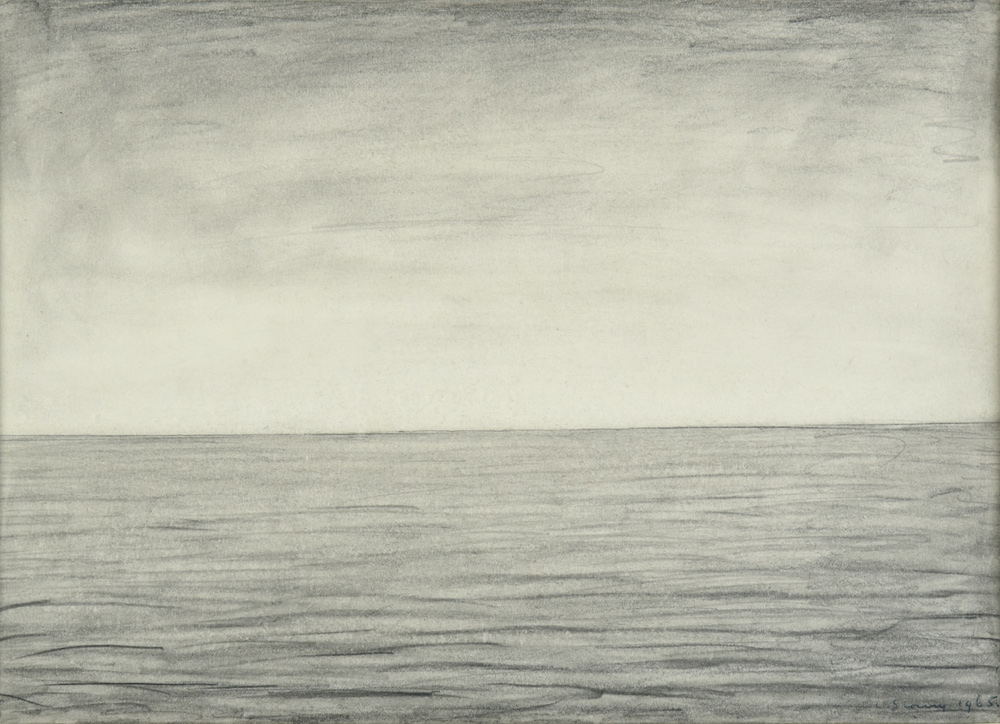 After the death of his overbearing mother in 1939, Lowry frequently stayed for long periods of time at the Seaburn Hotel in Sunderland, to which he became deeply attached. Here he always stayed in the same room, which looked straight out at the empty expanse of the North Sea, sketching, and watching the water and sky melding at the horizon.  One of his finest large-scale oil seascapes inspired by the same view,
The North Sea
, painted in 1966, was sold at Tennants in October 2022 for a hammer of £840,000.The LS Lowry drawings will also be on display in Tennants' Leyburn Salerooms on March 2 and 3.