Variety of designs unites David Bonsall sale
An eclectic sale of design items and decorative arts from across the 20th century will go under the hammer at Bonhams in February, taken from the collection of window dresser, clothing trader, supplier of 20th-century fashion to the world of film and television, decorative arts dealer and collector, record shop owner and DJ, David Bonsall.
It is not surprising, therefore, that he has chosen Unity in Variety: The David Bonsall Collection of Decorative Arts and Design as the title for the sale of his collection at Bonhams in London on February 14.
The 360-lot strong sale reflects his passion for 20th-century decorative arts and his life-long interest in ground-breaking designers who push the boundaries.
Gemma Sanders, Head of Bonhams 20th-century Decorative Art, said: "David's endless curiosity is wonderfully captured in this magnificently varied sale which invites collectors to share his passions and acquire some exceptional pieces of design."
Bonsall has always been a keen admirer of the 19th-century designer Christopher Dresser (1834-1904). Indeed, the sale title is taken from that of Dresser's ground-breaking book on botany. As David himself has said, "Dresser for me is the great pioneer. His ability to consider all aspects of design and the variety of mediums in which he was able to work is astonishing." The sale offers 38 pieces attributed to Dresser, including a conical sugar bowl, circa 1885, made by Elkington & Co. and estimated at  £15,000-£20,000.
Among David's other design heroes is the Victorian architect-designer Edward Godwin (1830-1886) whom he admires for the purity of his designs, his ability to think laterally and his early enthusiasm for Japanese culture. Among the Godwin works in the sale are:
An Anglo-Japanese occasional table, circa 1875, the manufacture attributed to Collinson & Lock, estimated at £25,000-£35,000; and a hanging cabinet, circa 1875, also thought to have been made by Collinson & Lock, estimated at £10,000-£15,000.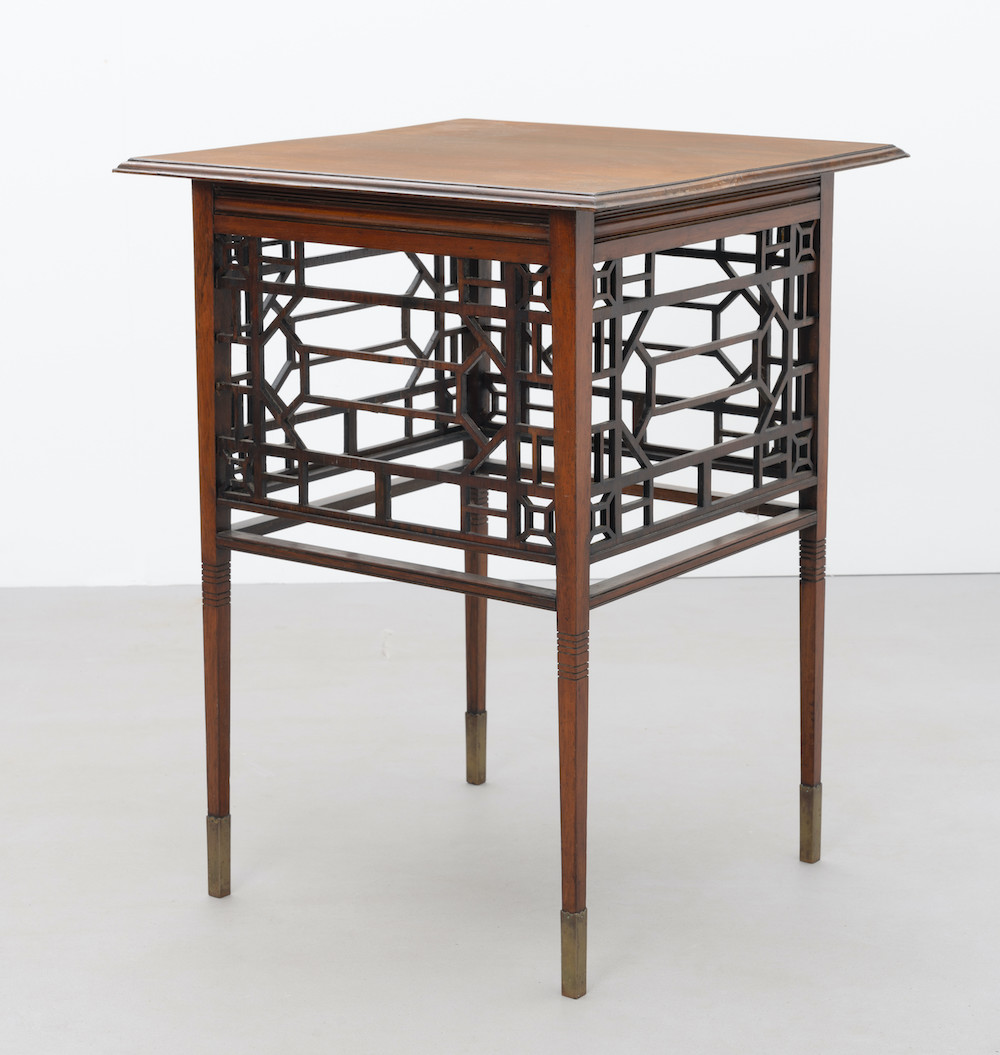 Pieces from the Wiener Werkstatte (Vienna Workshop) also feature prominently in the sale. David has long been intrigued by the collaborative concept embodied in the Wiener Werkstatte where talented artists, architects, designers and crafts people together created a cohesive forward-looking aesthetic without losing sight of tradition. Highlights include:
An ox and cover with inset enamelled plaque, circa 1928 by Max Snischek. The panel, depicting a black man and a white woman would have been seen as a progressive statement and is also a reflection of the interest in Jazz at the time. Estimated at £1,000-£1,500.
The sale also reflects David's long association with the music scene.  Highlights include:
Joy Division Unknown Pleasures, 1979. Lithographic poster in colours, produced for the promotion of Joy Division's debut album Unknown Pleasures. The image was suggested by drummer Stephen Morris and the album cover design is credited to Joy Division, Peter Saville and Chris Mathan. Estimated at £3,000-4,000.
A Black SEX/Seditionaries Parachute Shirt from 1976 by Vivienne Westwood and Malcolm McLaren. Parachute shirts were designed by Westwood and McLaren in the autumn of 1976, as plans were made to transform their shop, 'Sex', into 'Seditionaries', described by McLaren as the 'ultimate punk enclave'.  The shirt was bought directly by David Bonsall from Vivienne Westwood at SEX. He had met  Westwood previously when he sold a consignment of original 1950s/60s old stock shirts to her at their previous shop Too Fast to Live young to Die. Estimate of £3,000-£4,000.
Pink Floyd Rare Tour Poster for St James Hall in Chesterfield, 1969. This show was part of the band's The Man and The Journey tour which was an informal concert tour of a few dates from March to September 1969. During the shows the conceptual music piece The Man and The Journey was often played, however not always as was the case for this show at Chesterfield. Instead, the setlist usually included Astronomy Domine, Set the Controls for the Heart of the Sun and unaltered versions of Careful with That Axe, Eugene and A Saucerful of Secrets. Estimated at £2,000-£3,000.
A 1976 lithographic poster in colours, from the Anarchy in the UK tour starring The Sex Pistols, The Damned, Johnny Thunders and the Heartbreakers, and The Clash advertising a gig at the Kings Hall Derby which in the event never took place. Concerned about the Sex Pistols' reputation, the local council demanded private performances to vet the material. When most of the groups refused, the concert was cancelled. This is one of a handful of unused originals that were discovered recently one of which was purchased by Derby City Museum. Estimated at £500-£700.
The sale will be complemented by an online-only sale of pieces from David collection which will run from February 7-15, with most lots under £500.