Guide to 20th-century furniture design classics
Furniture designers of the 20th century created some classic designs that have stood the test of time and still look great in any setting. Antiques valuer Edward Rycroft take a whistlestop tour of some of the best exponents
Throughout British history furniture design has represented the essence of the period. The medieval period saw furniture of crude and humble form, made from primitive materials.
As the country's wealth grew in the first Elizabethan age furniture became grander with more intricate ornamentation. The Cromwellian period saw furniture of more restraint; while the restoration of the monarchy was celebrated with the presence of a crown symbol incorporated into furniture. Centuries later the Industrial Revolution gave birth to overly elaborate grandeur and ornamentation which was mass produced for a burgeoning population growing in disposable income.Two world wars saw a sombre Utility style, made for practicalities and purpose, but with little to celebrate. Perhaps that is why the furniture from the second Elizabethan age is so important. When Queen Elizabeth II ascended the throne in 1952, Britain had won the war, sparking prosperity, optimism, freedom and a vision for a new peacetime.The new young Queen was ideally matched to the forward-thinking spirit of the age. The baby boom generation was thirsty for innovation, creating an industry requirement for furniture and home furnishings. After a period in the doldrums in the '70s, the affluence of the '80s gave rise to some of the century's more overblown furniture designs.
Robin Day (1915-2010)
Robin Day is perhaps the most well-known and respected designer of the 20th century. He was born in Buckinghamshire in 1915 and studied furniture and interior design at the Royal College of Art in the mid 1930s.It was there he met his future wife Lucienne who was studying printed textiles and went on to become a hugely successful designer in her own right. The couple married in 1942. A few years later, Robin was commissioned by the furniture manufacturers Hille to create designs for mass manufacture in 1949, later going on to create more than 150 furniture designs over his lifetime, ranging from TV cabinets, to storage systems, many of which would shape furniture in the new Elizabethan age.Anyone educated in the UK from the late '70s onwards will recognise the polypropylene and tubular steel chair (left) which he designed in 1963 and was manufactured by Hille in their millions for schools, public institutions, libraries and offices. Selling for £28 recently, it represents quality design at an affordable price.
Ernest Race (1913-1964)
Another designer who had a made his mark on 20th-century British furniture design was Ernest Race.Race was born in Newcastle in 1913 and studied interior design before setting up his company, Ernest Race Ltd, formed in response to the government's Utility Scheme aunched after WWII to meet the need for utilitarian, mass-produced furniture.His Antelope chair and Springbok chair were designed for the Festival of Britain in 1951. The former going on to become one of Race's most celebrated designs. Another classic is his Penguin Donkey bookcase in painted plywood and made by Isokon in 1963. It is a true design classic making use of space in a stylish but practical way. This piece sold for £160 in 2018, a bargain for such an iconic piece from the 1960s.
Ercol
No whistle-stop trip through the design titans responsible for making modern Britain would be complete without Ercol. The trail-blazing name derives from that of its founder Italian-born Lucian R Ercolani. Ercolani moved to the UK aged 11 with his family settled in East London.Ercolani senior was a carpenter for the local Salvation Army and encouraged his four sons to follow in his footsteps. Lucian embarked on various drawing classes before studying a City and Guilds course in furniture theory and construction. In 1920, with his three brothers, the siblings launched their own company, known as Furniture Industries.
By 1943, the company saw a boom in prosperity due, in part, to the Utility Furniture scheme. Like Race, Ercol answered the government call for practical, easy-to-produce designs.Its 1943 catalogue saw Ercol's 4A kitchen chair design. Only a year later, Ercolani was offered a contract from the Board of Trade to produce 100,000. With mass production and the easing of wartime restrictions on materials lifted, Ercol was firmly on the design map.The firm's reputation continued to grow, helped by the 1946
Britain Can Make It
exhibition and the 1951 Festival of Britain. During the reign of the new Queen, Ercol's name became a symbol of modernity with its aptly-named Windsor range in the vanguard.
G Plan
Another name synonymous with furniture in the second half of the 20th century is G Plan. Founded by Ebenezer Gomme in 1898, it was his grandson Donald who was responsible for creating the G Plan brand.
G Plan became a household name in the 1950s producing settees and upholstered furniture, as well as cabinets, bookcases and larger wall units which shaped an entire room.Originally based in High Wycombe, G Plan has long been considered one of the most successful manufacturers of the post war-era. Many of its design remain a stalwart of today's UK auction houses.
Robert 'Mouseman' Thompson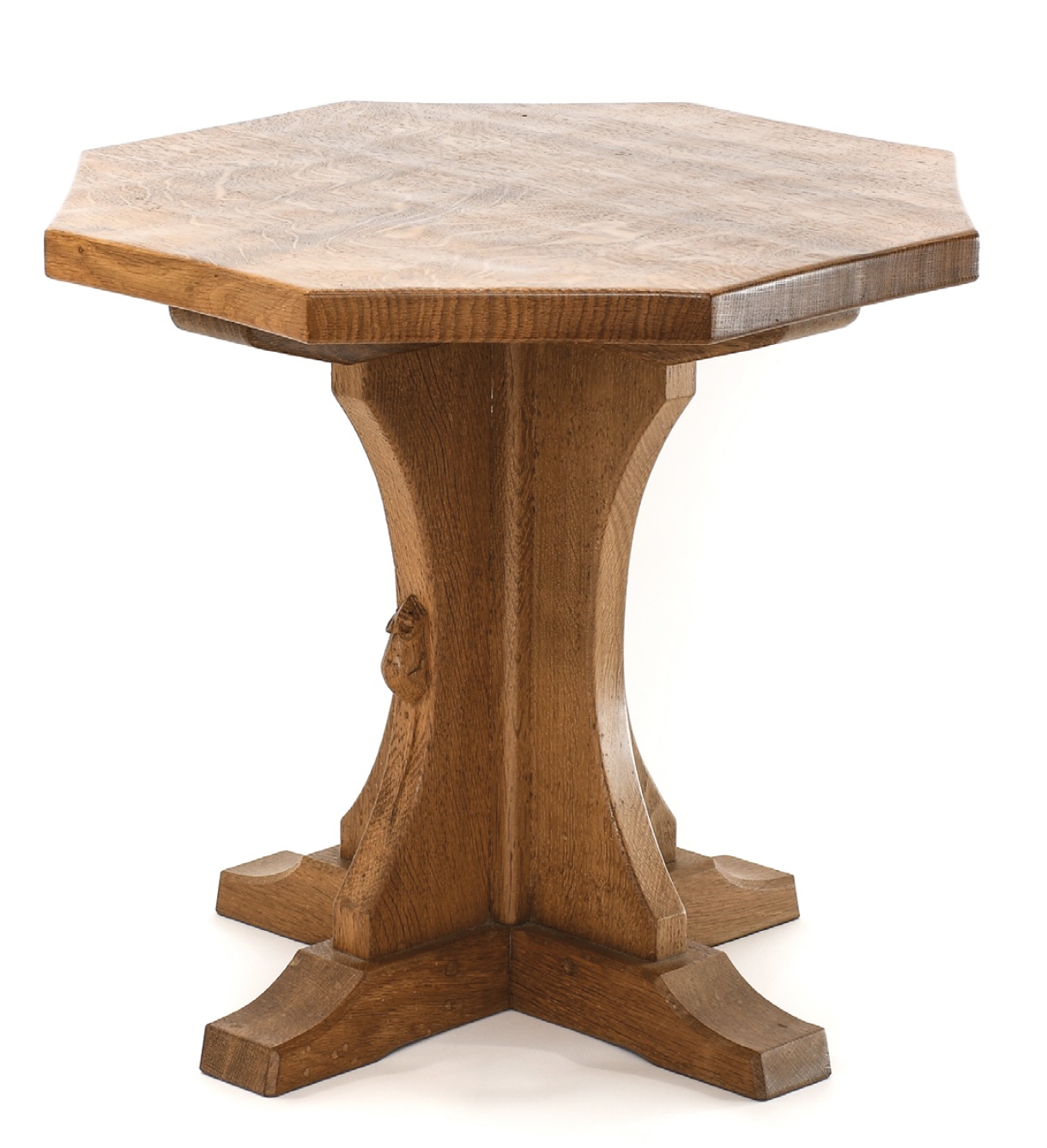 One of the best-known, traditional craftsmen of the 20th century, Mouseman was famously known for his decorative motif of a carved mouse. Considered by many as the "Rolls Royce" of craftmanship, with many of his pieces more desirable than pieces from 300 years earlier.Thompson was born in Kilburn, Yorkshire in 1876. His lifelong passion for English oak craftmanship led him to develop new techniques and furniture based on 17th-century designs.Favouring oak and joined construction, he echoed the ideals of the arts and crafts movement of the late Victorian era. In fact, you could say that he was part of the William Morris tradition as the philosophy for craftsmanship was the same. While Mouseman production started prior to the reign of Elizabeth II, it only became widely known after his death in 1955. The factory continues to exist and, during the second half of the 20th century, thrived.
Rupert and Nigel Griffiths
The arts and crafts-inspired furniture maker, Rupert Griffiths perhaps represents another part of Britain during the 20th century.Based in rural Derbyshire, Griffiths produced handmade oak furniture from 1946, based on traditional English furniture design. Until 1968 he sold his furniture through high-end retail stores, including Harrods and, after that, directly from his workshops.
Similar to Mouseman, pieces were made from oak and the business continued after Rupert's retirement under his son, Nigel. The workshop is still in operation today and continues to make hand-crafted traditional British furniture along traditional lines.The set of six chairs echo 17th and 18th-century designs with turned legs, carved terminals, rush seats and arcade carved stretchers. They are also made in solid oak using the joined method of construction.
Jasper Morrison (b. 1959)
Another British designer who also set his mark on British furniture design during the Queen's reign was London-born Jasper Morrison. He was born in 1959 when Queen Elizabeth II had already been on the throne for seven years.Morrison studied art and design in London in the 1970s before gaining a master's degree in furniture design at the Royal College of Art in the early 1980s enabling him to spend a year at Berlin's University of the Arts (HdK).In 1986, he opened his Office for Design in London. As such he collaborated with leading international brands, including Alessi, with Morrison's designs incorporating household appliances as well as furniture designs.His leather armchairs demonstrate a simplicity and practicality of design. The deep back rests, deep arms and large seat lend ultimate comfort; while the thin steel legs give the chairs elegance, offsetting any sense of cumbersome heaviness – the true purpose of luxury ergonomic design.
Edward Rycroft is a Lancashire-born antiques valuer who has previously worked in a number of UK auction houses