Published in both print and digital formats, Antique Collecting magazine is the ultimate reference guide to the fast-changing and fascinating world of antiques and art – packed with in-depth articles and expert advice, it has been the go-to resource for lovers and collectors of antiques and art for over fifty years.
Available by subscription only, get Antique Collecting magazine delivered to your door each month* by subscribing here. PLUS – Get a FREE BOOK worth £30 and a JUTE BAG **
About Antique Collecting magazine
Each month* our readers around the world receive a magazine that has the latest global market news, informative articles and buying advice from experts. Our writers know their stuff – from Scandinavian studio ceramics, early English furniture and Japanese prints, to vintage watches, folk art, Delft drug jars and post-war silver – it's why Antique Collecting magazine has been at the centre of the antiques and art world since 1966.
Find out what's inside the latest issue.
Other Subscriber Benefits
EXCLUSIVE BOOK OFFERS FROM OUR SISTER PUBLISHER ACC ART BOOKS
FREE UK DELIVERY
NEVER MISS AN ISSUE – DELIVERED STRAIGHT TO YOUR DOOR
PLUS – New Subscribers get a FREE BOOK + JUTE BAG**
All new UK subscribers receive a FREE hardback book (worth £30) – Water Lilies and Bory Latour-Marliac, the Genius behind Monet's Water Lilies by Caroline Holmes – PLUS a FREE JUTE BAG**
Subscribe to Digital Edition
Antique Collecting is also available on various digital platforms, allowing you to read the magazine wherever you are in the world – relaxing at home or on the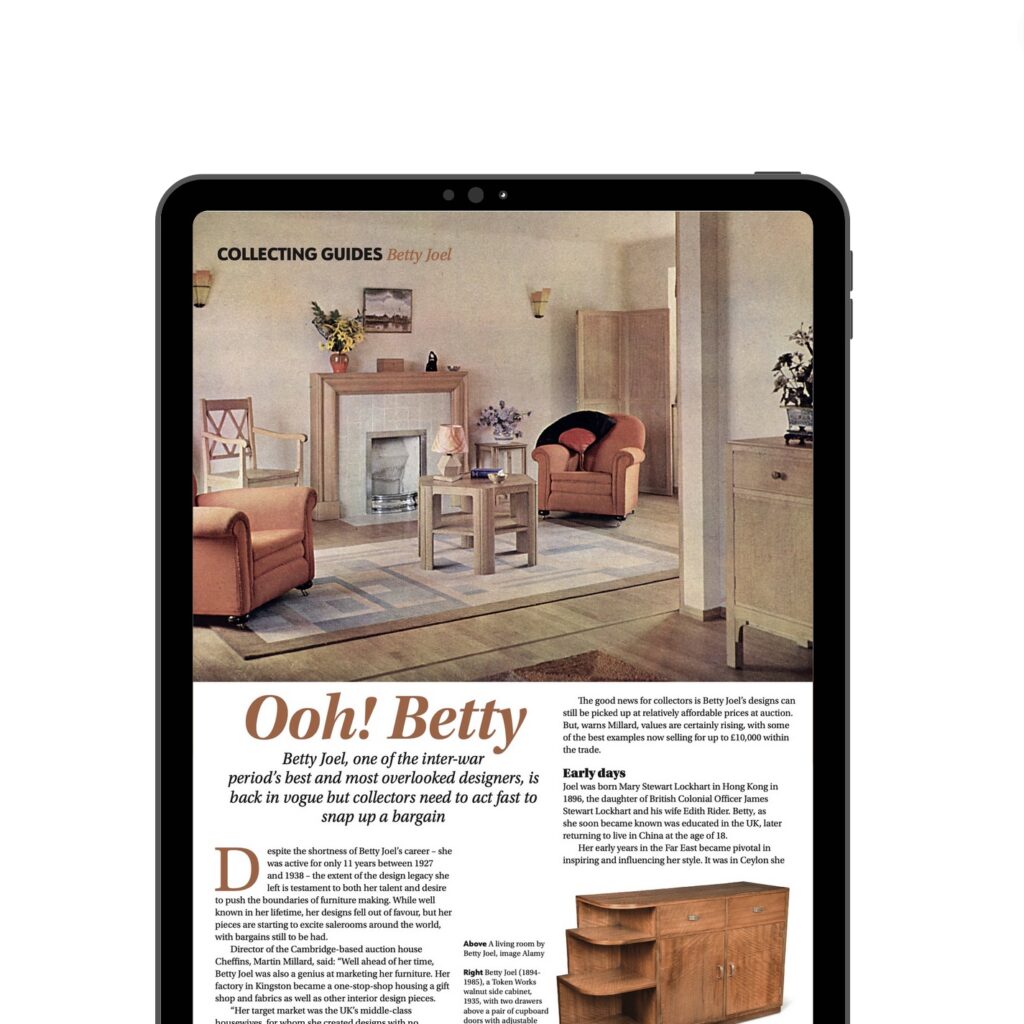 hunt at an auction or fair.  More information about our digital subscription options (hosted by Exact Editions) can be FOUND HERE, starting at only £6.99 for three months.
Written by industry experts to give an in-depth overview of the marketplace, Antique Collecting is widely read in the UK and internationally.
With articles, news and advice on everything from fine and decorative arts to antiques and collectables, Antique Collecting is an essential read for both new enthusiasts and experienced old hands. CLICK HERE to try it for FREE.
Institutional Digital Subscriptions
Antique Collecting magazine offers students and teachers at universities and colleges unlimited access to our archive of digital issues with an institutional subscription – the perfect resource and teaching aid for learning more about the world of antiques and art.
Antique Collecting has been at the forefront of the market for over 50 years, with expert writers and contributors providing articles that deliver in-depth analysis and invaluable insight across all areas of the market.
An institutional subscription provides:
Fully-searchable access to the growing archive of back issues
Unlimited IP-authenticated access and remote access options available
Your institutional logo displayed on your subscription
Cross-platform compatibility with all Web, iOS and Android devices
Usage reports, MARC records, KBART data and excellent customer support
Find out more about an Institutional Subscription to Antique Collecting magazine.
Subscribe by Phone
Call our subscriptions team and place your order on +44 (01394) 389969
* Antique Collecting is published ten times a year
** Book and jute bag offer open to new UK subscribers only. Book and jute bag is dependent on stock. We reserve the right to offer an alternative book and bag of the same value