Trade Talks – Jonathan Dilley from Hemswell Antique Centre
Jonathan Dilley has been an antiques dealer for 30 years, and is the photographer, sales consultant and website editor for Hemswell Antique Centres in Lincolnshire.
Why should people love antiques?
The feel of an item of quality, the craftsmanship, the history of a piece – just think what an item has seen in its life? The pure beauty of the patina built up over many years.
What areas/items are currently selling well?
Despite what the trade says, at Hemswell, we still sell a lot of 'brown' furniture. Yes, dealers are not able to ask prices that they were asking years ago, but then again, the pieces are not costing what they did years ago. Good, strong, useable
furniture of quality, such as dining tables and chairs, chests of drawers and wardrobes are all still selling well. Many of our dealers restore themselves, so are able to offer a high-quality, professionally restored piece at a very good price.
What do you think are the current 'good investment' items – ones to watch?
I used to deal full time in art deco, and have noticed that many of the classic deco pottery items are being given away at the moment, so if you have a spare cabinet that you need to fill with investment pieces, look at original 1930s Burleigh Jugs, Myott Vases with strong vibrant colours, and all Susie Cooper tea ware. Prices will rise!
What antiques do you have at home?
I have an eclectic mix of items. I do love art nouveau and have a few pewter ladies, semi clad, dotted about the pad, a few painted pine pieces (my partner's female input), an original art deco Rocket Cabinet filled with studio pottery, an original 60s Arco chrome Lamp, and some lovely old stone and cast iron urns in the garden.
What do you think will be the antiques of the future?
There are fads and fashions, objects go up and down in price. I collected Troika Pottery and Whitefriars Glass when they were selling at £10, unfortunately selling when they were up to £20 each! Quality will always sell, and when I say quality, I do not mean something that is expensive, but an item that will age beautifully and has a distinct style.
How is the industry changing and what will it look like in the future?
The true collectors do not seem to be in abundance any more, we are seeing people that just want an item to look nice, whatever it is. Therefore, quality rare items can be found sitting around for a while, much to the despair of the dealer, who then sees something of poor quality at a price that seems a little high, sell to a customer just because it took their fancy and it fits in the corner that needed a little more decoration.
Who knows how this will go in the future, but personally, I hope that it will go towards 'Country House' rather than 'Footballers Mansion'!
Tell us some trade secrets – what are your top tips for buying antiques?
Buy! Just buy! Buy antiques that you like, do not worry if it is not in fashion or if someone says that it is not a sound investment. As fashions come and go, buy if you like it and if it is of an excellent quality, you will always be a winner.
The main point here is to buy, and buy now, as everything is going abroad, and it may not be long before we are saying, where have all the good antiques and collectables gone?
What antiques/artworks would you buy if money were no object?
Again, I would buy what I love, what I get pleasure in looking at, but I have always wanted to own an Ekco Round Bakelite Radio! I did have a wonderful nest of tables designed by Harry and Lou Epstein, but could not afford to keep hold of it!
You're down to your last 50 quid – what antiques/art would you buy?
You know me! I am always down to my last few quid! A real antiques dealer can be found secretly buying an old vase, even though this is the money earmarked for food and heating!
When you have limited funds, you are more careful in your spending, so you tend to buy well. I still like to buy old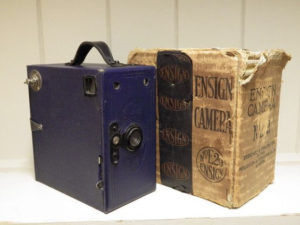 coloured box cameras that can be bought at the same low price as you could purchase them at 30 years ago!
Where are your favourite antique hunting destinations and why?
Absolutely anywhere – I once found a Liberty's arts & crafts mirror at a dog show in Devon! For two whole English pounds! Sale rooms are good, but most items require work, so not always as cheap as they first appear. I would say antique centres, wouldn't I? But they do make sense, as, like Hemswell, with 300-plus dealers in one place, they all have to compete with one another, so prices have got to be good to survive.
What are some of the biggest mistakes that buyers make?
Buying for investment, rather than pleasure.
Do antiques appeal to young buyers and, if not, how can the industry reach out to them?
Check out social media platforms to see the young 'uns salivating over a vintage piece that they found at Hemswell. Vintage style is big with younger buyers at the moment, but still many younger folk go towards the Ikea style just because it seems easy in a hectic lifestyle, but they should be given an alternative.
Mark Hill once filmed a wonderful telly programme, showing the alternatives in antique and vintage pieces to modern equivalents, and this is just what the industry needed, but I don't believe that it had a second series. Shame! Less emphasis needs to made on the profit made, using the antiques trade as a games show, this just cheapens the image of the trade, and when it comes down to it, dealing in antiques is still and always will be classy!