Will bidders cry out for Islamic tear-catchers
If you're on the hunt for a most unusual (but slightly belated) Valentine's Day gift, then a London auction house's upcoming Islamic & Indian Art sale could provide the perfect gift – an Islamic tear-catcher.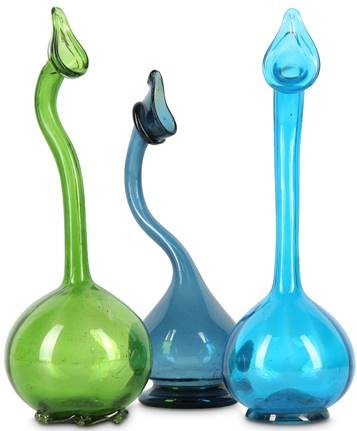 According to folklore, ancient tear-catchers, known as Ashkdans in Persian, are believed to have been given to new brides whose husbands were away at war for long periods in the 18th and 19th centuries.
The deserted spouse would capture her tears in the container and on her husband's return would measure the amount of tears shed for her partner. The measurement of tears indicated how much they'd missed them and were an expression of their love for their partner.
Ancient origins suggest that they were inspired by the biblical book of Psalms where David says of God: "You have kept count of my tossings; put your tears in a bottle." Other theories on their use include the collection of funeral tears in Ancient Egypt, Persia and Rome and in a more contemporary vein, as vessels used to sprinkle rosewater, in order to perfume a room.
Beatrice Campi, Head of Islamic Art at Chiswick Auctions, said, "Although these vessels were rather common in 19th-century Iran, they are not seen at auction very often, as they are very fragile and therefore do not often survive. We are therefore delighted to offer these examples in our upcoming sale."
An example of one in the sale is a Qajar free-blown green glass version from Iran, which dates from the 19th century. The green version is particularly rare and features a rather apt tear drop shaped top. It is estimated to fetch £400-£600.
A pair of free-blown blue glass versions are also offered in the sale. Dating from the late 18th to 19th century, they are beautifully elegant with the same eye-drop shaped top. One of them has been created featuring subtle ridges, making them slightly more decorative. The pair is estimated at £400-£600.
The sale takes place on May 3.