Dunhill Aquarium Lighters – the ultimate guide

Dunhill aquarium lighters from the 1950s are iconic and in demand with collectors, writes Nicholas Wells. It seems the less we smoke the more collectors crave these bright sparks
Smoking fashion
With the pariah status of smokers today, it's difficult to conjure up an era when the habit was not only de riguer, but the height of fashion. A time when when smoking was so chic, it came with a number of stylish accoutrements. Our diminishing love affair with nicotine has sparked a passion for smoking paraphernalia.
None less so than in the field of lighters – with one brand and one style standing out. Many years ago Piers Woodnutt, my great friend and colleague at the London dealer Mallett, introduced me to a field of collecting I knew very little about.
Dunhill Aquarium Lighters
Since seeing and handling the first Dunhill aquarium lighters, I have been spellbound by them ever since. They are incredibly realistic pieces of art with beautiful depth and complexity that to this day offer a timeless addition to any antique collection.
They cross the divide of a functional luxury object, combined with a quirkiness and uniqueness that makes every one of them special. Combine this with a limited supply and, voila, you have a strong collecting field fuelled by enthusiastic collectors and dealers aspiring to have the best collections.
Smoking Boom
The lighters and boxes were made from lucite, which was developed in WWII as an alternative to glass, because of its shatterproof qualities, it was invaluable for everything from airplane windshields to submarine periscopes.
Following the conflict, the remaining lucite stock found its way into artists' studios, designers' workshops and jewellery makers' shops.
The panels were hand carved with reverse intaglios using dental tools and drills. As the range grew, scenes became populated with ever more ambitious designs of varying depth and complexity. The panels were then painted and applied to the lighters' bodies in four distinct sections.
The design was available in three metal finishes: gold-plate, silver-plate and chromium-plate gold. Each came with a curved lift arm stamped 'Dunhill' and a registration mark on the back.
The Dunhill aquarium lighters were produced in four sizes, the giant (weighing a mighty 450 grams without fuel and designed to live on a table) the half-giant, the standard and the smaller (and somewhat rarer) service size.
They were fuelled with petrol rather than butane, which came into common usage in the 1960s. The flint was located in front of a sprung screw running parallel to the lift arm, ready to spark across a wick, primed to ignite. The flame was safely despatched by the sprung arm, which provided a satisfying clunk on closing.
Aristocratic customers
Dunhill counted royalty, aristocrats and the European elite among its clients, including the cigar-smoking Sir Winston Churchill who kept a Dunhill aquarium lighter on his desk at Chartwell Manor, as well as a rare large Dunhill cigar box, which was a present from Sir Bernard and Lady Docker.
The Dockers were famous socialites in the post-war period. Sir Bernard was the chairman of BSA group who commissioned Daimler to make a series of cars for his wife, Norah.
By repute, Churchill gave aquarium lighters as gifts, including one to Liaquat Ali Khan, the first prime minister of Pakistan.
Dunhill Aquarium Lighters' Artists
In the early production period the lucite panels were carved by Ben Shillingford (1904-2000) a Master Engraver responsible for the painstaking reverse intaglio technique.
He was joined by the husband and wife team of Margaret and Allan Bennett who met at art school and worked on the lighters at a studio in their south coast home.
While Margaret was responsible for the pencil and watercolour blueprints, it was Allan who carved the panels once the designs had been approved by Dunhill. Like Shillingford, he used dental tools to complete the intricate work, before his wife undertook the back painting of the panels, ensuring every lighter was unique.
It is interesting to note the difference between Shillingford's work and pieces produced by the Bennetts. Shillingford's work is generally less vibrant and more simplistic with a different colour background to the side and end panels.
It was Allan Bennett who suggested an all-round background colour would work well. The majority of the Bennetts' designs depicted tropical fish in a tank, although some of Margaret's more unusual designs – given the underwater setting – included a budgerigar.
So successful were the lighters, that the Bennetts were soon turning out a dozen a week, as well as undertaking repairs for Dunhill's clients.
Shillingford's skills were so outstanding that when he retired the skills necessary to continue manufacturing the aquarium lighter could not be found and production ceased.
London antique dealer Nicholas Wells owns Nicholas Wells Antiques Ltd which specialises in antiques, curiosities and fine art. He began his career 20 years ago at Mallett at Bourdon House which closed in 2007. His collection, which includes a selection of Dunhill lighters, is by appointment only. For more details visit www.nicholaswells.com
Dunhill's History
Widely known as Dunhill; Alfred Dunhill Ltd is an iconic British luxury goods brand which remains valued for its tradition, heritage and superior quality.
The company was developed by Alfred Dunhill after he inherited his father's saddlery business in London's Euston Road London's Euston Road in 1893.
In response to the growing demand for automobiles, Alfred introduced a line of accessories known as "Dunhill's Motorities" that
consisted of goggles, car horns and lamps and leather overcoats with the advertising slogan "Everything but the Motor".
A few years later, the business set its sights on the luxury market and opened a store in Mayfair. A pipe, cigar and tobacco business folllowed in 1907 opening in London's St James's.
What will you pay for a Dunhill Aquarium Lighter?
Because no two aquarium lighters are the same, making them each a unique work of art, value estimates are difficult.
Prices have steadily risen over the last decade with the highest prices paid for rarer lighters which depict non-aquatic scenes – hunting, horse-racing and aviary subjects in particular.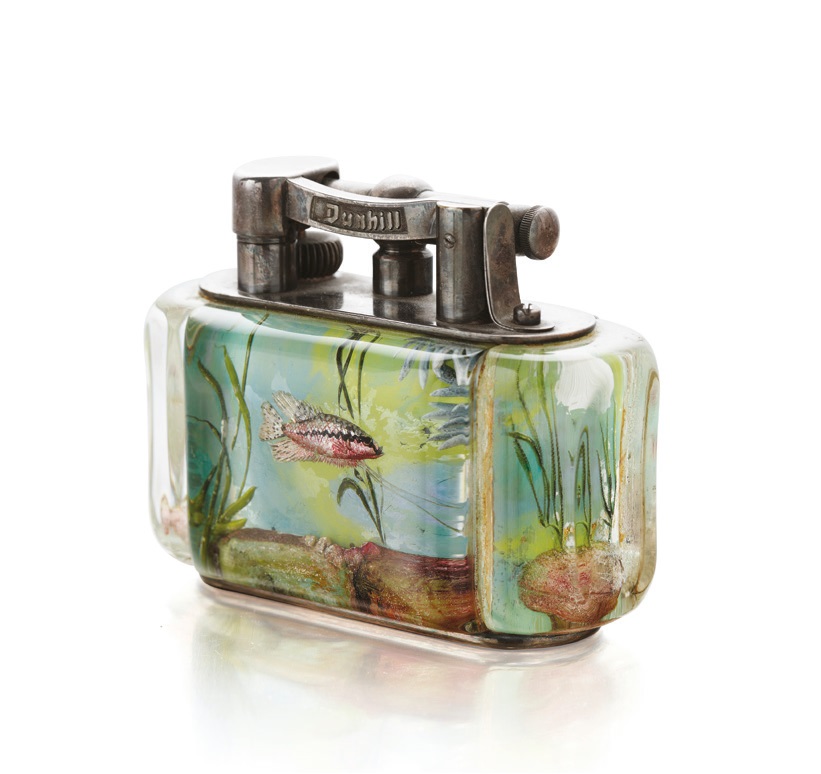 In vivid blues and greens, today the fish scenes usually sell for upwards of £7,500, while sporting and avian scenes can fetch upwards of £10,000.
But it's the one-off private commissions that are the most valuable. One made for speed racer Donald Campbell, depicting his Bluebird CN7 speeding along the Bonneville Salt Flats in Utah, sold for £30,000.
Dunhill lighters Timeline
1927: Alfred Dunhill launched the revolutionary 'Unique' lighter; the first lighter to be operated using just one hand. The Unique prototype was mounted on a Colman's mustard tin. It was the first, first-time lighting and one-hand operation lighter. All Dunhill lighters in the '20s featured single wheel action.
1930s: Another renowned creation during the earlier years was the Dunhill double-wheel design which reduced the effort required to make a spark. During the mid 1930s, the first lighter to have the mechanism concealed, the 'Tallboy', was born. The improved flint action allowed less adjustment towards the end of the flint's life.
1940s: During WWII, with manufacturing production focused on vital hardware, Dunhill's lighter manufacturing was restricted. However Dunhill lighters were still produced.
1949: The aquarium design was launched.
1956: The Rollagas butane lighter was launched, one of the first butane gas lighters. The iconic design has remained relatively unchanged since and was regularly used by James Bond in both print and on screen.
The Collector of Dunhill Aquarium Lighters
Antiques dealer Timothy Oulton is the owner of 200 aquarium lighters having collected them for nine years
What makes a great aquarium lighter?
For me, it's about the collection as a whole, rather than an individual lighter. Because buying one is not a story. It's the background that's important. For example, I enjoyed trying to work out more about the lighters and who made them. No one really knows how many lighters Shillingford made as there's not a lot known about his work. If I did ever sell them, it would have to be as a full collection. I'd be upset to lose them, but less upset depending on who I sold them to. I would always keep the non-aquariums because they're super rare.
How do you date the lighters?
It is difficult. They were all made approximately between 1949 and 1959. We can only date them specifically before and after 1953, as the lighter mechanism changed in 1953. Before that year, the spring holding the lighter lid could be seen from the outside but on later models Dunhill integrated it inside the lighter. Certain lighters can be dated because they were made for special events. One such was made for the Festival of Britain in 1951, it has the festival emblem – a star (designed by Abram Games) with the colours of the Union Flag and the profile of Britannia's head.
How many are in your collection? Are you still collecting?
I've have bought every one I can. There are others I'd like to collect, there's a Titanic one that I've heard about, but I've never seen it. I love them; I was spellbound the first time I saw one, and I'm still spellbound when I look at one of them. When I look at them together, it's even more interesting. I think the aquariums are the most beautiful, but the non-aquariums are more valuable. To me that is the wrong way round, but who's to say who is right or wrong?
Where are your aquarium hunting grounds?
All over. We bought a few lighters in Buenos Aires. We'd found a lighter with a skier there, but we just missed it. I'd never seen it before, and I haven't seen it since. That's the favourite one that got away.
What size lighter do you prefer?
Dunhill made four different sizes: standard, giant, service and halfgiant. I don't prefer one particular size, it's more about what the lighter represents. Aquariums depicting fish are the more common one.
Which would you save if your house was on fire?
I've got a lighter with a swan in it, which is probably the most expensive one I've ever bought. It's off-the-scale beautiful. I also love the lighter depicting a giant aviary and we have a beautiful 'halfgiant' depicting red roses.
Timothy Oulton's started work in his father's antiques shop in Hale near Manchester at the age of 18. He now runs British furniture and interiors company Timothy Oulton, for more details go to www.timothyoulton.com
This article originally appeared in the September issue of Antique Collecting magazine – subscribe here to get it delivered to your door every month!