British Mid-Century Sideboards – The Ultimate Guide
Long seen as the poor relations of their Scandi counterparts, now is the time to shine a light on G Plan and other British mid-century sideboards which are creating demand among the style conscious.
A little over a decade ago, the landscape of British mid-century furniture was very different. Andrew Tavroges from Vintage Retro, said: "The first time I bought a standard British teak sideboard at a local auction in 2009 it cost £5, plus commission. The same one today would be around £200-£250, plus an even higher rate of commission."
Prior to that date, most auctions wouldn't even sell G Plan, McIntosh or many of the other British makers from the '60s and '70s, he added. While the furniture found a market abroad – in Holland and Spain as well as the Far East and America – it seemed UK buyers' memories of their parents' staple sitting room furniture was enough to put them off.
Now a new generation is seeing the designs through different eyes.
British Mid-Century Sideboards
Andrew continued: "Certain models have tripled in price in the last three or four years, whereas others may only have gone up by 50 per cent." Now the British models are snapping at the heels of their Scandi rivals – for years viewed as the cooler cousins.
Andrew explained: "The gap between prices of a good British sideboard and a good Scandinavian one is much more smaller today than it was when we first started buying British ones around 10 years ago." Mid-century sideboards have also become something of a design classic according to Killian McNulty of the Vintage Hub, which focuses on 1960s and '70s sideboards from G Plan and the Scottish brand McIntosh. He said: "Sideboards are attractive pieces that anchor and balance a room while being useful pieces of furniture that help you live your life.
"The amazing thing about mid-century sideboards is that while they are often 40 to 60 years old, they make a space look and feel very modern. They are also the more environmentally-friendly option when it comes to choosing furniture, so it's a win-win."
Now British mid-century sideboards are increasing in value compared to their Danish equivalents. When they were first introduced to the UK, a Danish sideboard by a well-known designer and maker would have cost approximately 50 per cent more than a G Plan equivalent.
Today, these price variations may seem small, but in the mid-1960s when most people had much less disposable income compared to their counterparts today, it was a major factor in people's buying.
The UK models were manufactured with the intention of being affordable as well as beautiful. There are still plenty of vintage pieces to buy at reasonable prices. For under £500, you can pick up designs by great British makers such as G Plan, McIntosh, Archie Shine, which are not only timelessly stylish, but also highly collectable.
G Plan
British furniture manufacturing company G Plan was launched in 1953, but its roots go back much further. In 1898, Ebenezer Gomme (1858–1931) set up a woodworking factory, E. Gomme Ltd., in High Wycombe, England.
Its reputation for high-quality furniture grew and in 1911, Gomme's sons took the helm. During WWII, with timber in short supply the government introduced the Utility Scheme, aimed at encouraging utilitarian solutions to home goods.
The landmark 1946 Britain Can Make It exhibition at the V&A played a huge role in introducing modernism to the public. Among the visitors was Ebenezer Gomme's grandson, Donald (1916-2005), who became certain that a radical, minimalist aesthetic was about to sweep the furniture design industry and was very inspired by what he saw there.
In the aftermath of the 1951 Festival of Britain, G Plan was launched, setting the standard for modernist, mass-market furniture in post-war Britain.
Donald Gomme stepped down from G Plan in 1958, confident in the strength of the company that he had built. It was a confidence that was well placed, today examples of G Plan are some of the most sought-after vintage British mid-century sideboards.
Ib Kofod-Larsen
In the 1960s, with Scandinavian designers outstripping their British counterparts, G Plan brought in Danish designer Ib Kofod-Larsen to create new collections in teak and rosewood.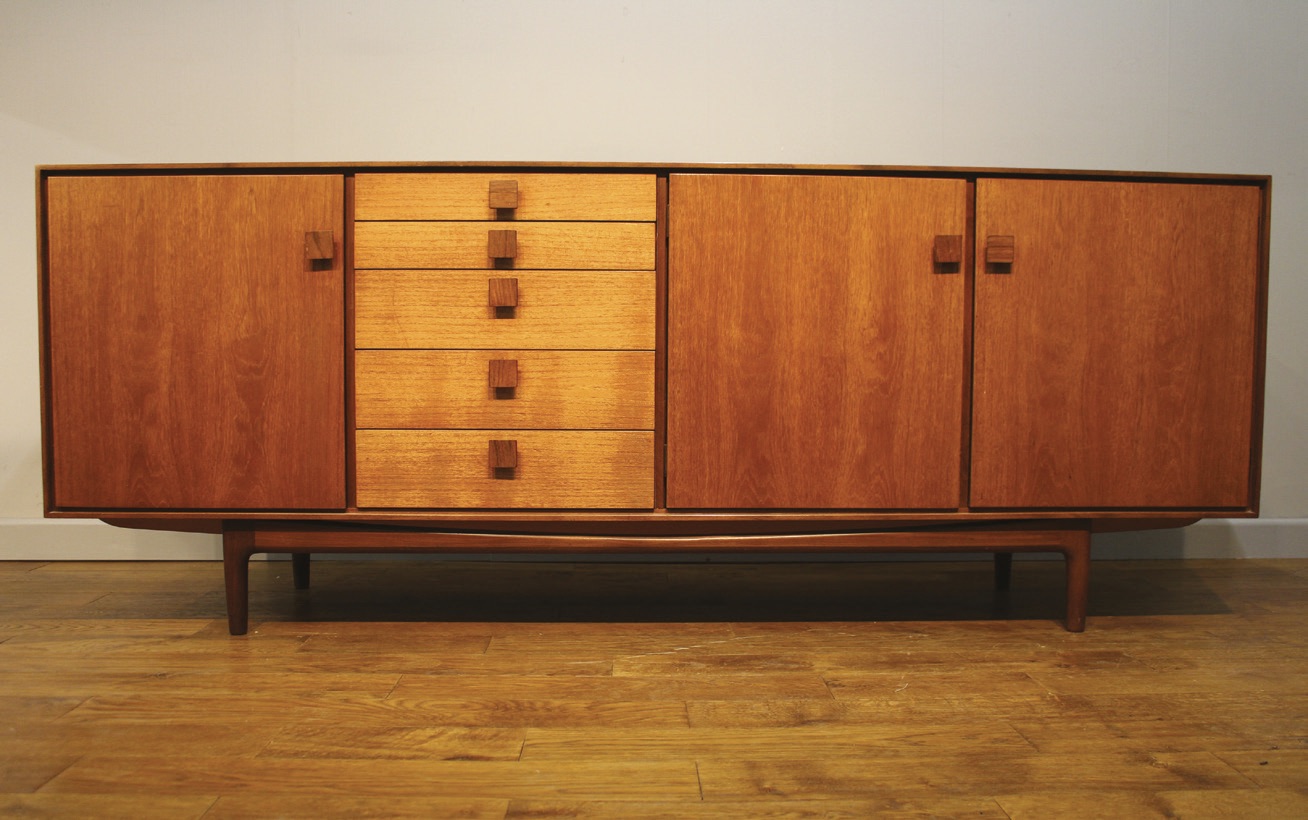 Born in Denmark in 1921, Kofod-Larsen studied at the Danish Royal Academy in Copenhagen. Clean, sculptural lines characterised much of his work and while his pieces may not have received the plaudits of the design community, they are richly praised today.
G Plan's first Kofod-Larsen designed teak sideboard came in three sizes. It was introduced in 1962 as part of an up-market range called The Danish Design range, and was produced for five years.
The Fresco range
Another designer, Victor Bramwell (V.B.) Wilkins, was employed by G Plan and became best known for his Fresco range. Riding on the coattails of Kofod-Larsen's success, Wilkins' furniture also had a strong Scandinavian influence.
Designed in 1966 and launched the following year, Fresco included a suite of furniture for almost every room in a house, all finished in teak with a rich grain.
G Plan's Fresco range went on to become the most successful British sideboard. Pieces included the most commonly seen 7ft sideboard on legs, but G Plan also produced a 5ft version and a high board, as well as bedroom furniture and wall units.
The sideboards were produced for 10 years, with the Fresco wall units still in production into the mid '80s.
This was preceded by Wilkins' Brasilia range in 1964, which overlapped with the Fresco for two or three years before being taken out of production at the start of the 1970s.
In addition to the Fresco range, Wilkins designed the Astro coffee table (1969) and the Spider occasional table (1970). Both feature curved teak bases that resemble the shapes after which they were named and are highly collectable today.
McIntosh
Before the success of its mid-century designs, McIntosh had a long furniture-making tradition.
Founded in 1869 by Alexander Henry McIntosh in Kirkcaldy in Fife, the company responded to the growing demand for furniture and exhibited at the World Fair in Paris in 1878 and the Sydney Exhibition in 1879.
In WWI, the McIntosh factory began manufacturing airplane wings and other parts for the war effort. During this time, Alexander Henry's son Thomas Wishart McIntosh, headed the family business from London, where McIntosh had established an offi ce. Despite its Danish modern aesthetic, the company marketed itself as a proud
Scottish firm that utilised traditional processes andemployed local, highly-skilled cabinetmakers. TheMcIntosh label, which survives on many 1950s and1960s pieces, shows the Scottish thistle and crown.
The Dunvegan
McIntosh was one of the first makers to introduce a Scandi style sideboard in 1960 when it presented the Dunvegan. It was in production for 20 years, making it by far the most successful sideboard in terms of longevity, second only to G Plan's Fresco.
McIntosh also produced the Moy, a smaller version of the Dunvegan, both of which was designed by Tom Robertson who was the company's head designer from 1948 until 1983. McIntosh made several other models some for only a year or two, with the rarer designs most sought after today.
Younger
A Younger furniture was low-volume, well-made and aimed at the top, rather than middle, end of the market. It was one of the best-quality, mediumsized British makers.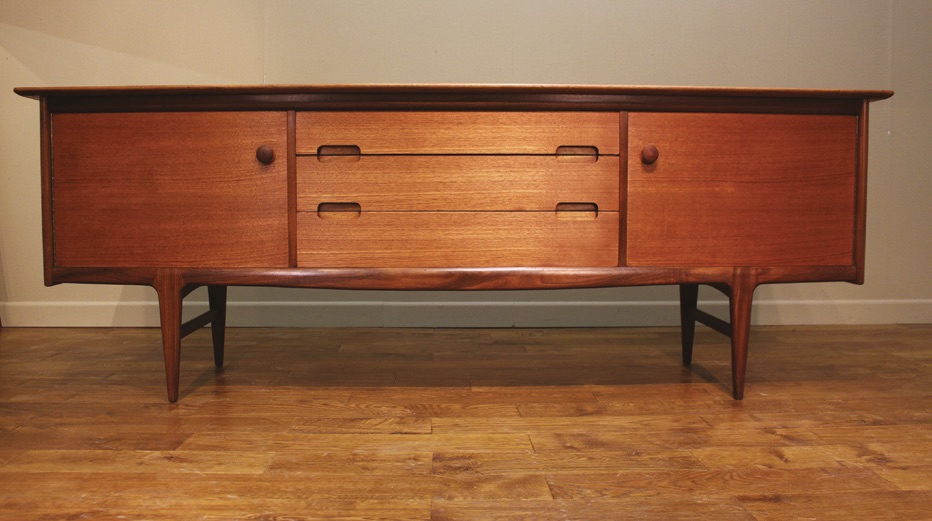 A lot of its success was due to its award-winning designer, John Herbert, who, in 1956, designed the Volnay – the first British piece in afrormosia, an African wood of similar colour and appearance to teak. In 1962, he came up with the Fonseca, one of the company's most appealing sideboards, which was in production until 1968.
The A Younger label is often discretely located on the back of a drawer, as its designs were often retailed by small, up-market furniture shops who didn't like makers to identify their pieces.
Merrow Associates
Another British manufacturer in the spotlight is Merrow Associates, which was co-founded in 1966 by designer Richard Young. After studying furniture at the Royal College of Art in London, Young won a scholarship to the Royal Art Academy in Copenhagen where he studied under the revered Danish designer Ole Wanscher.
Young's meticulous detail, as well as his favoured materials of rosewood, steel and glass, added to the fact his furniture was produced in small batches of 50, means his work is highly sought after today.

Dalescraft
Dalescraft was a small, fashionable company based in Pudsey run by Malcolm David Walker who acted as both MD and designer. As a child Walker built model aircraft and later restored cars and boats. He was an accomplished cabinetmaker in his own right, which can have only aided his design talents.
Other than Ib Kofod-Larsen's designs for G Plan, Dalescraft was one of a handful of companies emulating Danish furniture in the UK.
Andrew Tavroges from Vintage Retro, said: "The 1962 Dalescraft's sideboard is very close in design to a Danish model and other Scandi look-a-likes. We used to sell it for about half the price of its Danish equivalent, but now it's more like 75 per cent.
"We recently acquired one of Dalescraft's Danishstyle sideboards that had been bought new in 1964 for £55, a similar price to G Plan's Danish Range – but 25 per cent more expensive than its standard range."
Dalescraft also carried out furniture contracts for the Ministry of Defence, as well as fitting out Leeds County Courts and the Imax Cinema in Bradford.
Archie Shine
In the early 1960s, the most expensive British sideboards were designed by Robert Heritage, the professor of furniture design at the RCA from 1974- 1985, for the East London firm of Archie Shine.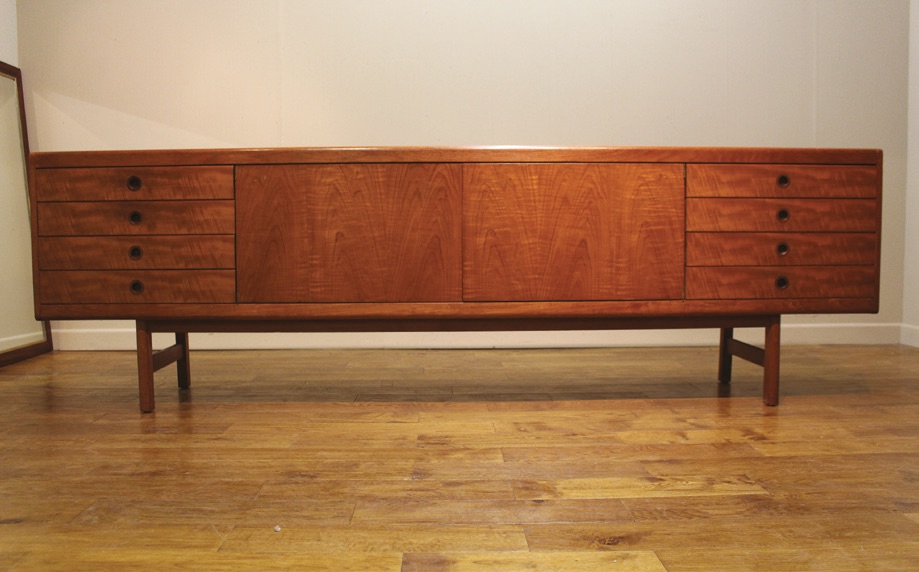 Archie Shine became known for its high-quality furnishings which were aimed at the affluent middle classes and sold mainly through Heal's.
Heritage's teak and rosewood home furnishings were midway between the stark, minimalist look of the early 1950s and the heavy, masculine, chrome and glass style of the late 1960s.
Heritage designed for a lot of British makers, but was best known for his work for Archie Shine. Heritage's designs achieved what many others had failed to – its quality and design equalling the Scandinavian pieces of the period.
In 1968, Heritage became famous for the GR 69 range of furniture for Gordon Russell and an iconic chair for the QE2.
White and Newton
White and Newton was based in Portsmouth and one of the big hitters of UK furniture design throughout the mid 20th century.
Under the design direction of Arthur Edwards, the firm produced stunning, high-end furniture, often defined by its clean, modern lines and stark, linear form.
In 1964, Arthur Edwards was replaced by a 24-year-old designer called Philip Hussey who steered the company towards much more modern designs, some very close to models designed by Arne Hovmand Olsen for Mogens Kold, as well as other British designs.
Discover more
Jarrow-based mid-century specialist Andrew Tavroges stocks a large range of both UK and Scandinavian designs, for more details go to www.vintageretro.co.uk or www.pureimaginations.co.uk.
Killian McNulty of the County Dublin-based company Vintage Hub, is also a stockist. For more details visit www.thevintagehub.com