Cabinet of curiosities in Christie's sale

An eclectic 'cabinet of curiosities' spanning thousands of years of history comprising antiquities, European sculpture, objects, tribal and ethnographic car, natural history and topographical pictures is currently being sold in Christie's Finch & Co's Cabinet of Curiosities.
In almost 100 lots, the sale unites historically and geographically important objects and curiosities from around the globe, including a Chinese scholar's wrist rest, a Spanish Colonial parquetry cabinet, Mughal Indian flasks and a North Indian Bezoar stone case, a Japanese matchlock hand cannon, Victorian 'Halley's Comet' brooches, Tibetan objects and Victorian portraits.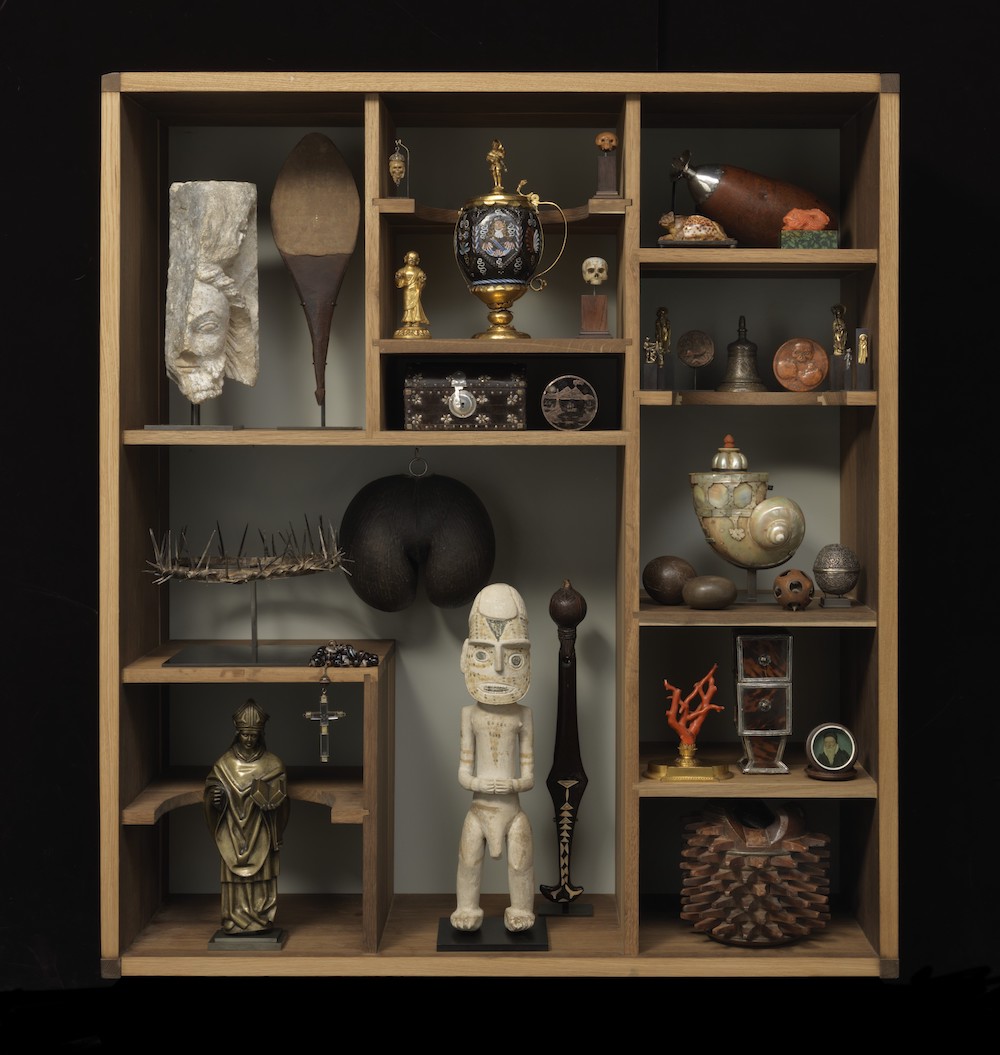 This sale celebrates the achievements of the London-based dealers, Jan and Craig Finch of Finch & Co, who for the past 30 years, have been advising and engaging with collectors, with a unique eye for thought-provoking works and objects, representative of cultures from around the world.
Finch & Co seek to create the greatest of 21st
–
century 'cabinets of curiosities' to inspire and educate today's collectors in the same vein as 'Kunstkammern' did with previous generations. Each lot in the sale reveals a fascinating story, individually representing an insight into the extraordinary, a discovery of the unusual, a thought-provoking escape from reality, an oddity
to contemplate in an increasingly mechanised inhuman world and strives to transport clients into one where creativity and imagination are in harmony.
Cabinets of curiosities were first conceived in the 16th century as 'Cabinets of Wonder' and collections of notable objects. The terminology 'cabinet' originally described a room as opposed to a piece of furniture. These collectors' rooms were microcosms of the universe, displaying their creator's interest in understanding and 'ordering' a fast-expanding world and also served as status symbols in society, with the most famous 'Wunderkammern' created by royalty and the aristocracy.
Changing collecting tastes are behind the resurgence of interest in cabinets of curiosities, embraced by Finch & Co. They are synonymous with an international client base of connoisseurs and collectors, thanks to their individualistic approach to sourcing only the most extraordinary objects and curiosities.
Caitlin Yates, specialist and head of sale, private & iconic collections at Christie's, commented: "Finch & Co is a brand that has successfully transcended the vagaries of taste throughout the past 30 years. It is the manifestation of two maverick minds that favour the antique, but appeal to the contemporary market. In a 'bland is grand era', Finch and Co is distinguished by its contrasting aesthetic. Still regarded as an outlier, it is this quality of 'otherness' that makes the Finch & Co collection universal in its appeal. Having gained several modern artists as important clients, who, interestingly, privately collect antiques and ancient art, Finch's aesthetic is undeniably timeless"Craig Finch of Finch & Co, said: "We have to dare to be different, throw off our fear of change and embrace Britain's fantastic mix of cultures. This is the Finch motto." He added: "One of my personal highlights is a pair of Roman marble shoulders. Their sense of unending history and their achievement of self-aggrandisement through two thousand years of time marks them out for me amongst so many unique objects in the sale that will be bought by clients with a similar yearning to Jan and I for the extraordinary and unusual."Jan Finch has selected the polychromed and parcel-gilded poplar wood bust of Mary Magdalene, estimated at £6,000-10,000, as one of her outstanding lots, "A beautiful image with her adoring face turned to look at Christ on the cross." It is notably poignant to her because Mary Magdalene is one of the most controversial women in the history of Christianity. During the 16th and 17th centuries artists presented the Magdalen as a sensual almost classical Venus-like figure. Jan commented: "Each time I look at this sculpture I am moved by the power of the emotions shown."
Estimates for the sale range from £300 to £50,000 and it is expected to realise in the region of £300,000-460,000.
A exhibition view will take place at Christie's King Street from October 29 to November 4, 2020.