Bumper Town and Country House sale

A North Yorkshire auction house is kicking off the New Year with a bumper two-day 'Townhouse & Country House' sale on January 14 and 15.
The first day of the sale at Tennants will comprise over 350 lots from the 'Townhouse: Property from the London Residence of a Lady of Title', which will include silver, furniture, books, paintings, Asian art and works of art.
Highlights of the sale include a good collection of predominantly 18th-century enamel boxes, such as a South Staffordshire enamel scent bottle and stopper, circa 1760, of flattened pear shape decorated with park landscapes and dolphin finial, estimated at £600-800.
Further notable lots in the sale include an Italian gold horse racing cup by Miracoli of Milan, estimated at £10,000-15,000; Thomas Malory's 'The Birth, Life and Acts of King Arthur', London, 1893-4, illustrated by Aubrey Beardsley, estimated at £2,000-3,000; a Chinese Ming Dynasty celadon and russet jade horse, estimated at £700-1,000; and a pair of George III silver goblets made by John Carter of London, 1772 with an estimate of £600-800.
Day two of the sale will offer an eclectic mix of Country House furniture, paintings, works of art and collector's items, and will include the Selected Contents of North Carlton Old Hall, Lincolnshire, as instructed by the executors of the late Mr and Mrs Peter Heneage.
Highlights of this sale include a 17th-century allegorical tapestry depicting Sampson taking action against the Philistines by burning their cornfields, olive groves and vineyards, estimated at £2,000-3,000.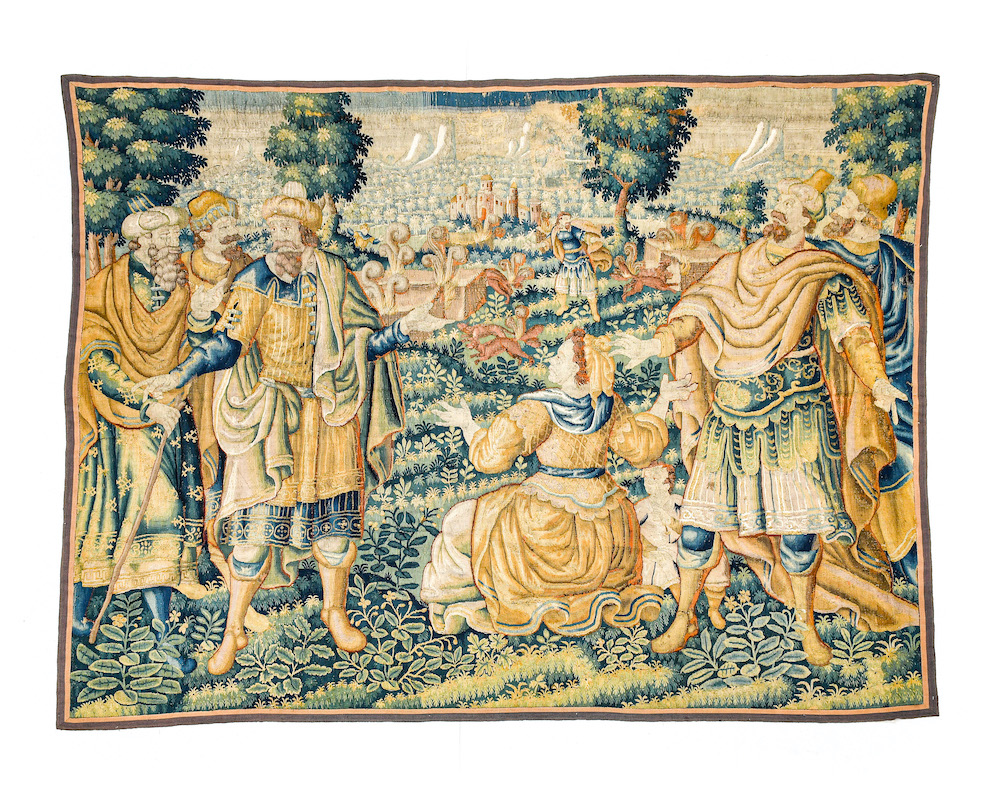 Elsewhere, a green patinated figure of a recumbent stag by Holme Cardwell is on offer with an estimate of £2,000-2,500. Holme Cardwell (1813-1895) was a Manchester-born sculptor who attended the Royal Academy School and the Académie Royale in Paris before moving to Rome where he would continue to work and study amongst the British sculptors living in the city. The stag is signed to the base 'HOLME CARDWELL FECIT ROMA'. A good selection of period oak furniture is led by a 17th-Century joined oak refectory dining table, estimated at £1,200-1,800.
Unusual lots in the sale include an ivory cased portable diptych sundial, probably made by Charles Bloud circa 1680, estimated at £1,500-2,000; a Victorian green and gold painted wrought-iron and lead weathervane, estimated at £500-700; and a Louis XIV brass-bound Kingwood Coffre Forte with an estimate of £500-700.
The sale will also include a small collection of antique gardening implements, including a selection of 7 Coalbrookdale cast iron lantern cloche and covers, circa 1840-60, estimated at £500-800; an early 18th-century French copper watering can and 19th-century glass cucumber straighteners.