Charles Hanson celebrates Chinese antique treasures
Auctioneer and TV regular Charles Hanson of Hansons Auctioneers turns detective to discover long-forgotten Chinese treasures languishing in Brits' homes
Working in the antiques world can feel a little like being a detective as you question, probe and hunt for clues to discover treasure in unexpected places.Every week I'm invited into homes to assess whether items are worthy of auction, often ahead of a house clearance. And sometimes an object deemed worthless takes my eye.My detective instinct kicked in when I spotted a vase filled with dried flowers in a modest two-up, two-down property – and my instinct told me to take another look.It was blue and white and embellished in typical Chinese style. But it seemed incongruous. I probed further and discovered the vase had been given as a gift to a man who had worked as a chauffeur in the 1950s. But why would a valuable piece of Chinese ceramics be here? Could it be that a generous employer had gifted an exceptional item to a loyal driver more than 60 years ago? Could a vase used for dried flowers in a house in Mansfield, Notts, be highly valuable?
Chinese antique treasures in house clearance
The property was due to be cleared and an offer of £1,000 had been made for the contents – but I arranged for the vase to be auctioned. However, despite my gut instinct, I made a mistake. After examination, I decided it was repro and consigned the vase into Hansons' recent antiques and collectables sale with a guide price of around £50.But when the auction catalogue went live online extraordinary bids started to come in for the humble vase.I withdrew it from sale to give me time to consult Chinese ceramics experts and, importantly, ensure we achieved the best price possible for our client.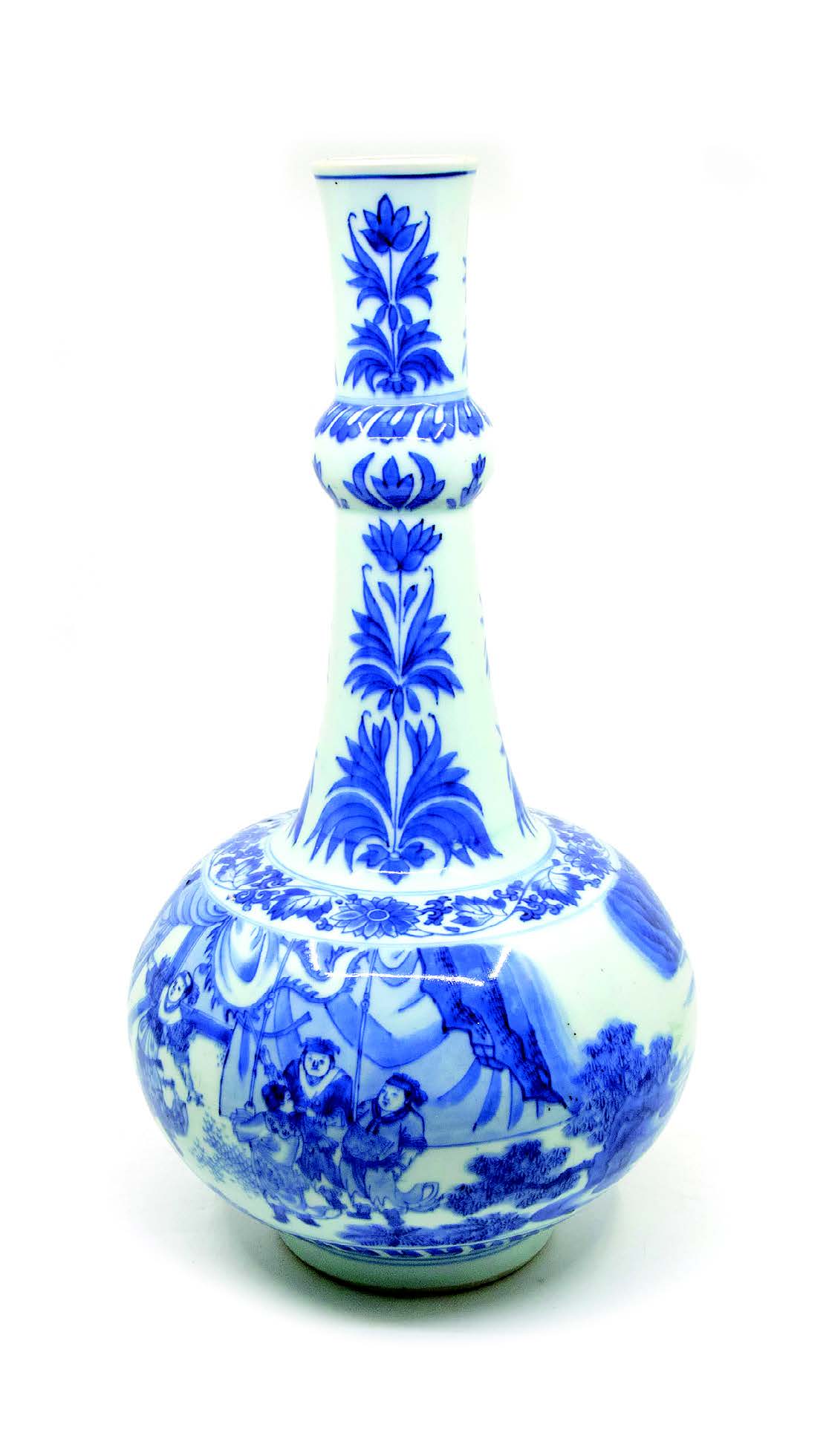 Transitional Period
The item was identified as a Chinese blue and white bottle vase, c. 1640, and from the Transitional Period (1620-1683). This was the time when the Ming dynasty had lost control over the Imperial porcelain factory in Jingdezhen but the Qing dynasty had not yet taken over.The 50 years without Imperial patronage led to a dramatic diversity of production, as the kilns turned their attention to selling both into the non-Imperial domestic market, and into newly-emerging export markets, notably the Dutch and Japanese markets.Its bulbous body is vividly painted with a group of officials conversing while its neck boasts stylised tulips. The vase was re-consigned into Hansons' April 1 Derbyshire Fine Art Auction with a guide price of £2,000-£3,000. It sold for £15,000.The same was true of the top lot in April's fine art auction – a damaged Chinese blue-and-white 'nine' dragon bottle vase, Jiaqing mark, period 1796-1820. It sold for £46,000 from an estimate of £3,000-£5,000. Like the Mansfield find, it was spotted during a standard home visit in Cheshire. Overlooked by the 89-year-old client, who had inherited it 25 years previously, I spotted its potential. Despite a repair, the style of decoration had its roots in the imperial designs of the Qianlong period (1736- 1795). Similar examples exist in The Palace Museum, Beijing, China.I'm always delighted to deliver unexpected windfalls to people who have absolutely no idea they own anything of value. Chinese ceramics can sell for life-changing amounts and if I can facilitate that I am a happy man.Items are regular invited at Hansons. For a valuation email Isabel Murtough, imurtough@hansonsauctioneers.co.uk or call 01283 733988.