TV memorabilia from Phil Eason Collection to sell
Puppets, television and film memorabilia from The Phil Eason Collection, a highly sought-after film and television puppeteer who passed away last year, will sell in Surrey in September.
Ewbank's auction house is staging a special sale featuring more than 200 lots of memorabilia and puppets from Eason's personal collection.
Eason was a hugely experienced and well-regarded puppeteer and puppet co-ordinator for film, television, commercials and corporate videos and presentations. He worked on iconic films including Jim Henson's Labyrinth, The Little Shop of Horrors, Muppet Treasure Island, Lost in Space and Star Wars: The Phantom Menace.
His varied career included operating the Honey Monster, the mascot of breakfast cereal, Sugar Puffs, on the streets of Buenos Aires, Argentina and Wellington, New Zealand; operating the Baby Rockchewer for The NeverEnding Story III; and he worked in a secret location outside Stockholm, Sweden, for ABBA – The Last Video.
His television accolades range from Spitting Image, to Jim Henson's Storyteller, to CBeebies' Mr Bloom's Nursery.
Eason also offered private clients a unique and fully comprehensive puppet performance, design and build service, some of which are on sale at Ewbank's.
Among the puppets sure to garner attention from collectors are two from the ever-popular Thunderbirds franchise.
A Lady Penelope puppet on a wooden stand, which was hand constructed by Eason, has been valued between £800 and £1,200. Standing 52m tall, Lady Penelope Creighton-Ward is a fictional character introduced in the British 1960s television series Thunderbirds. She also appear in the film sequels Thunderbirds Are Go (1966) and Thunderbird 6 (1968), the 2004 live-action film Thunderbirds and the CGI remake series Thunderbirds Are Go.
Alongside Lady Penelope, is a Parker puppet, also on a wooden stand and hand constructed by Eason, valued between £800 and £1,200. Aloysius "Nosey" Parker is the butler and chauffeur to Lady Penelope and, like her, a field agent of the secret organisation International Rescue.
A large Hangle puppet from 1990s children's TV show, Wizadora, which stands 120cm high, is on sale with a guide price of between £100 and £150; and Frankenstein puppet designed and made by Phil Eason for a private project, has an estimate of between £100 and £150.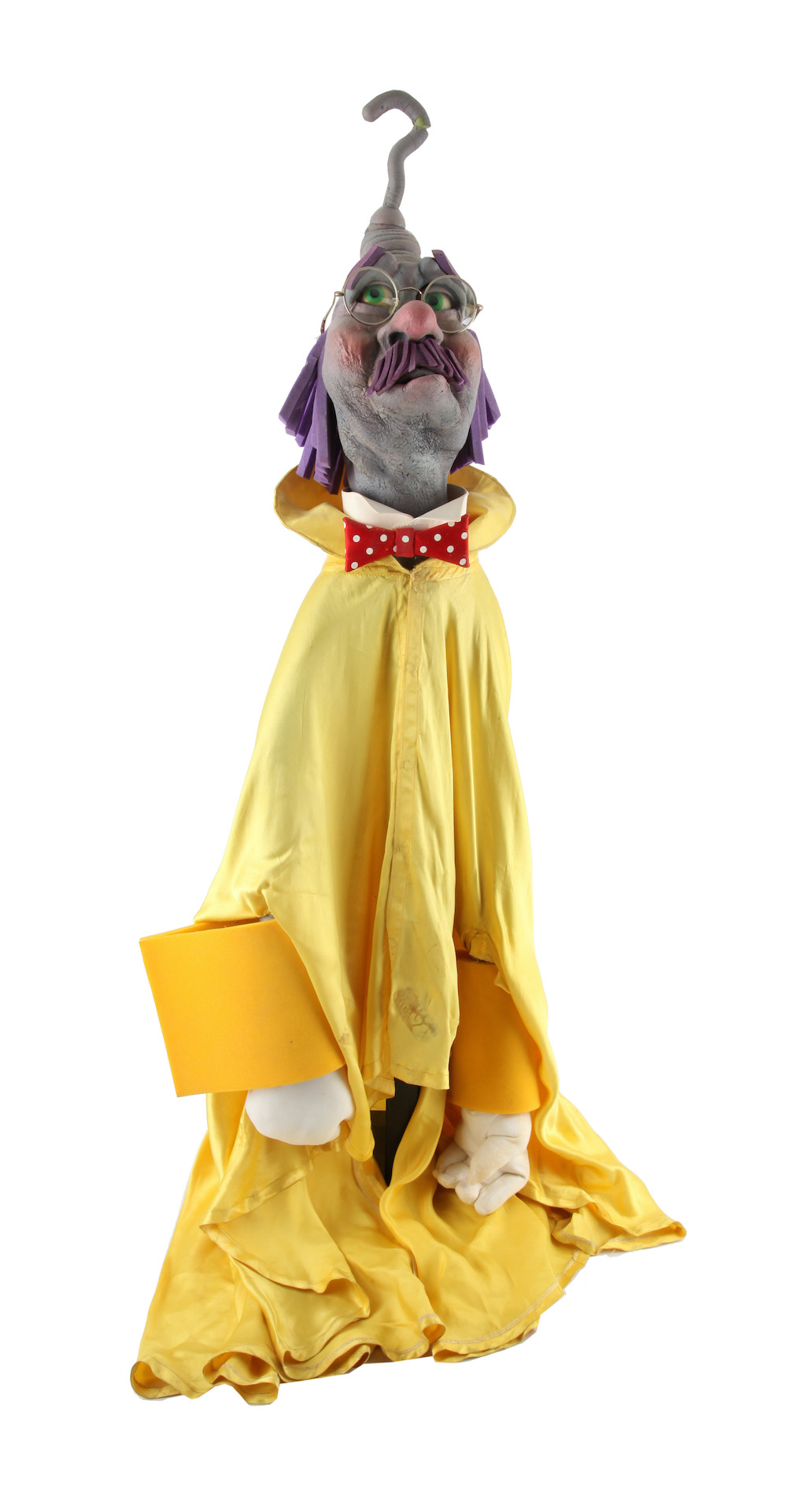 Among the memorabilia on sale is a series of limited-edition artworks.
A signed hand-painted limited-edition cel from Hanna Barbera Productions' Flintstones entitled Mammoth Ribs has a guide price of between £150 and £250. It is signed by Bill Hanna and Joe Barbera, numbered 218/300, and is mounted and framed and comes with a certificate of authenticity.
Another Hanna Barbera cel on sale, also signed by Bill Hanna and Joe Barbera, of Jabberjaw has an estimate of between £100 and £150.
Original artwork strips in ink drawn by John Burns and Neville Colvin of Modesty Blaise by Peter O'Donnell carry a guide price of between £150 and £250; a hand-painted comic mixed media artwork by English comic artist John. M Burns has been valued between £80 and £120; and an original 1960s character poster from Fireball XL5 has been valued between £150 and £250.
Film memorabilia includes a Regatta crew jacket from Star Wars Episode I – Creature Effects Team 1997, size small, which carries a guide price of between £70 and £100.
The sale of the Phil Eason Collection will take place on September 9.