D-Day Michelin Guide in sale
A rare glimpse into the meticulous and ingenious planning involved in the D-Day landings and the liberation of France will be offered at an upcoming auction in North Yorkshire.
It comes in the form of a rare 1943 US edition of the French 1939 Michelin Guide, which has an estimate of £1,500-£2,000 at Tennants Auctioneers. This Michelin Guide is a unique lens through which to understand how Second World War campaigns were fought.
In the spring of 1944, the D-Day landings were being planned. Yet, Allied forces feared their progression into France and its cities would be scuppered because signage had been removed or destroyed. Allied commanders then decided, and with agreement with the Michelin Paris management, that the 1939 edition of the Guide, which was the last on record, would be reprinted as a special edition. This special edition, with its hundreds of detailed, up-to-date city maps, was printed in Washington D.C. by the Military Intelligence Division of the US War Department.
These Michelin Guides were distributed amongst officers who would later find it invaluable when they landed with their troops on D-Day. Most of these Guides were lost or destroyed in the bombings, others were taken back to the USA by soldiers returning home; there are very few known originals left in Europe. All the Guide's 1107 pages and maps are intact.
Elsewhere in the sale is a group of medals including the Ordinary Companion of the Order of the Bath (Civil Division) neck badge, OBE Breast Badge (Military), Burma Star and more, that was awarded to Wing Commander William Anderson Beaumont of the Royal Auxiliary Air Force during the Second World War, which is estimated at £800-£1,200. While flying on September 2, 1945 to drop supplies to a POW camp, Beaumont, who was then Pilot Officer in 355 Squadron, and his crew were forced to bale out of their damaged Liberator aircraft. Beaumont was missing in the jungle for four days, surviving by perching on a platform he had built to raise himself above the flood waters of the Ganges Delta. He had no food but drank rainwater dripping from the leaves. He was rescued after spending four days and nights in the jungle. This operation is recorded in his logbook which is also in this group. In this group are Beaumont's badges and membership cards for the Caterpillar Club and Goldfish Club, as well as a crest badge of Christ Church, Oxford, his alma mater. Beaumont later in life became the Speaker's Secretary.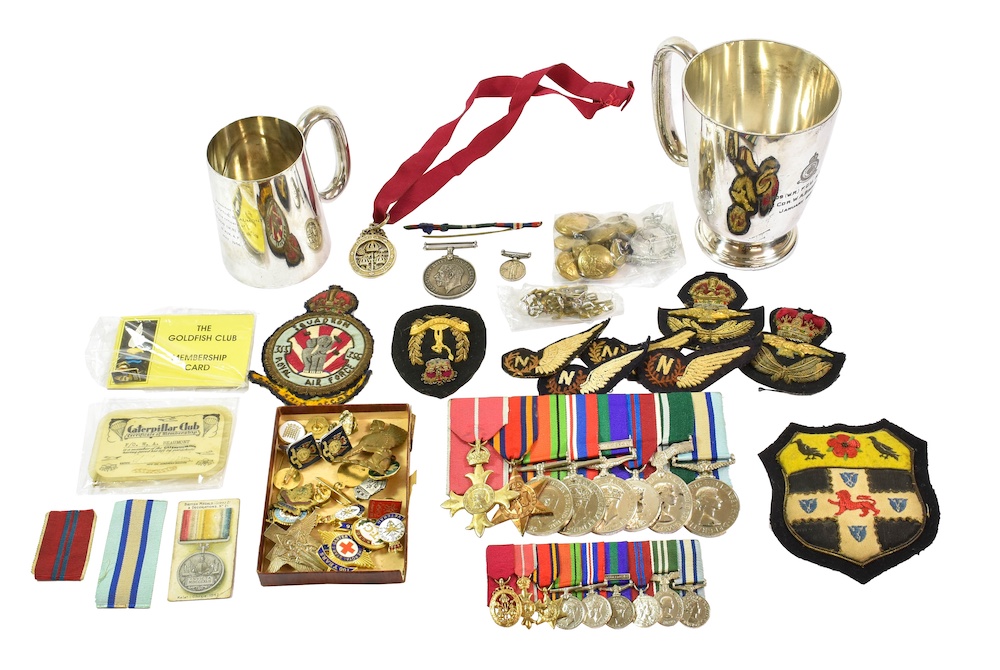 Continuing the theme of endeavour, this sale also includes the uniform of Major General Philip Thomas Tower, CB, DSO, MBE, GOC, estimated at £500-£700. On sale is Tower's khaki greatcoat made for him by his wife which became his escape outfit. Tower was a POW in Italy during the Second World War and after several escape attempts including jumping from a vehicle driving at 40 mph, he eventually escaped. He would then see action in Arnhem as a parachutist in the 1st Airborne Division. In 1967, Tower was appointed General Officer Commander of Middle East Land Forces.
Other sale highlights include a fine collection of pistols all of varying design and use. Notably, a pair of 18th-century percussion duelling/target pistols by Twigg & Bass, London, circa 1780-83, estimated at £7,500-38,500; a mid-19th century six barrel mariette double action pepperbox revolver, estimated at £1,200-£1,500; and a 19th-century Cheshire constabulary 20 bore percussion belt pistol by Cunningham, Manchester, estimated at £700-£900.
Within the sale there is also a Prussian guard general staff officer's pickelhaube, estimated at £700-£1,200, and a French 1830 Revolution Model Shako to d'Officer de Chasseur de La Garde Nationale, estimate of £500-£700. There is also a fine collection of police memorabilia including a Special Constable long service and good conduct medal, with two clasps 'The Great War 1914-18' and 'Long Service 1929', awarded to John S. Brookman, estimated at £80-£120, and a Birmingham city police rose top helmet and an Isle of Man police force ball top helmet, estimated at £120-£180.
The Militaria and Ethnographica sale takes place on September 21.