Collection of The Earl and Countess of Avon at Christie's
An upcoming sale at Christie's London headquarters promises to be "an evocative journey into an almost vanished world of politics, society and inter-connections," according to the auction house.The sale,
Churchill to Eden: The Collection of The Earl and Countess of Avon, will include
English furniture, Impressionist and Modern Art, Modern British Art, antiquities, Chinese works of art, Islamic works of art, books and manuscripts and silver, all of which were collected by Lord and Lady Avon over a period of eighty years. The sale will take place live on October 21, with estimates ranging from £500-£400,000.
This eclectic collection was the property of Sir Robert Anthony Eden, 1st Earl of Avon, K.G., M.C., P.C
.
 (1897–1977), the former British Conservative Party politician who served as Foreign Secretary
(1935–1938; 1940– 1945 and 1951–1955) and Prime Minister of the UK (1955–1957) and his second wife, Clarissa Spencer-Churchill (1920–2021).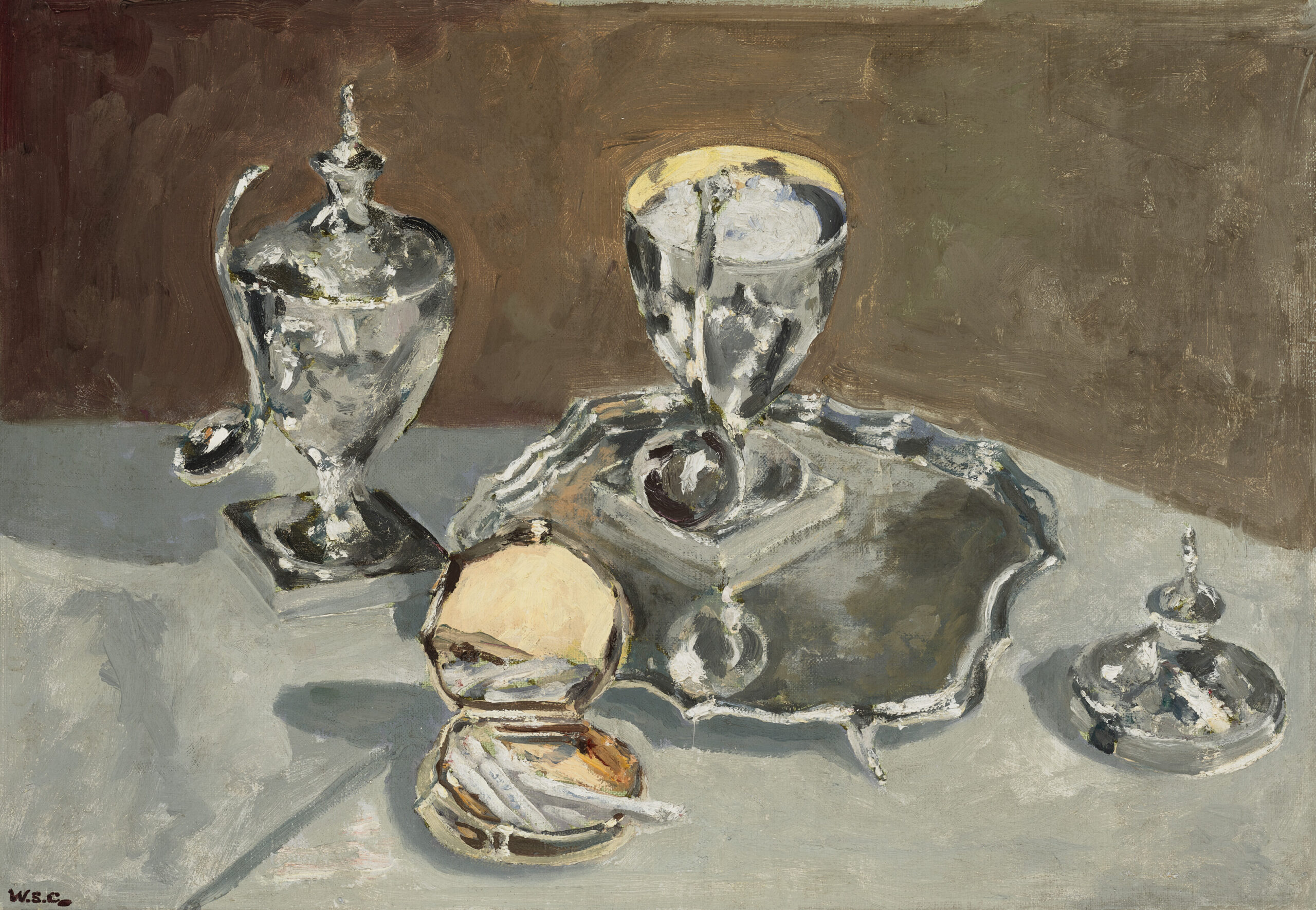 Clarissa Churchill, born in London, was more attracted to the liberal and intellectual surroundings of her highly cultured mother, a renowned beauty, than to life in politics. The couple met at a dinner party in 1947 and were married in 1952 in London, garnering international media attention. The reception was held at 10 Downing Street, the official residence of the Prime Minister and hosted by Winston Churchill. Eden eventually succeeded Churchill as Prime Minister in 1955. Upon retiring from the House of Commons and being elevated to the House of Lords, Eden was created Earl of Avon in 1961.
Away from his life of politics Eden had a passion for art from an early age, with a keen eye which helped to form this collection, while Clarissa Eden counted friendships with Lucian Freud and Greta Garbo among others. Unsurprisingly for a British Prime Minister, the collection is led by important Modern British Art; including two paintings by Winston Churchill given to Eden during his political career, three works by Sir John Lavery and works given to Lady Avon by her friends Cecil Beaton and David Jones.
Eden also had a particular affinity with French culture which is evident in works by Picasso, Braque, Degas, Laurencin and Corot. The sale also features highlights from Lord Avon's library including signed Churchill, Field Marshal Montgomery and De Gaulle editions, alongside signed works to Lady Avon from notable authors Evelyn Waugh, Noel Coward and Cecil Beaton, very much representing the intriguing worlds which the couple inhabited.
A great many of the lots in the sale graced the Eden's Green Drawing Room at 10 Downing Street during their residence there as well as having also featured in archive issues of Country Life in 1961 and in Apollo in 1969 when Lord and Lady Avon were living at Fyfield Manor in Wiltshire, a county which the couple loved and where they resided until Lord Avon's death in 1977.
Hugo Vickers, acclaimed author, broadcaster and Royal biographer who was a long-standing and close personal friend of Lady Avon's commented: "
This sale affords the rare opportunity to buy works of art and furniture that belonged to Anthony Eden, not only one of the most distinguished politicians of the 20th century, Foreign Secretary and Prime Minister, but a man of high artistic and aesthetic discrimination, and of his highly intelligent and intellectual wife, the former Clarissa Churchill, who possessed notably exquisite taste. Due to Clarissa living until the age of 101, it means that the pictures and furniture have remained in the home of a husband and wife for a remarkable span of 125 years."
Benedict Winter, Specialist, Private and Iconic Collections commented: "
Christie's is honoured to bring this fascinating collection to market, representing as it does an almost vanished world of twentieth-century political and aristocratic society. The Edens' lives are reflected in every lot in the collection, with many pieces having been acquired by Anthony Eden in his early career as well as additions following his marriage to Clarissa. The collection, originally housed in the Edens' two country houses in Wiltshire, eventually complimented Lady Avon's lavish London apartment, where she moved after Lord Avon's death in 1977, and where she continued to live until her death in 2021, aged 101."
Highlights from the sale include
:
Sir John Lavery, Portrait of Gwendoline Spencer-Churchill, estimated at £50,000 – £80,000 Pablo Picasso, Le Gamin, from the Walter P Chrysler Collection, estimated at £40,000-£60,000
An exhibition and view of Churchill to Eden: The Collection of The Earl and Countess of Avon will take place from October 15-20 at Christie's King Street.