Decorative Antiques & Textiles Fair Top Ten
With The Decorative Antiques & Textiles Fair Autumn due to open its doors in London from October 4-9, showcasing a varied selection of antiques, design and art, we've pulled together  list of some of the pieces decorators, trade and buyers are set to see. With over 140 exhibitors, including new Contemporary galleries on the mezzanine, the event will offer something for everyone.
Faux fabulous
This super smart faux bamboo decorative antique bookcase is right on the mark in the fashionable style stakes. An up-to-the-minute statement piece that would look as effective in a country house as in a modern space. Made in France in the late 19th century, it is offered by one of the fair's leading decorative dealers, Nick Jones, and is priced at £11,500.
'Shroom for One
This 'mushroom' garden chair in formed fibre concrete is by French designer Robert Pansart and is the epitome of 60s flair. This moulded seat was exhibited at the Paris Floralies de Vincennes flower and garden show in 1969, which was visited by more than two million people. It is offered by Dang-Ku by Koen Steen, exhibiting at the Fair for the first time alongside Katheley's, with an asking price of £2,800.
Paysage du Midi, circa 1914
This fine oil painting, in a strikingly beautiful carved and gilded frame, is by Armand Guillaumin (1841-1927), friend to Paul Cézanne and Camille Pissarro whose work he influenced significantly. The three artists painted together on many occasions, and Guillaumin's Paris studio was next door to Cézanne's in the 1870s.
Offered by Anthony Hepworth Fine Art with an asking price of £65,000, this painting is fresh to the market from a significant private collection of Impressionist works.
Fashionista's delights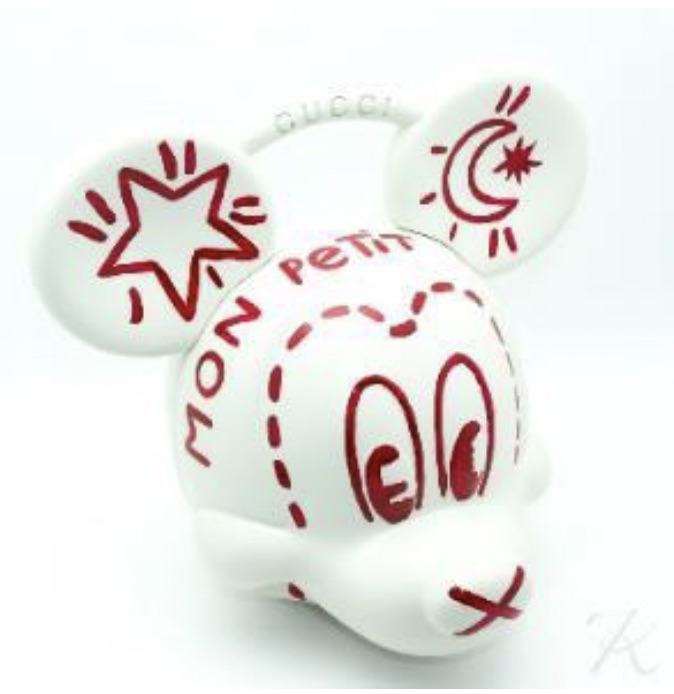 Whilst The Decorative Fair is renowned for its interior design offerings, jewellery and personal accessories such as vintage bags, watches and fashions are an exciting part of the shopping mix.
This Gucci Collector 'Mon petit chou' Mickey Mouse Bag, designed exclusively for the cartoon mouse's 90th Birthday, was a runway bag used at the Spring / Summer shows in 2019. From Katheley's of Belgium, amongst their colourful stock of couture designs, it is priced at £4900.
Star of the Show
This beautifully-painted, late 18th century Swedish double cupboard stars in the Fair's Autumn marketing images. Retaining much of its original and profuse decoration of garlands and bouquets of flowers, and the date ANO. 1782. Known as a bonnet top, these cupboards were typically used to store food, crockery and cutlery in kitchens – in fact some come with a built-in spoon rack. They were made at a time when most houses had precious little furnishing, so the pieces afforded were often lavished with attention, hence the wonderful painting. The date 1782 may commemorate a wedding or special occasion. Offered by Wakelin and Linfield, the cabinet has an asking price of £5750.
Thames gone by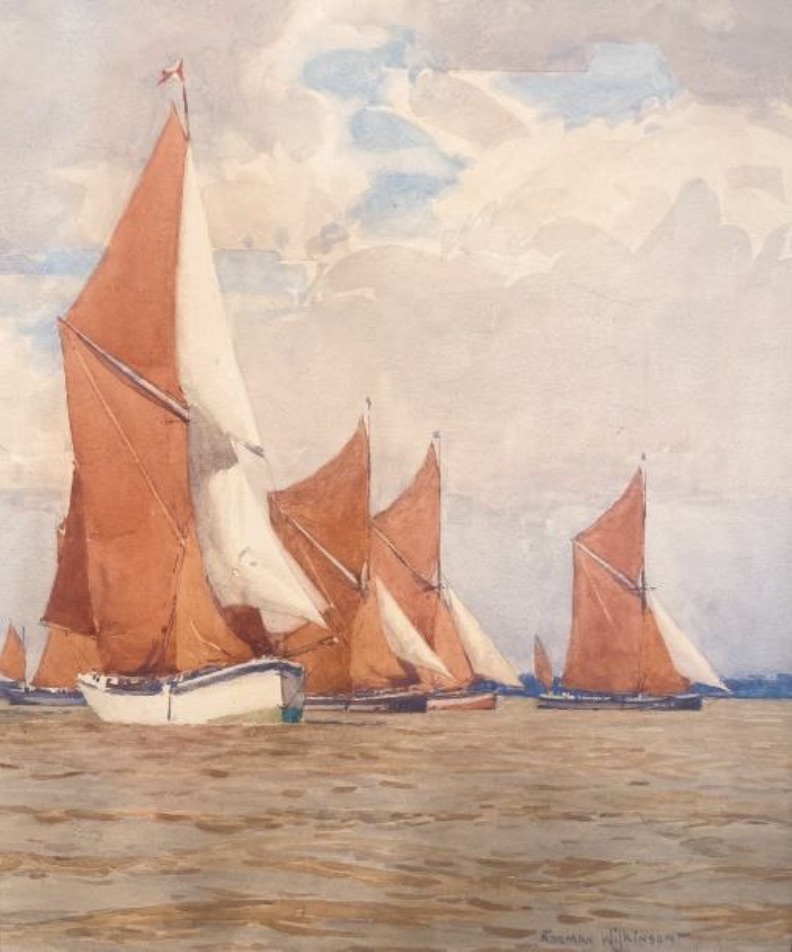 By Norman Wilkinson CBE RI (1878-1971), Thames Barges under Full Sail is a watercolour and pencil sketch of these once ubiquitous workhorses of the Thames estuary. The old Thames barges with their typical red-brown sails, once a common sight, were slowly taken over by tug boats. The flat-bottomed vessels were perfectly adapted to the Thames Estuary, with its shallow waters and narrow tributary rivers, where they plied the river and the Port of London. Cargos varied enormously from bricks, cement, hay, rubbish, sand, coal and even gunpowder. This is a really lovely example of the artist's work whose paintings are held in several major museums and galleries, and demonstrates Wilkinson's capacity to create an intriguing, and even romantic atmosphere, in his nautical scenes. With Darnley Fine Art, asking price £3,500.
Bootleg briefcase
Here's a rare thing, one for collectors of curios. An American prohibition-era bootlegger case. The leather case conceals three giant solid silver hip flasks made by the famous American jewellers and silversmiths, J.E Caldwell & Co. of Philadelphia, circa 1930. For sale with Mark Goodger Antiques, priced at £7,000.
Artful nature
Chosen from the Fair's new Contemporary on the Mezzanine section, this organic artwork by Kazuhito Takadoi titled SHIBUKI 2 (Droplets 2), is created in black walnut, beech twig, paper string, and gold leaf. Inspired by the rich woodland surrounding his birthplace of Nagoya, Japan, Kazuhito grows and hand picks grasses, leaves and twigs from his garden. As the grasses dry and mature they embark on a subtle colour shift. Kazuhito's exquisite, shadow-filled works are minimal, yet opulent, fragile yet imbued with strength, and combine the formality of Eastern discipline with abstraction from Western art. Kazuhito has been a finalist of the Loewe Craft Prize. The work is offered by jaggedart.
Tricksy tanuki
Japanese silvered bronze tanuki in the guise of a Buddhist priest wrapped in a cloak. A tanuki is a Japanese raccoon dog, a wild native species, with a reputation for mischief and magical powers. Statues of tanuki can be found throughout the country, and in folklore it is believed they are shape-shifters. This little fellow is a signed work by Dai Nihon Norimitsu saku, and was made during the Meiji period 1868-1912. He is for sale from Laura Bordignon, one of our new exhibitors at this Fair.
Chic chinoiserie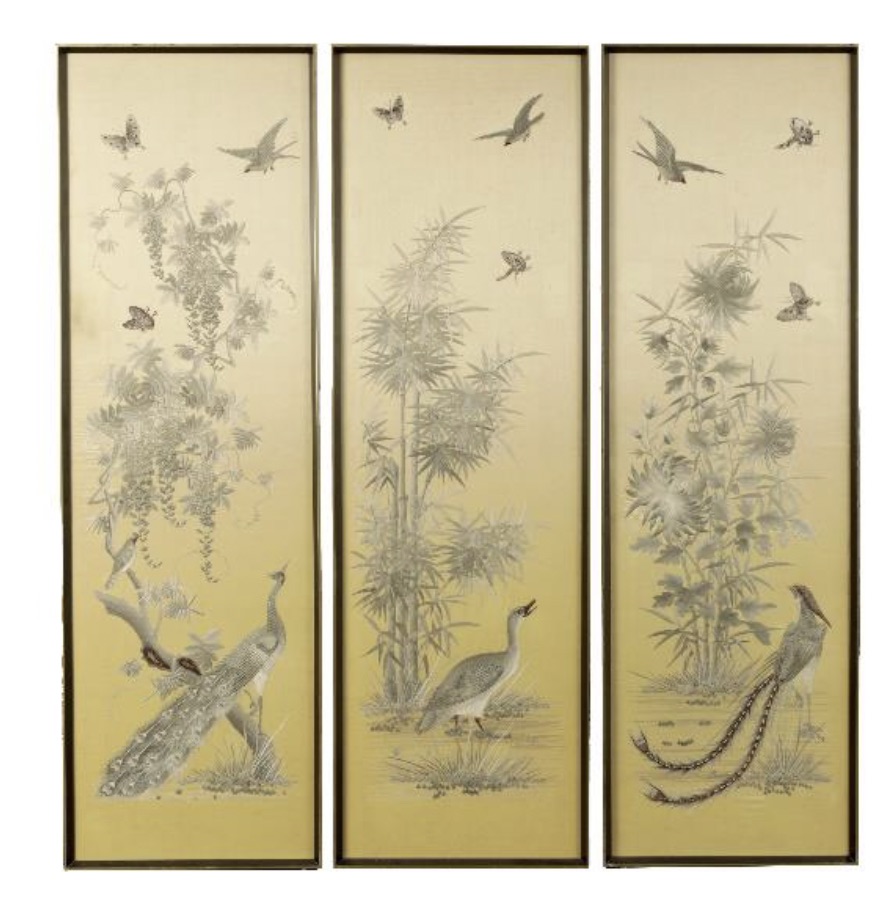 Our passion for chinoiserie and chintz has remained undiminished at The Decorative Fair since it launched in 1985, and so the return to fashion of these characterful, colourful and glamorous stalwarts of classic design is a cause for celebration. This set (four are available) of framed embroidered silk panels depicting birds, foliage and insects was made in China circa 1890 for the export market. Each panel measures 123.5 x 38.5 cm and together they would form the inspiration to a glorious room scape. Offered by L and V Art & Design, long-time C20th dealers at the fair, they are priced at £4,350.