Modern British & 20th-Century art at Roseberys
Sponsored Post
This is Roseberys first Specialist sale combining Modern British Art with artworks by international artists from across the 20th century. The auction will take place across two days on Tuesday 11 and Wednesday 12 October The first day of the sale will include lots 1 to 240 and the second will consist of 241 to 520.
"We are delighted with the quality of works across the sale, from classic Modern British names, such as Christopher Nevinson, Patrick Heron and Elizabeth Blackadder, alongside European masters Antoni Clave and Afro Basaldella and international figure Ben Enwonwu," said William Summerfield, Head of Sale and Specialist Modern British & 20th-Century Art.
Lot 149: Patrick Heron, Still Life with Hyacinths, Plaice and Lemon, 1946
This beautiful early composition by Patrick Heron shows the artists exploring a subjective use of colour, influenced by Pierre Bonnard, that he would hone and simplify in his celebrated mature abstraction. Heron has also experimented with a complex arrangement of space, which was inspired by the work of George Braque, seen here in the flattened form of the table offset with lines incised into the paint, to disrupt the traditional picture plane. It extraordinary provenance, passing between two great patrons of Post-War British art, J.P. Hodin and Howard Bliss.
Lot 269: Dame Elizabeth Blackadder DBE RA RSA RSW Lilies, 1983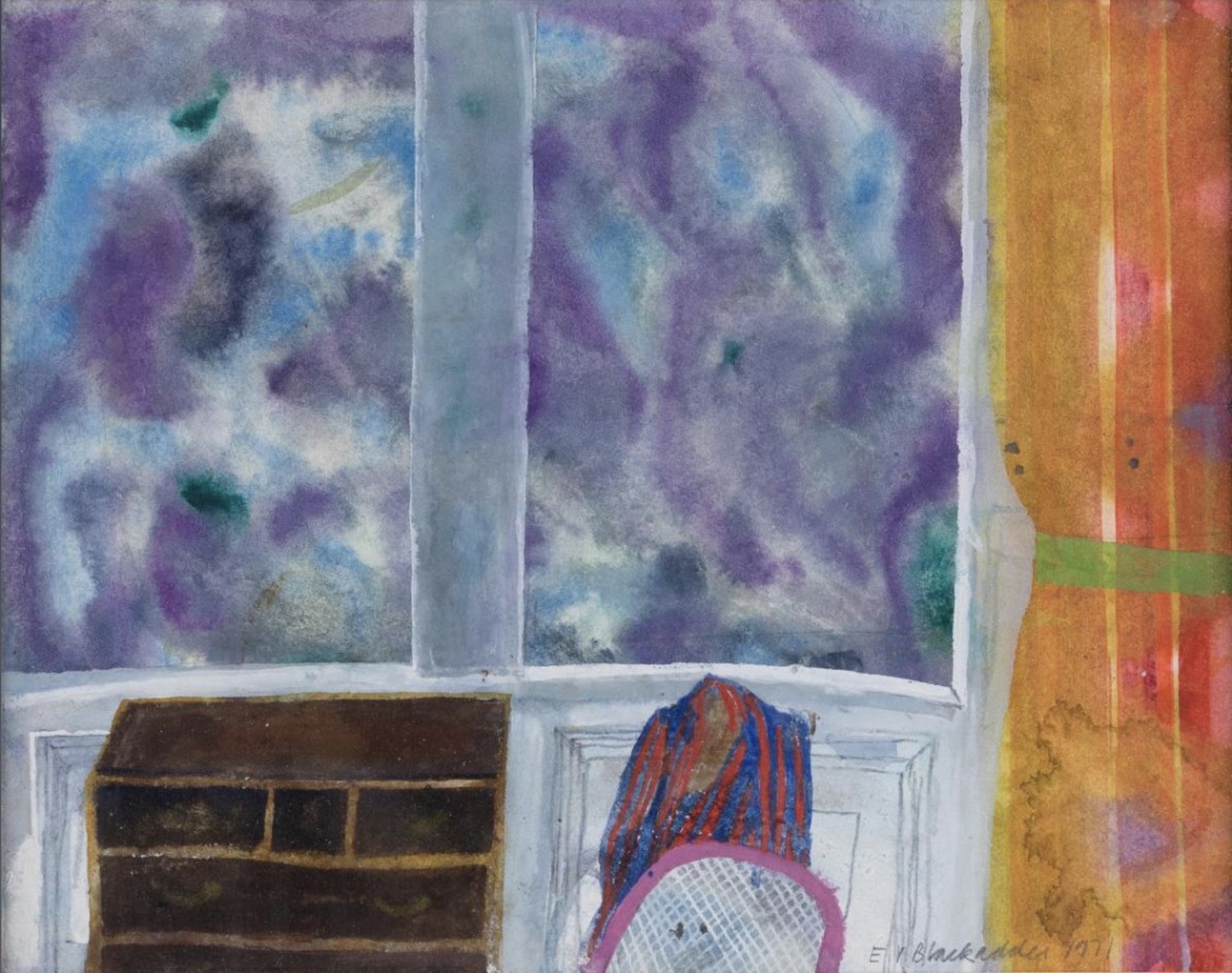 Lot 270: Interior, 1971
These two early watercolours demonstrate Dame Elizabeth Blackadder's careful balance of colour and composition, allowing the abstract qualities of the medium to create a transcendental sense to the image.
Lot 196: Carel Weight CH CBE RA, The Argument
Lot 199: John Bratby RA, The Scrapyard, 1958
Lot 198: Jean Cooke, Portrait of a Lady with Flowers
We are extremely fortunate to have works by Carel Weight (1908-1997) and his circle, including an early portrait by Jean Cooke (1927-2008) and major works by John Bratby, including a rare scrapyard scene from the 1950s. The pair's often difficult emotional and creative relationship was a major focus of the Barbican's recent celebrated exhibition 'Postwar Modern: New Art in Britain 1945-65'.
Lot 167: Ernst Eisenmayer, Head and Lot 168: Old Couple, 1958
We are excited to be selling a large collection of works from the estate of artist Ernst Eisenmayer, including paintings and sculptures from the 1950s and 60s. Austrian-born Eisenmayer moved to London to study in 1939, where he was guided and influenced by his fellow countryman, Oskar Kokoscha, living and exhibiting in the UK for many decades, including at the prestigious Majorie Parr Gallery and Leicester Galleries.
Lot 213: Benedict Chukwukadibia Enwonwu MBE, Woman and Afele
Ben Enwonwu is considered to be one of the most influential and pioneering African artists of the 20th Century. Born in Nigeria in 1917, Enwonwu was awarded a scholarship in 1944 to study in the UK at the Slade School of Fine Arts. During his studies within the UK, the British colonial government employed Enwonwu to create posters for their propaganda campaigns directed towards skilled, colonised Nigerians assisting in the post-war reconstruction efforts within the UK. He was also adopted by African activists who considered him a part of Nigeria's quest for political independence. Both sculptures are wonderful examples of Enwonwu's mature style, focusing on the exploration and representation of the human body.
Lot 14: Christopher Richard Wynne Nevinson ARA., The Thames, 1911
This rare and early example of Christopher Richard Wynne Nevinson's work was completed during his later years at the Slade School of Art. During this period at the Slade, Nevinson's style was predominantly in the Impressionist format, with close associations to the French Impressionists and Post Impressionists. In his 1937 autobiography, he mentions that he often sketched in the Impressionist manner by the banks of the Thames while he was a student at the St John's Wood School of Art (1908-09), this possibly suggests the work on offer may be as a result of an earlier sketch.
Lot 115: Antoni Clavé, Stage design for Roland Petit's 'Carmen', c.1949
This dynamic work by Antoni Clave is an original stage design for Roland Petit's ballet from Georges Bizet's opera 'Carmen', first performed in London at the Prince's Theatre in 1949. This celebrated production was renowned for its Spanish style and blend of the classical and modern, and remains one of Petit's most performed productions. Clave had produced numerous set designs in the 1940s and 50s, and was eventually nominated for two Academy Award for his designs for Charles Vidor's 1952 film 'Hans Christian Anderson'. In 2022, the Palazzo Franchetti held the exhibition 'The Spirit of the Warrior' devoted to the artist's work to coincide with the Venice Biennale.
The auction will take place on Tuesday 11 and Wednesday 12 October, 11.00 am
Viewing Times at Roseberys:
Thursday 6 October: 9.30am – 5pm
Friday 7 October: 9.30am – 5pm
Sunday 9 October: 10am – 2pm
Monday 10 October: 9.30am – 5pm
Please contact williamsummerfield@roseberys.co.uk for condition reports and further information.