Thomas Tompion clocks lead sale at Bonhams
Two exquisite timepieces by the Father of English Clockmaking, Thomas Tompion (1639-1713) from the Elliot Collection of Fine English Clocks feature in Bonhams' Fine Clocks Sale in London on November 30, 2022.The collection also includes an important late 17th-century ebony veneered longcase clock of three-month duration by another great clockmaker of the Golden Age, Joseph Knibb (1640-1711). In addition to these masterpieces of timekeeping, Old Master pictures, 19th-century paintings and classic English decorative arts from Alan and Tara Elliot's historic country home are to be offered in separate sale –The Old Rectory Chilton Foliat – at Bonhams on December 6.
Tompion's ebony table clock numbered 198, was made in around 1692, and embodies all that Tompion owners cherish. The tall rectangular dial with its twin subsidiaries allows the crucial functions (time, winding, date, strike or silent) to be controlled from the front of the clock – an example of perfect industrial design.The exquisitely engraved backplate was created by the craftsman known today only as 'Engraver 155'. 155's confident and free engraving is of the highest order. He was responsible for the backplate of the year-going 'Mostyn Tompion' in the British Museum and decorated the miniature clock supplied to Queen Mary in 1693 sold at Bonhams for a World Record price of £1.6 million in 2019. It is estimated at £200,000-£300,000.Knibb's ebony veneered longcase clock of three-month duration with Roman-striking and one-and-a-quarter second pendulum is perhaps the most beguiling clock in the collection. Knibb had an irrepressibly inquisitive brain and was obsessed by saving power in his clocks' movements. An ordinary longcase clock hammer strikes its bell 156 times a day; Knibb realised that this was a massive drain on the power of the mechanism and sought different ways to sound the hours.
His pièce de résistance was the development of the Roman striking system – as exemplified by this clock – whereby a deep bell represents the numeral 5, while a higher pitched bell represents 1. While one o'clock is marked by a single high hammer blow, five o'clock is a single low blow. Six o'clock, therefore, is one low blow followed by one high blow. This ingenious system saves 96 hammer strikes a day. Over the three months that the Elliot clock runs, 9,216 hammer blows are saved. Although inspired, the system never met with popularity, and it is rare to find a Roman striking clock today. They can always be spotted from a distance however, as the numeral 4 is denoted as IV instead of IIII. Estimate: £120,000-180,000.The sale also includes an early 20th century mahogany two-day marine chronometer by Victor Kullberg used by Ernest Shackleton in 1921, likely as part of the Quest expedition of Antarctica in 1921-1922. Originally conceived as an Arctic voyage to travel north of Alaska, a last-minute loss of funding meant that the expedition could not go ahead. The entire cost of a replacement voyage was offered by John Quiller Rowett, who had agreed to partially fund the Arctic voyage, on condition that it be south bound to the Antarctic. The chronometer was collected by Shackleton from Greenwich 21 July 1921 and the voyage began on 17 September of that year. Shackleton was unwell on board the Quest, and unfortunately, by the time the ship reached South Georgia, he was quite ill. He died of a heart attack shortly after arriving on 5 January 1922. The chronometer has an estimate of £1,500-2,500 in the sale.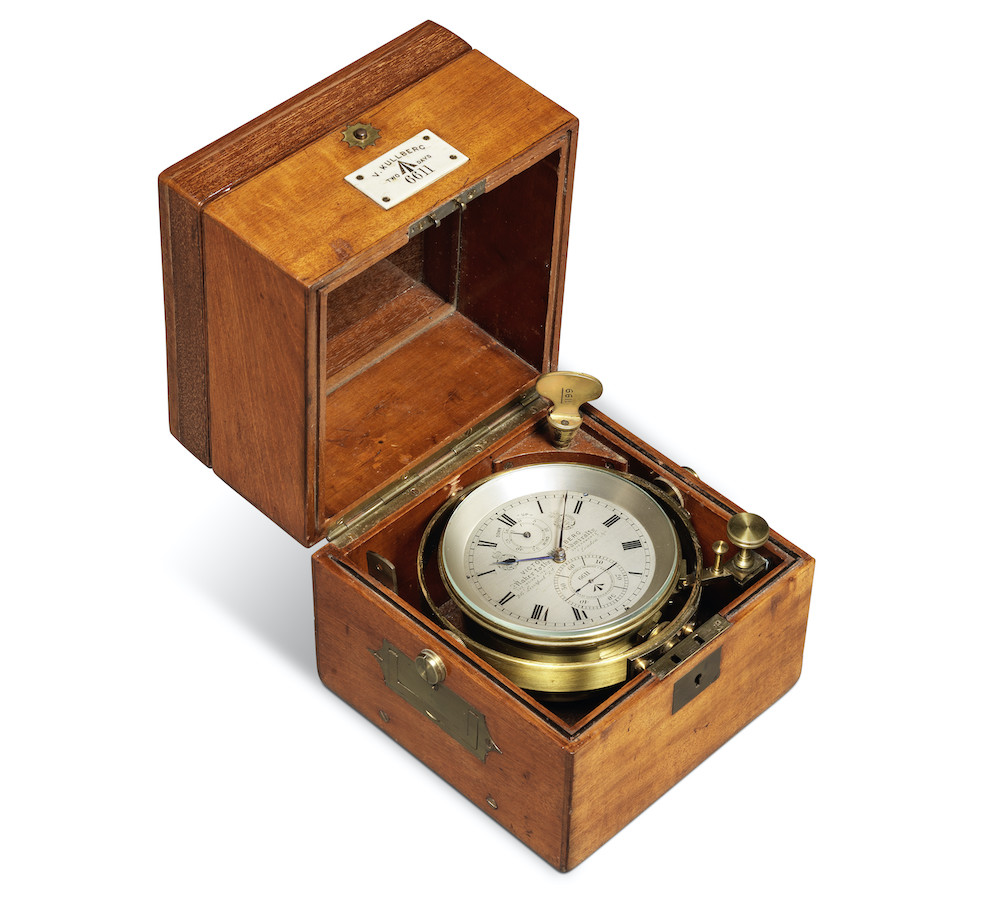 James Stratton, Bonhams Director of Clocks, said: "To own a clock by Thomas Tompion is every clock collector's dream. Alan Elliot, who put together the wonderful collection we are offering in this sale, was fortunate enough to have two in his stewardship, as well as an important longcase clock by Joseph Knibb. Other Elliot clocks include a lantern clock from 1685 and a table clock by Langley Bradley, the man who made the first clock for St Paul's Cathedral.  Elsewhere in the sale, the marine chronometer taken by Sir Ernest Shackleton to the Antarctic on the Quest expedition is a timely reminder of a true British hero, the centenary of whose death we are marking this year."Other highlights in the sale include:A fine and rare early 18th century walnut longcase clock by Thomas Tompion and Edward Banger, London, no. 463. This second of Alan Elliot's Tompion clocks is particularly interesting as it was made when Tompion was in a brief partnership with his niece's husband, Edward Banger. Estimate: £100,000-200,000.
An 18th century walnut striking longcase clock of one month duration by George Graham, London no. 590. Estimate: £30,000-50,000.A late 17th century ebony veneered quarter-repeating timepiece by Langley Bradley, London. It is likely that this clock was used in a bedroom as it doesn't strike the hours every hour. Anyone waking up in the night and wanting to know the time could pull a cord on the side to sound the hour and the quarters past the hour. This would have been invaluable before the advent of electricity or matches to light a candle. Estimate: £5,000-8,000.