Rare Dunhill lighter sparks record sale
A new auction record was set for an Alfred Dunhill 'aquarium' lighter at Chiswick Auctions in London in December.
The super-rare lighter depicting a pair water birds to one side and a white bird of paradise to the other raced away from its estimate to bring a total of £16,250.
It's not difficult to see how Dunhill 'aquarium' lighters got their name. Not only do these chunky Perspex and electroplated lighters resemble miniature fish tanks, but most were decorated with aquatic subjects. The thick layer of Lucite, a material developed by the American air force during the Second World War, provides an illusion of movement.
From the early 1950s until the late 1960s most Dunhill lighters of this type were produced by Allan & Margaret Bennett in their south coast home. For rarer or bespoke examples such as this 'Aviary' lighter Mrs Bennett would use a reference book along with her own artistic talents to produce a design in pencil and watercolour. Once approved by Dunhill, Mr Bennett would use dentistry tools to carve the Perspex panels. 
The value of an unusual subject matter was made clear with the appearance of another similar lighter at Chiswick Auctions' Design and Modern Contemporary sale on December 13. This example, also measuring 8.5cm high x 10cm wide x 5cm deep was worked with a more typical scene of coy carp and other fish swimming in a rocky waterbed.  It made £2,000. 
Another strong area of the collecting market is British studio ceramics. Prices for post-war potters have reached new levels in recent years as they are admired by a new generation of collectors. Chiswick Auctions have sold some fine pieces by Dame Lucie Rie (1902-1995) this year, not least a footed bowl with a turquoise and manganese glaze that made £41,250 as part of a small collection sold in July. The December sale included a similar but much smaller bowl with a mustard yellow body and a bronze band to the rim. Dated to c.1978, this 9cm diameter gem sold at £15,000.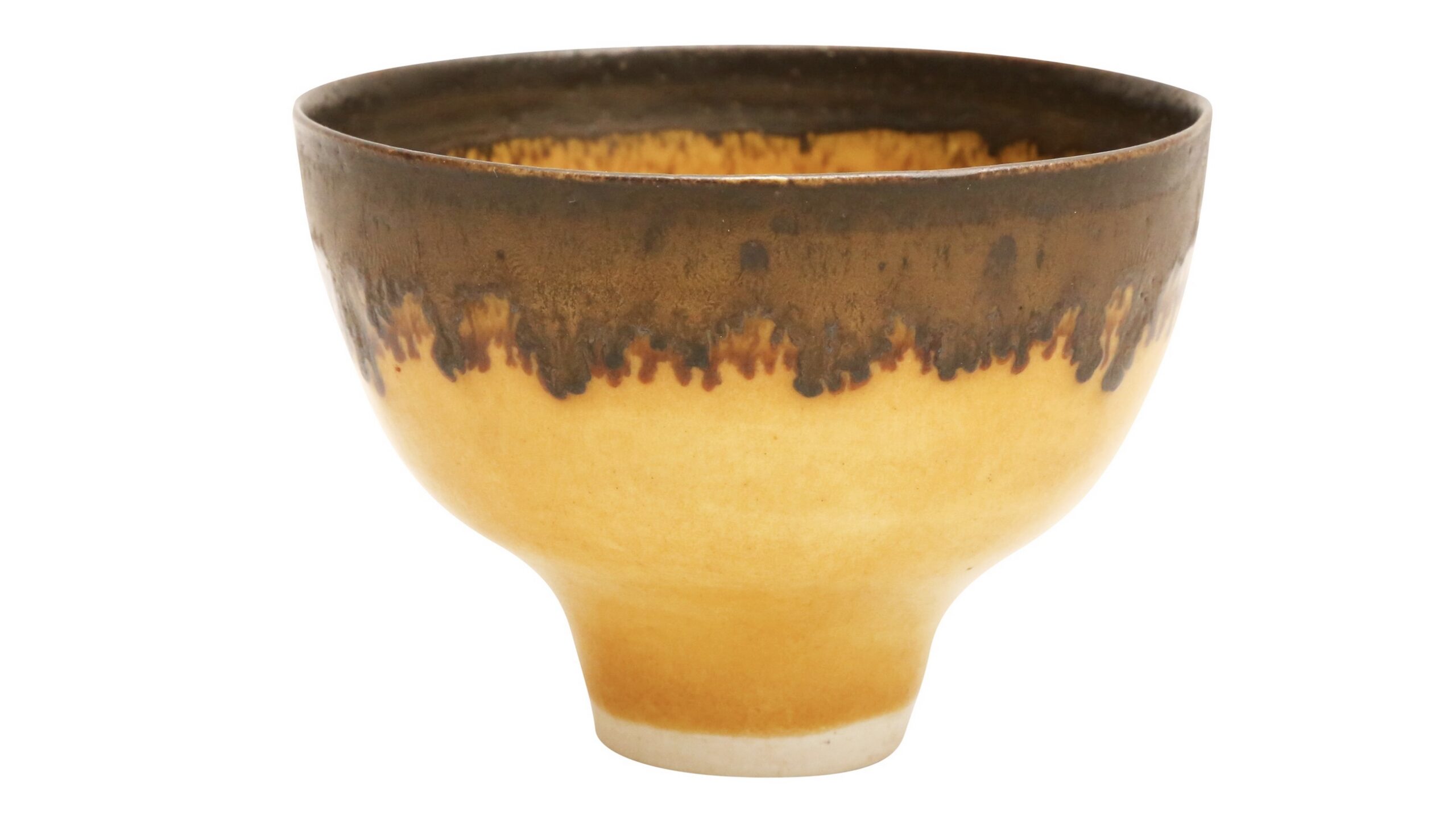 Among Rie's many disciples is the Welsh potter John Ward (b.1938). Three of his distinctive hand-built stoneware vases were offered here for sale from a single owner. They included one of the potter's black and white decorated wares – a 13cm high vase from 1985 – that brought £3,000. A 19cm-high tulip form vase in a white and mottled green glaze dated 1992 took £2,500 while a 17cm-high vase, c.1987, with incised linework to a matt green pitted glaze took £2,125.
Ceramics from other vintages also performed well. A trademark William Moorcroft vase with a tube lined landscape scene in blue and green – the Moonlit Blue pattern, c.1925 – sold at £5,000. Standing 27cm high, it carried both a Moorcroft stamp and a blue signature to the base.
The 1970s are very much back in collecting fashion. A popular entry in this sale was an 'Ultrafragola' mirror-lamp fashioned in translucent white plastic and illuminated by blue internal fluorescent tubes. The radical and experimental design is one created by the Ettose Sottsass (1917-2007) for the progressive Italian design company Poltronoca. Designed in 1970 as part of the Mobili Grigi series of bedroom and living room objects, it was the only piece from the collection to make it beyond the prototype phase. It made £5,250. 
American Paul Evans (1931-1987) is now internationally recognised as one of the great studio furniture makers of the 20th century.  His combination of handcraft and technology anticipated today's limited-edition art furniture. A good example is his 'Cityscape' extending dining table made with a mosaic of chrome plated stainless steel as part of his 'Chrome 200 Series' of the 1970s. The example here, offered with the two extra leaves that take it to 2.9m sold at £2,250.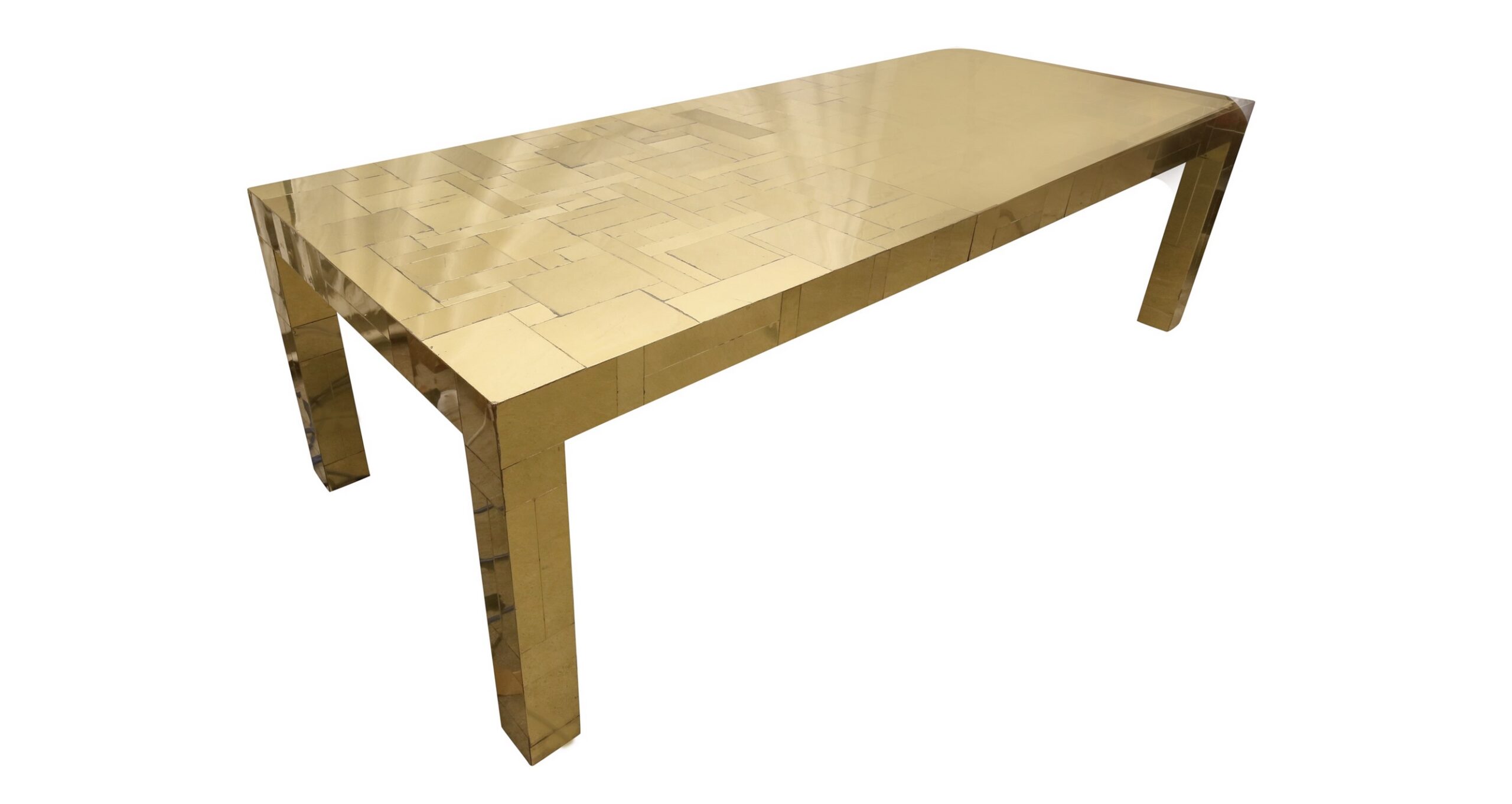 A similar price, £2,375, was commanded by a little bit of Hollywood style glamour. A lacquered brass and pewter banana palm tree that had originally stood in the lobby of a hotel in the South of France, the same 'tree' can also be found in the Yves Saint Laurent store in Shibuya-Ku in Tokyo.