Henry Sandon ceramic collection in Chorley's sale
Chorley's auctioneers is delighted to announce that it will offer the private collection of BBC Antiques Roadshow's long-serving expert, Henry Sandon (MBE), known for his passion for porcelain and pottery and in particular, Royal Worcester porcelain.
The prized collection of many of his treasured pieces, numbering 1,000 items, will be offered in a sale titled The Henry Sandon Ceramic Study Collection at Chorley's on April 18, 2023 with a low estimate total of £50,000.
As well as being a world-recognised antiques expert, Henry Sandon is an author and former lecturer, as well as the father of the renowned TV ceramics expert John Sandon. He began his career with an interest in archaeology, which offered a deep insight into the world of ceramics from all countries, cultures and decades. In 1967, he was appointed curator of the Dyson Perrins Museum at the Royal Worcester Factory, a position he held until 1982, but he is most well-known for his role as an antiques expert on the long-running BBC television show Antiques Roadshow.
Speaking about his passion for ceramics and his extensive collection, Henry said: "I wanted to title my collection 'Ancient and Modern' like the hymnbook, for it was choral music that brought me to Worcester. I came to teach at the Grammar School and to sing in the wonderful cathedral choir and once in Worcester I discovered ceramics everywhere. I dug up Roman and Medieval pots in my garden by the Cathedral and was captivated by their history. Digging up broken pots led me to attend local auctions and antique shops filled with Worcester porcelain."
He continued: "I also discovered modern pottery. Geoffrey Whiting, one of Britain's greatest Studio Potters, held classes in Worcester. I was a terrible pupil, but from Geoffrey Whiting I learned to love his pots and those of many other modern potters, who became good friends. In 1967, the Museum of Royal Worcester needed a new curator and my enthusiasm got me the job that changed my life.
"I learnt the history of Worcester porcelain from scratch, helped by wonderful mentors, three of whom gave me the same advice: Jim Kiddell from Sotheby's, the great collector Dr Bernard Watney and my dear friend Geoffrey Godden all told me that the best way to learn about ceramics was to form a study collection. It didn't matter that I could only afford damaged examples of the early pottery I coveted. I knew it was important to buy as much as I could and to hold it and live with it. These experts would come to the museum to help me sort the finds from my important excavations on the site of the earliest Worcester china factory. At this time, fifty years ago, Worcester still had a flourishing china factory. I spent much of my time taking important visitors around the factory and meeting the great artists who had spent their entire lives working at the porcelain works. People like the modeller Doris Lindner and the painter Daisy Rea had so many wonderful stories to tell. Above all, I cherish every moment I was able to spend with Harry Davis, who I believe was the greatest porcelain painter of all time."
Attending sales at Bruton Knowles, Henry met and became a special friend of the legendary Arthur Negus, who was the first 'Television Antiques Expert', having starred in the popular antiques TV show Going for a Song. He took part in the pilot for the Antiques Roadshow in 1977 and was an immediate hit with viewers.
Henry continues: "We got on really well and Arthur showed me that a passion and enthusiasm like ours would rub off on others, through lectures and through the new medium of television. For Birmingham University I began teaching evening classes covering the whole history of ceramics and instead of using slides like most lecturers, I took along actual pieces from my rapidly expanding study collection; pots my students could hold for themselves."
Meanwhile, appearances with Arthur Negus on Going for a Song and Arthur Negus Enjoys, led him to join, in 1979, Antiques Roadshow, offering the chance to share his love of ceramics with a massive audience around the world.
"I had to sell part of my study collection forty years ago when I went to Canada as the Director of The George Gardiner Museum in Toronto, one of the world's leading centres for the study of ceramics of all kinds. When I returned to Worcester I gave special encouragement to many new manufactories of ceramics, where I found traditional skills were still preserved, but struggling to survive in tough conditions."
His name and enthusiasm for real craftsmanship helped British ceramics factories large and small. For his efforts, he was rewarded with an MBE from the Queen for services to charity and to the ceramics industry.
Henry said: "Now that I am older than most of the ceramics in my collection, I am no longer able to pick up and hold and cherish every one of the hundreds of pieces I have lived with all around me. I need other people to help care for me now and so it's time to find new owners to care for all my beloved pots. I have known Simon Chorley way back since Arthur Negus's days and so I asked him to organise this sale. Apart from just a few special favourites for my family to treasure, it is time for all of my pots to join new study collections."
The Henry Sandon Ceramic Study Collection will include many examples by Worcester artists that Henry describes above, particularly by his great friend, the late Harry Davis, as well as more modern studio pieces by another friend, Geoffrey Whiting. Pots from 2000BC to the present day will grace Henry Sandon's sale and people will have the opportunity to buy a piece of history, as well as a memento of one of our 'National Treasures'.
Among the highlights is an important Royal Worcester plate by Harry Stinton (1883-1968), a member of one of the most famous Worcester families of artists – the Stintons painted at the factory for almost 160 years.
The plate in the sale is from a service commissioned in 1928, by the founder of another famous family, William Keith Kellogg (1860-1951) of the legendary cereal company, trading as Kellogg's. Kellogg ordered two sets, both comprising just 25 plates, painted by Royal Worcester's two best artists. The costly red background on the plates was chosen to match the colour of the famous Kellogg's logo.
In 1985, Henry Sandon advised on the sale of the service, being offered in sets of twelve plates, and was allowed to choose the one 'spare' plate of each design for himself. The current example is the one he chose. It features a rich border with raised gilding and in the centre is a watermill in a snow scene. It is signed by Harry Stinton and carries an estimate of £1,000-£1,400.
Another important piece in the sale is a Royal Worcester vase by the famed Worcester artist Harry Davis (1885-1970). In his last years, Harry became a great friend of Henry Sandon. Harry had started  at the Worcester factory aged just 13 and soon gained a wonderful reputation for his work. In time, Harry became foreman of the 'Men's Painters department' at the factory, as well as teaching apprentices joining Royal Worcester.
In 1928, Harry Davis helped Harry Stinton with the Kellogg's service and in 1938 he painted a vase for the Australian cricketer Sir Donald Bradman to commemorate his three double centuries on the New Road Ground at Worcester. Henry Sandon was later to enjoy a wonderful correspondence with Don Bradman about cricket and the incredible Harry Davis vase, and in 2004 Henry travelled to Australia to see the Bradman Vase for himself.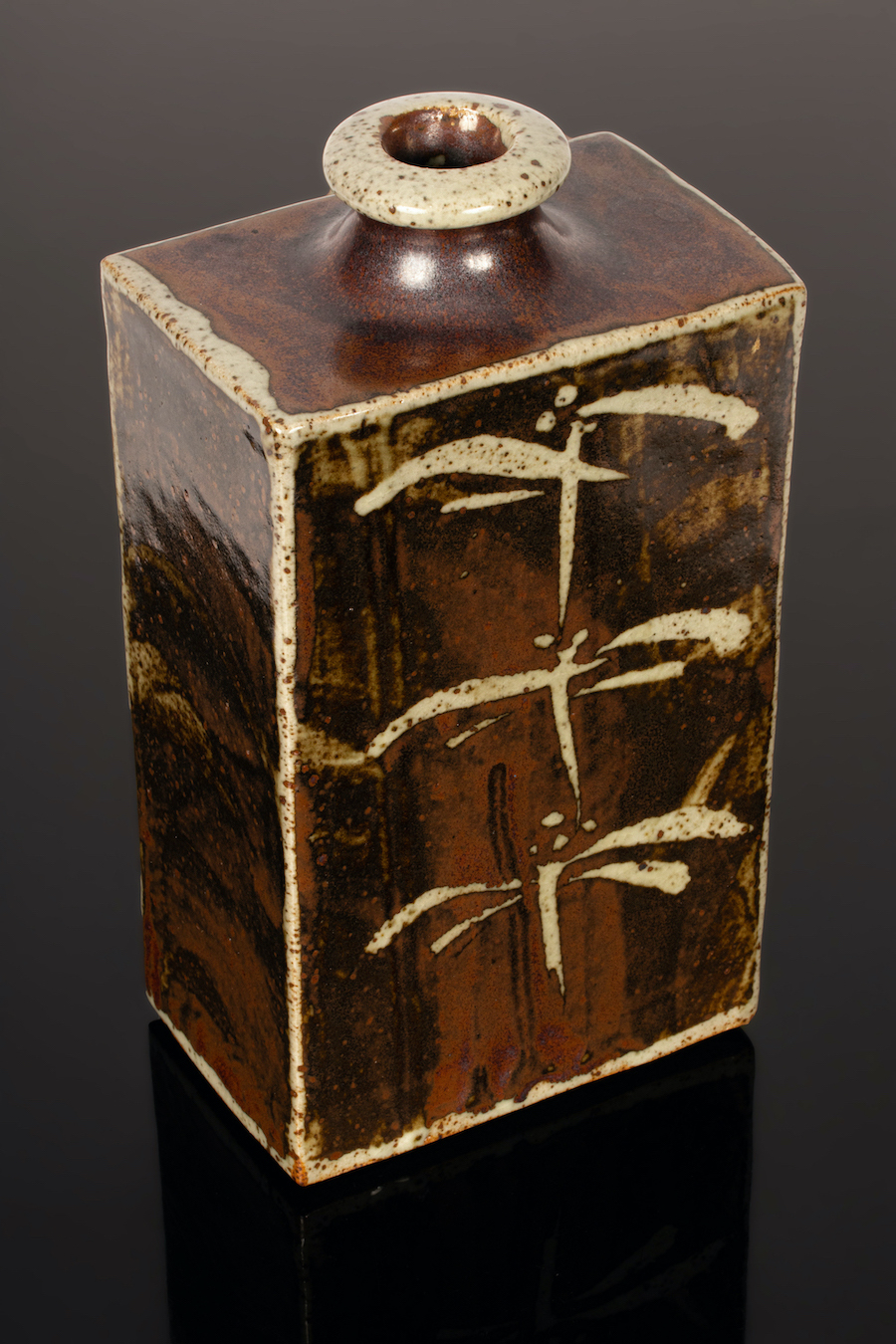 Harry Davis created a very different vase in Henry's sale featuring a stag in a snow scene in experimental sunset colouring. Painted by Harry Davis in 1921, Henry acquired the vase from the artist himself and it is estimated to fetch £800-£1,200.
A stoneware vase by the celebrated studio potter Geoffrey Whiting (1919-1988) also features in the sale. Northumberland-born Geoffrey trained as an architect but fell in love with the craft of pottery and set up his own pottery in Worcestershire. Henry Sandon is passionate about Geoffrey Whiting's pots and lent a number of his pieces to the Whiting Retrospective Exhibition, including this slab-form vase, which has 'resist' decoration made using a lost-wax technique. The vase carries an estimate of £300-£500.
An example of one of the older pieces in the collection, is a north coast Peruvian stirrup vessel in the form of a seated warrior holding a club. From the Mochica (Moche) culture, it dates from circa 200-600 AD and is estimated to fetch £300-£400.
A fun addition to the sale is a toby jug in the form of Henry Sandon by Staffordshire maker Kevin Francis Ceramics. The jug features experimental colours and was not put into production, making it truly unique. It carries an estimate of £50-£100.
Simon Chorley, commenting on the collection, said: "Chorley's is delighted to have been instructed to sell the collection, as we have had a wonderful, long-standing relationship with both Henry and Arthur."
He continued: "I first met Henry Sandon at the Three Choirs Festival at Gloucester in 1965. I was a chorister at Gloucester Cathedral, while Henry was a Lay Clerk at Worcester. In the early 1970s I joined the firm Bruton Knowles and was under the wing of Arthur Negus. Henry often attended auctions and occasionally met and chatted with Arthur.
"It was marvellous to see both experts really enjoying beautiful objects throughout their many appearances on the BBC's Antiques Roadshow. After Arthur's death in 1985, I was involved with arranging the auction of his treasured collection. Henry very much enjoyed that sale and it is now a privilege for me to be involved in arranging Henry's sale. In 2002, I was invited as a guest to This is Your Life, where Henry Sandon was the surprised recipient of the 'Red Book' and the final surprise guest was Anne, Arthur Negus' daughter. She enthused about her late father's great friendship with Henry and is now thrilled that Chorley's are conducting Henry's auction, a conclusion to the two friends' and magnificent broadcasters' life-long enjoyment of collecting."