Petworth Park Antiques and Art Fair set for May
The ninth annual Petworth Park Antiques & Fine Art Fair opens on May 19 until 21 this year, when some 60 dealers with their latest acquisitions, put on a display for the fair's  visitors. Housed in a specially-designed marquee erected in the grounds of the National Trust's Petworth House in Petworth, West Sussex, tickets to the fair also enable visitors both to park directly outside the marquee and visit Petworth House to view some of the nation's art collection free-of-charge over the three days.
Oragnisers of the event, The Antique Dealers Fair Ltd said that the event is appealing to collectors, interior designers and those who enjoy surrounding themselves with rare and fine items.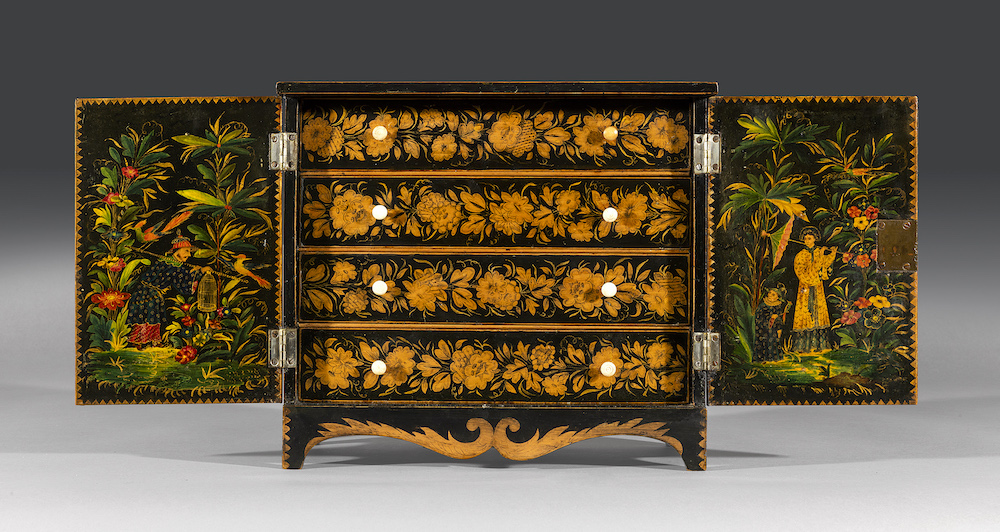 This year, the fair welcomes some new exhibitors including Gladwell & Patterson fine art dealers from Knightsbridge in London bringing Wildflower Wood oil on canvas signed by Ivon Hitchens (British, 1893-1979), 1975, priced at £175,000. Elsewhere, Andrew Muir and James Miles Ltd, exhibit their Art Deco and mid-century ceramics together.
Other highlights at the fair include Freshfords Fine Antiques with a Regency Chinoiserie table cabinet, circa 1820, £6.750; a pair of late 19th century satin birch Hepplewhite shield back armchairs on tapered legs, £1,800 from Walton House Antiques and an important George III console table with the original marble top, £10,500 from William Cook.
New exhibitor Mark Goodger Antiques has one of René Lalique's most famous designs – a car mascot 'Longchamp A', model number 1152A, with a double
mane and a slight amethyst tint, circa 1929, priced £9,750. 
Glass and ceramics abound at the event, including first-time exhibitor Brian Watson Antique Glass with a pair of finely cut early 19th century French vases on classical
bronze bases, probably made by Baccarat, circa 1820-30, £1,950.
In the month of the coronation, a few dealers are exhibiting royal items including  a portrait of King George VI by Herbert James Gunn R.A. (1893-1964), oil on canvas, £18,000 from Petworth and St. James's art dealer Rountree Tryon Galleries.
There is so much more to discover with art to satisfy most tastes, including Blackbrook Gallery who are selling naïve animal paintings among which is and oil on canvas, Proud
Farmer with his prize Hereford Steer and Cotswold Ram, signed by L. Beattie and dated 1833, with a price tag of £14,950.
Jewellery highlights include Georg Jensen silver grape vine leaf necklace, no 96, designed by Harald Nielsen, 47cm long, early 1920s, £1,750 from Dansk Silver
by Jane Burgett.
The Antiques Dealers Fair Limited organiser, Ingrid Nilson said, "Our Petworth Park Fair is in an enviable position in that we have had a waiting list of exhibitors for a number of years now. With the sad demise of several fairs since the pandemic, we now have an even greater choice of dealers wishing to exhibit, so can offer visitors a really varied variety of specialisms from the ancient to the contemporary."
A complimentary minibus regularly ferries people between the centre of Petworth and the antiques fair, so they can take full advantage of all that the market town of Petworth has to offer. Petworth has a remarkable range of art and antiques shops and galleries, as well as plenty of pubs and eateries.