Boxiana collection is a knock out
A private collection of boxiana, items relating to the world of boxing, has sold for a total of £80,000 in a recent Books and Works on Paper sale at Chiswick Auctions.
The 70-lot collection was compiled by London based collectors Brian and Debbie Watkins over five decades. The Watkins had no specific link to the boxing world, their reason for collecting was purely out of interest for the subject.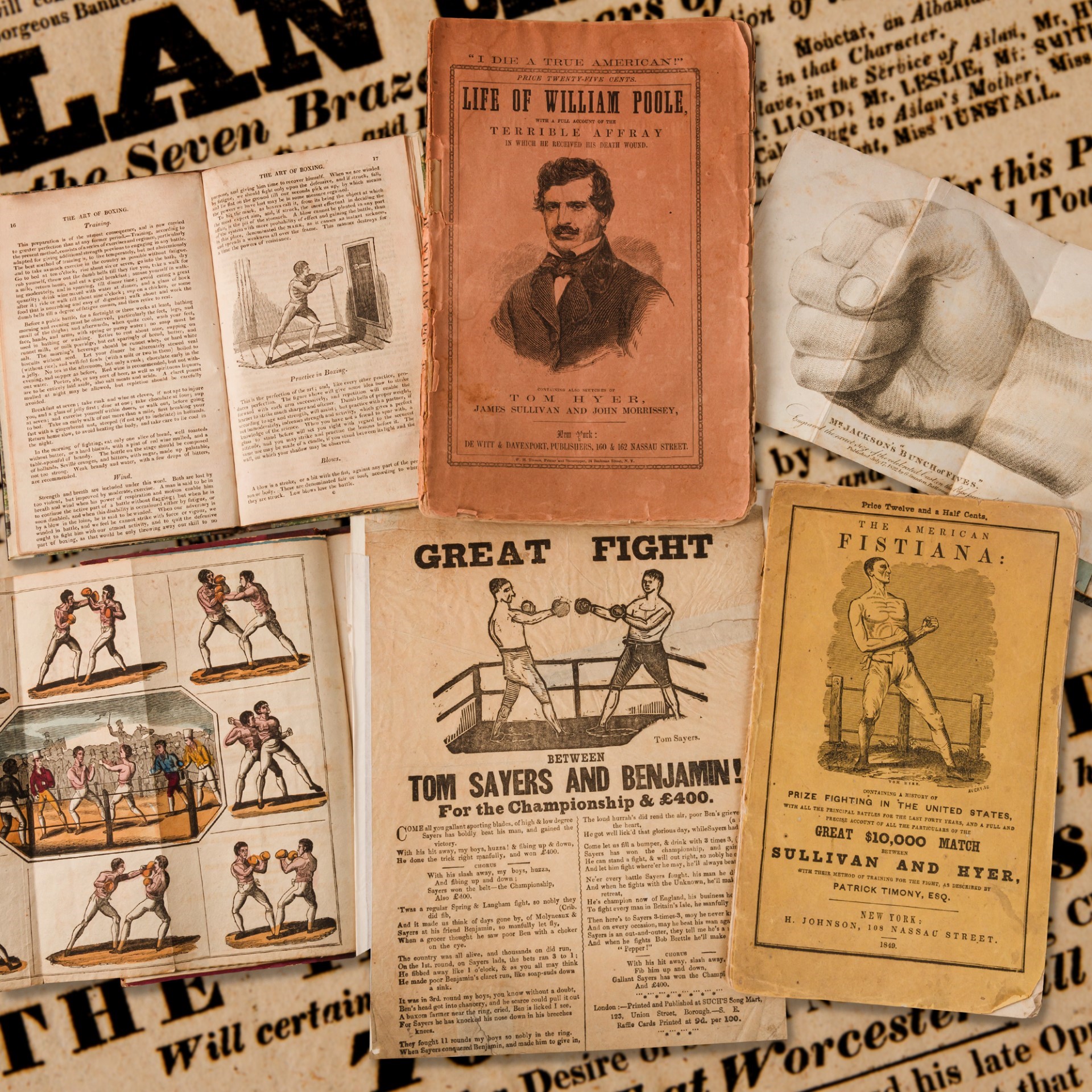 Collections of books on the art of boxing are rare at auction. The last notable auction on the subject was the Nat Fleisher collection at Swann galleries in 1997.  
Many of the books offered for sale in West London were written by well-known bareknuckle prize fighters in Georgian England.  
Boxing Reviewed; or, the Science of Manual Defence, displayed on Rational Principles was penned by the Birmingham pugilist Thomas Fewtrell. Dubbed 'the gentleman jaw breaker', he is said to have had over 100 fights in his career. In this book possibly the first written by an active pugilist, he studies the techniques of several leading Georgian boxers. The frontispiece depicts a scene titled 'Thomas Johnson the first Pugilist in the World', who was the English champion between 1784-91. The book made £5,300 against an estimate of £1,200-1,800.  
Fewtrell was a friend and sparring partner of Daniel Mendoza (1764–1836), a fellow prize fighter who was also highly regarded as an instructor of pugilism. He held frequent public exhibitions and published several books on boxing technique. The copy of The Modern Art of Boxing offered in West London was a previously unrecorded variant state from 1790. In later paper-covered boards, it made £1,720.  
Also by Mendoza was a rare autobiography from 1808, one that appears never to have been offered for sale at auction before. Memoirs of the Life of Daniel Mendoza; Containing a Faithful Narrative of the Various Vicissitudes of His Life, and an Account of the Numerous Contests…, took £13,300, against its estimate of £4,000-6,000. The buyer was a London based book dealer. The work numbered 320 pages with the title page outlining it was Printed for D. Mendoza, Ship Tavern, Commercial Road, by G. Hayden, Brydges Street, Covent Garden, 1808 – eight years before a better-known edition of this work. The text is thought to have been written around 1806 when Mendoza spent time in debtor's prison.  
Tom Sayers (1826-65) was the heavyweight champion of England between 1857-60. His lasting fame followed his final contest against American champion John Heenan. The fight is considered boxing's first world championship. 
An estimated 100,000 people attended his funeral in Camden Town after which an auction was held of his personal effects. A catalogue for the sale on December 1, 1865, including Sayers' "silver cups, vases, belts, valuable jewellery, paintings, and furniture, the well-known English mastiff Lion and the performing mule, Barney". The auctioneer commented that the proceeds from the sale of catalogues at one shilling each "will be presented to the late Tom Sayers' aged father." 
This copy, with each lot annotated with the sold price and each page with the running total, made £1,250.  
Dealer Pierre Spake, who is gathering material to update and publish a new book on the history of boxing was the buyer of 12 lots. Books purchased by Spake included The Catechism of Boxing published by George Smeeton in 1822 that features a detailed engraved of 'Mr Jackson's clenched fist', which sold for £1,625, and a large manuscript boxing bibliography written from the 1920s-50 by Neville Weston sold with numerous tipped-in letters from prominent boxing figures, which fetched £5,625.