Mid-century furniture icons in London sale

Iconic furniture from the home of Royal Festival Hall architect Leslie Martin (1908-2000) and his wife, the designer Sadie Speight (1906-92) comes to auction this month. The cutting-edge pieces, purchased by the couple from the late 1930s to the late 1970s, form part of Lyon & Turnbull's themed
Modern Made
auction at the Mall Galleries in London on October 27. The four lots come by direct descent to the present owner.As befitting one of the most design-conscious couples of their day, Martin and Speight chose their furniture with great care. Champions of the modernist aesthetic – and keen to show how the best of European design could be introduced across the English Channel – in the late 1930s they bought laminated plywood furniture from avant-garde British firms.The couple's guide to contemporary living published in 1939 as
The Flat Book
sang the praises of both a nest of three birch plywood tables by Marcel Breuer (priced at £3 13s 6d by the Isokon Furniture Co) and a laminated beech plywood and upholstery easy chair designed in 1933 by Serge Chermayeff (5 guineas from Plan Ltd). Both classic designs became key features in the couple's own homes and were pictured in situ in a 1953 article in
House and Garden
about their converted gardener's cottage in Tring Park, Hertfordshire.
"The nesting tables are regarded as icons of 20th-century design in their simplicity and craftsmanship, and it is rare to find such exceptional examples made for Isokon in the 1930s with unbroken provenance that puts them at the centre of cutting-edge design in this period," commented Philip Smith, Head of Sale.The Isokon tables, early examples manufactured by Venesta in Estonia before production moved to England, are expected to bring £3,000-5,000 while a pair of 'Plan' chairs by Chermayeff is guided at £1,500-2,500.
In about 1960, dining-chairs set of four 'Le Corbusier' chairs by Thonet were acquired for use in Martin's studio in The Mill, Great Shelford, Cambridgeshire while in the late 1970s, Martin and Speight purchased beech and rush Carmite chairs by Vico Magistretti, which formed part of the 'background for living' at The Barn, Great Shelford to where they moved in 1977. Four Thonet chairs and five Carmite chairs will be offered with guides of £600-900 and £700-1,000 respectively.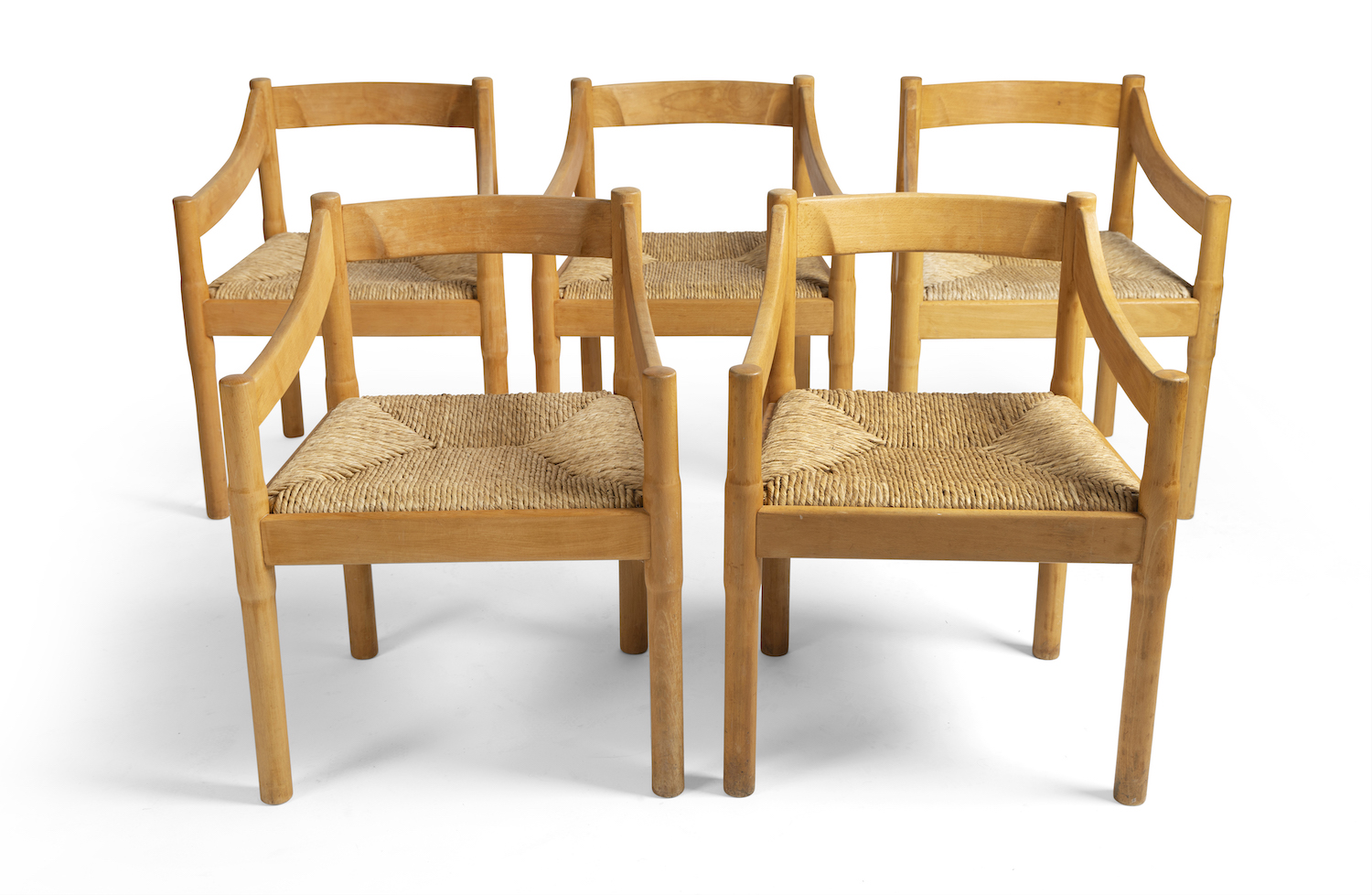 Martin and Speight, who met at the University of Manchester's School of Architecture, were leading lights in the group of progressive architects, sculptors and artists that emerged in Britain in the 1930s. The couple collaborated on many projects including the seminal 1937 publication
Circle: International Survey of Constructive Art
produced with Ben Nicholson, Barbara Hepworth and Naum Gabo.In the post-war era, Leslie Martin was the architect of a number of ground-breaking buildings, including the Royal Festival Hall on London's South Bank (1951) and the Gulbenkian Foundation Centre for Modern Art in Lisbon (1979) while Sadie Speight had a celebrated career as a designer, including of a range of products from electric kettles and irons to textiles and rugs.